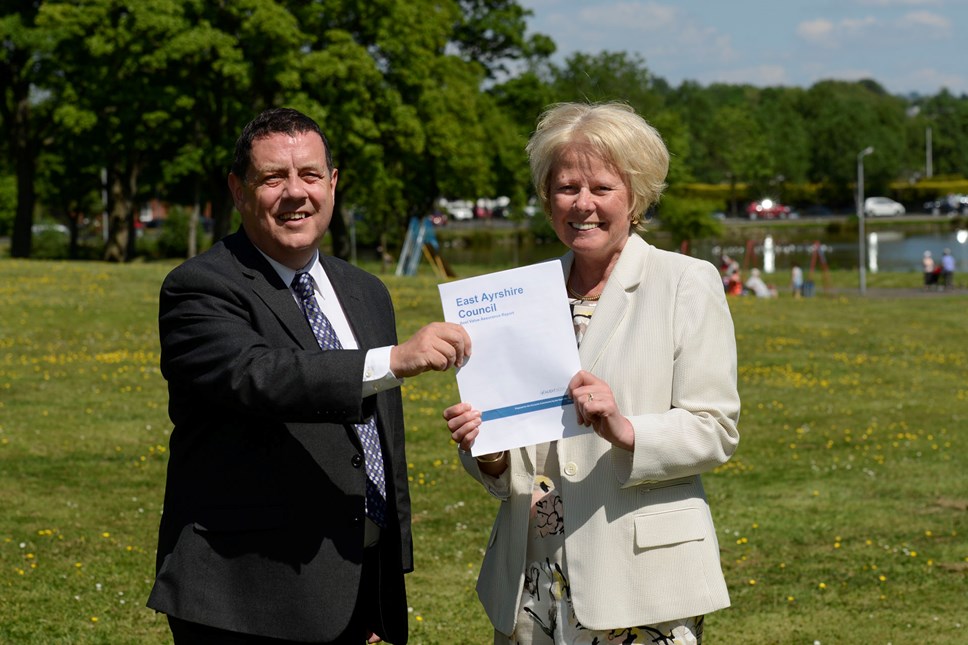 Accounts Commission praises Council performance
East Ayrshire Council's performance has been praised in a report released today (Tuesday 29 May 2018) by the Accounts Commission.
The Best Value Assurance Audit was carried out by Audit Scotland during December 2017 and January 2018 and findings confirm that the Council is performing well, is improving at a faster rate than other councils and has maintained the strong performance reported in previous audits in 2006 and 2010.
Councillor Douglas Reid, Leader of East Ayrshire Council welcomed the report.
He said: "I am delighted that the Accounts Commission has recognised the continued improving trend in our performance over recent years.
"This is particularly significant considering the financial challenges we have faced year on year, and will continue to face for some considerable time to come.
"The report rightly recognises our strengths in community planning and partnership working and it acknowledges the strong leadership across the Council, with specific mention of the commitment shown by councillors, employees and partner organisations to be inclusive and work together to drive change and transformation.
Chief Executive, Fiona Lees, said: "We can all be proud of this report. This is strong independent validation of all our efforts to continue to deliver best value services to the communities we serve and is testament to the hard work and commitment of our employees.
"I'm delighted to see that the work we are doing with our local communities has been highly commended. The audit team spent a lot of time with local people and they were impressed by the commitment and enthusiasm emerging from community led action plans, noting the collective efforts being made to make our communities more sustainable in the longer term.
"Our Transformation Strategy was praised for providing a good basis for the future sustainability of Council services, leading the Accounts Commission to comment that 'with an already strong record of partnership working and improvement, East Ayrshire Council is well placed to tackle the necessary changes.'"
Key findings from the report include:
The council has strong leadership and a clear vision for what it wants to achieve. Councillors and staff support this vision.
The council's performance has improved compared with other councils and continues to address challenges in planning and employment.
The council has effective financial planning arrangements in place and is developing its strategy to tackle the funding gap it faces over the next 5 years.
The council continues to work well with its partners.
The council is fully committed to empowering its residents, helping them develop the skills and confidence to deal with local priorities.
The council has a long established culture of self-assessment and improvement, and looks beyond its boundaries to improve.
The Accounts Commission findings and the Best Value Audit Report will be considered by the meeting of full council on Thursday on 28 June.