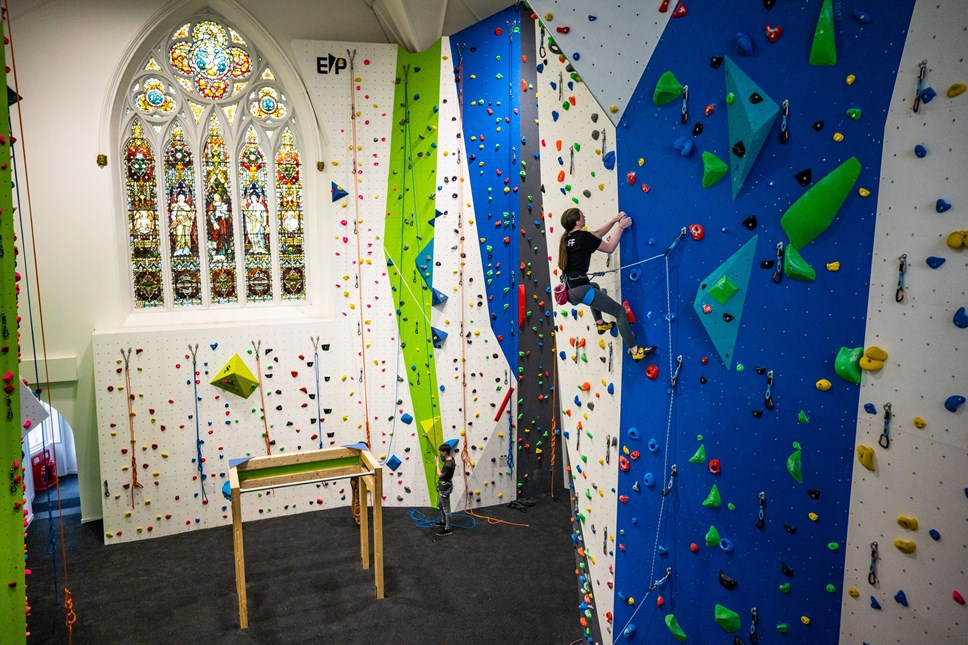 Ayrshire's first indoor climbing centre set to open!
Get ready to climb to new heights! Following the extensive regeneration of a Victorian church, Above Adventure, Ayrshire's first ever indoor climbing centre, is set to open to the public on Saturday 20 May 2023.
A climbing centre with a difference, this ambitious £4.5m state-of-the-art facility is designed to cater to climbers of all skill levels and abilities. Located in the former Grange Church in Kilmarnock, Above Adventure has a clear focus on providing opportunities and making climbing accessible to people of all ages, genders, abilities, and backgrounds.
Gayle Watson, Chairperson, Above Adventure explained:
"At Above Adventure, we're committed to creating a community of climbers who share a passion for the sport and a commitment to inclusivity. We believe that climbing has the power to bring people together and break down barriers, and we're excited to share that experience with our community and we're extremely grateful to all of our funders for helping to make this facility possible.
"We have a variety of climbing walls, equipment, classes and groups that are accessible and welcoming for everyone. Whether you're a seasoned pro or a first-time climber, our team of experienced instructors and staff members are dedicated to providing a safe, supportive environment for climbers of all levels, including introductory courses for beginners and adaptive climbing programs for individuals with physical impairments."
The facility is equipped with the latest climbing gear and safety equipment, ensuring that climbers have the tools they need to climb with confidence, including a bouldering room, with low level equipment and soft landing mats and a state-of-the-art sensory room for participants with visual impairments.
Councillor Douglas Reid, Leader of East Ayrshire Council praised the project: "We've been eagerly anticipating the opening of this incredible facility for some time now and it does not disappoint!
"The former Grange Church becoming "Above Adventure" is yet another local regeneration and tourism success story – not only for Kilmarnock and East Ayrshire, but Ayrshire as a whole. This is a first for Ayrshire in terms of the adaptive and accessible facilities on offer and I'm sure many generations of people in the area and throughout Scotland will have their lives enriched by this centre and the very special people who are bringing it to life."
Minister for Local Government Empowerment and Planning, Joe Fitzpatrick MSP said:
"The Scottish Government has provided almost £2.5 million from the Regeneration Capital Grant Fund (RGCF) to support the repurposing of Grange Church and the opening of the exciting Above Adventure climbing facility. We welcome the ambition to make climbing accessible to people with different abilities and backgrounds.
"Since 2014, we have funded more than 210 projects, supported thousands of jobs, revived landmark buildings, and created numerous new commercial spaces and community facilities.
"Delivered in partnership with COSLA and local government, the RGCF supports local place-based projects that involve communities, helping to tackle inequalities and deliver inclusive growth across Scotland."
Above Adventure opens to the public on Saturday 20 May www.aboveadventure.co.uk
Above Adventure is jointly funded by the following organisations: