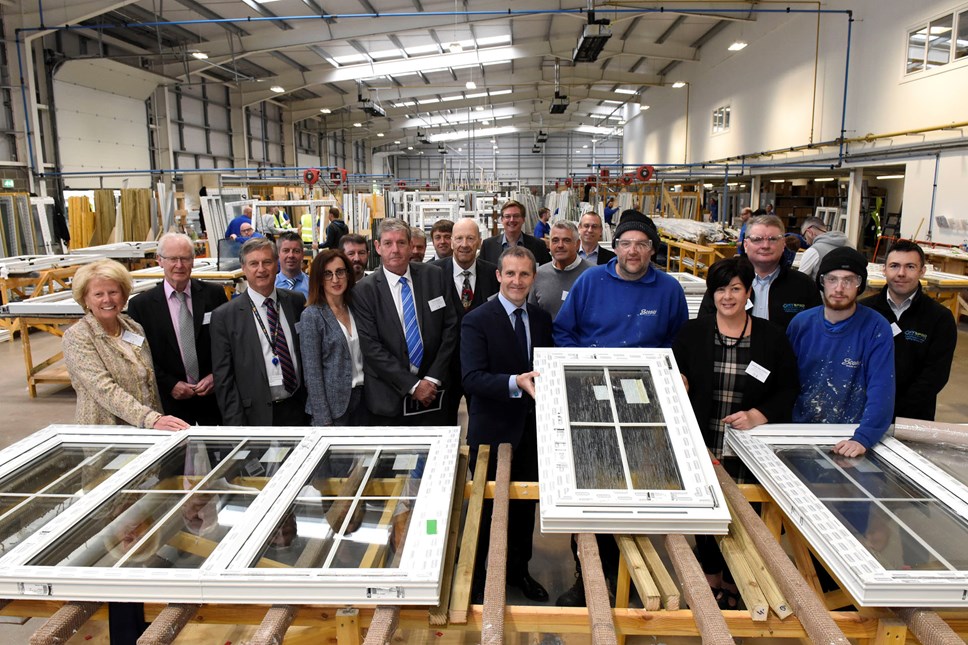 Cabinet Secretary opens Moorfield Park, bringing jobs and business opportunities to East Ayrshire
Businesses in Kilmarnock are thriving and expanding thanks to East Ayrshire Council's ambitious programme of building and development at Moorfield Park, which was formally opened by Michael Matheson MSP, Cabinet Secretary for Transport, Infrastructure and Connectivity.
Built in response to a 2013 review of land supply for business and industry which identified a need to increase the scope and availability of the area's commercial and industrial portfolio.
With the second of three planned phases well underway, the site has already proven a successful base for local business. Hyspec moved into phase 2 during 2015, securing 110 jobs. Scotia Windows and Doors moved in in November 2018, and this year they've been joined by Dingbro Ltd and Kilmarnock Powder Coating Services (KPCS).
During his visit, Michael Matheson toured Scotia Windows and Doors. The company is now based in a 2,700sqm unit - a move securing 183 jobs and creating 20 more. In relocating from their original base over five sites in Bonnyton Industrial Estate, Kilmarnock, the company has been able to come together under one roof. This has increased their manufacturing capacity from 1170 units to 1600 since their move and will shortly hit a target of 1800 with the promise of further new jobs.
Opening the park, Michael Matheson said: "I am delighted to officially open the new premises at Moorfield Park which will create and sustain high quality jobs in Kilmarnock and beyond. In particular, I am pleased that the business park will be further supported with £12 million of funding through the Scottish Government's overall £103 million commitment to the Ayrshire Growth Deal. The deal will create new jobs, protect existing ones and extend economic opportunity to communities, families and individuals throughout Ayrshire."
Robert McKnight, Managing Director of Scotia Double Glazing, said: "Merging our five production units from Bonnyton into a new bespoke factory here in Moorfield has allowed us to improve efficiencies and the quality of our products. We have also made a significant investment in new machinery which has resulted in increased production, and further expansion is planned for our Kilmarnock operation."
Councillor Elena Whitham, Depute Leader of East Ayrshire Council said: "We're delighted to have reached this stage with Moorfield Park – with four local businesses expanding and thriving here, it proves our faith in the market demand was justified. By providing newbuild, flexible accommodation, we're not just helping those businesses, we're also freeing up supply of smaller units elsewhere in the area and providing new job opportunities as the companies expand.
"For local companies looking to expand or organisations wanting to relocate, Moorfield has a lot to offer. With easy transport links, good local service infrastructure, spacious layouts and easily adaptable units for any specification, we've been able to give our tenants a great package. In Phase 3 we will be able to offer both purpose built units or serviced plots. It will all help give our businesses a head start and our local economy and jobs market a welcome boost."
Ends
Notes to editors
Editor's note:
Scotia Windows and Doors (Unit 2)
Since 1983 Scotia Windows and Doors has manufactured and supplied a complete range of high quality glazed windows and residential doors, patio doors, double (French) doors and BiFold doors to the building trade and national house builders.
They currently employ 183 staff plus 20 self-employed operatives. Moving to the new unit has helped them create approximately 15 new jobs and it is anticipated that this figure will increase in future.
In November 2018 Scotia relocated from 5 buildings in Bonnyton Industrial Estate, to consolidate their manufacturing operation in one factory. As a result, their capacity has increased from 1170 units to 1600 units since moving and they hope to increase this to 1800 units in the next few months.
Dingbro Limited (Unit 3A)
Dingbro Ltd is a family business which started trading in Fraserburgh in 1973. It is now the largest independent motor factor in Scotland with over 1300 staff and a storage area exceeding 300,000 sq. ft. in 26 sites throughout Scotland.
They are trade only wholesale distributors of motor vehicle components, bodyshop supplies, paint and truck and trailer parts to:
motor trade
truck operators
plant operators
offshore industry
oil service companies
marine engineers
shipping
ship chandlers.
The Company supplies a wide range of products, from original equipment component manufacturers, ranging from small Bosch repair parts for diesel and fuel injection to suspension air bags and brake drums for large lorries and cranes, filters and batteries for deep sea oil tankers and cruise liners. The opening of the new facility in Moorfield Park has created 20 new jobs.
Kilmarnock Powder Coating Services (Unit 3B)
Kilmarnock Powder Coating Services Limited is a family run business formed in 2008. It carries out powder coating and shot blasting and their products / services include:
Car Wheels
Aluminium Window Surrounds and Roller Doors
Motor bike frames
Railings and gates
Agricultural components
Their main customers are Wabtec Rail, Scotland; Wallace McDowall; Fortress Sefa and S & C Engineering. The Company currently employs 6 people and as a result of the proposed expansion it is envisaged that a further 3 jobs may be created.
Proposed Unit 4 – Moorfield Park, Kilmarnock
Construction of unit 4 is extending to 29,000 sq.ft. (2,700 sqm) and it is anticipated that a unit of this size could support in the region of 55 full time jobs, however this could be up to 70 full time jobs depending of the use of the building (Employment Densities Guide 2nd Ed, Driver Jonas Deloitte, 2010)
Proposed Unit 5 – Moorfield Park
Construction of unit 5 is extends to 35,000 sq.ft. (3,300 sqm) and also has the opportunity to be subdivided into up to 6 smaller units extending to 550 sqm each and it is anticpated that a unit of the total size could support in the region of 66 full time jobs, however this could be up to 90 full time jobs depending of the use of the building (Employment Densities Guide 2nd Ed, Driver Jonas Deloitte, 2010)