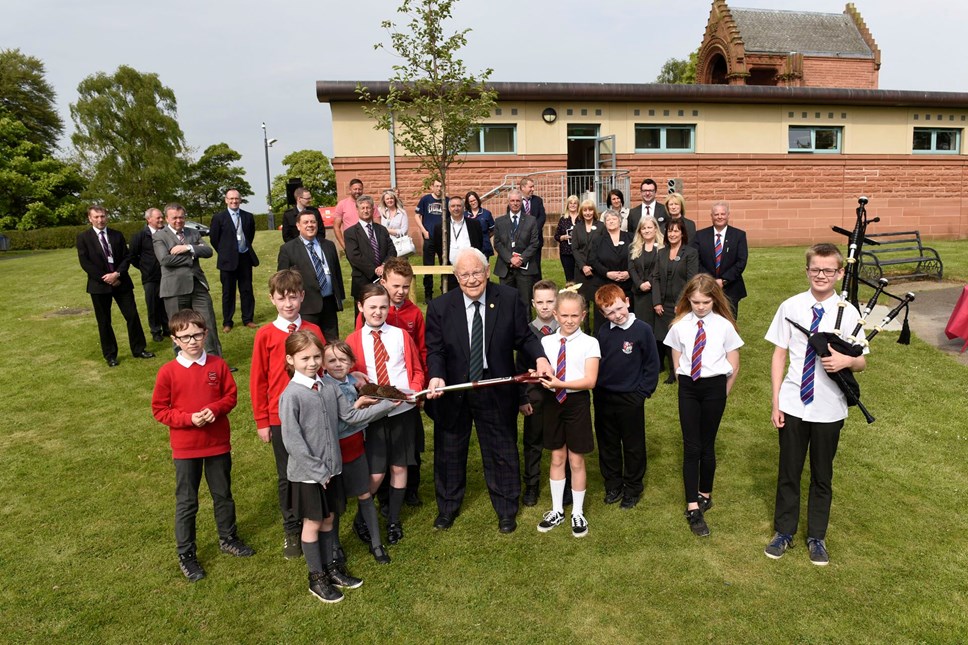 Celebrating a decade of the Burns Monument Centre
Although only recently retired from The Beechgrove Garden, Jim McColl got back to a bit of digging this week as part of a celebration of the tenth anniversary of the Burns Monument Centre.
Built around the iconic W.G. Stevenson statue of Robert Burns, the Centre was considered to be a unique, ground-breaking development housing registration, family history and archive services all under one roof when it opened ten years ago.
Over the last decade, the Registration team has expanded the services it provides, so as well as registering births, deaths and marriages and conducting civil marriages in the Centre and at various outside venues within East Ayrshire, the team has also taken on a range of duties on behalf of the Home Office. The latest is verification for the European Settlement Scheme which protects the rights of EU Citizens after the UK leaves Europe and enables them to continue to live their lives as they do now.
Earlier this year the team also became involved in Civil Funerals and last year they launched their own dedicated website called certificates.scot through which people can order replacement birth, death, marriage and civil partnership certificates online. They also have a Wedding Services Directory which every East Ayrshire wedding supplier is invited to have a listing in.
Jim McColl planted a cherry tree at the event to remember all those whose deaths have been registered at the Centre over the last ten years and he spoke fondly of his connections to Kilmarnock and how he used to visit the Burns statue in his youth and climb the trees in the Kay Park.
Local couple Catherine and Stuart Gilmour placed a love lock on a specially made commemorative lectern to mark the fact that they got married at the Centre ten years ago, and ten year-old pupils from St Andrew's and James Hamilton Primaries created a handprint mural that will go on permanent display outside the Centre.
Councillor Douglas Reid, Leader of the Council, said: "The Centre has come a very long way over the last decade and that's due to the dedication and commitment of all the staff who work there. They should be very proud of what they have achieved and of the range of services they provide, sometimes during the happiest times of a person's life, but also during the most difficult. They do it all with real compassion and professionalism and I wish them every success for the next ten years."
ends