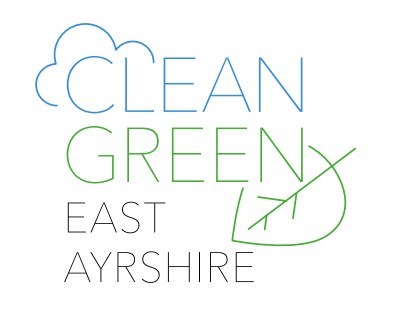 Clean Green East Ayrshire - the progress is clear
A year on from the launch of the Clean Green East Ayrshire Climate Change Strategy, and East Ayrshire Council's Cabinet have endorsed the collective progress being made by the Council, communities, schools and businesses across East Ayrshire, to change habits and use innovative thinking to help everyone reach Net Zero targets.
Efforts to reduce the Council's carbon footprint have been taking place since 2009 and the Council started reporting on carbon emissions in 2012/13. Since then, its overall carbon footprint has fallen by 24%, despite the variances caused by the pandemic and changes to reporting criteria.
The Clean Green Climate Change Strategy applies to every service provided by the Council and focuses on four key areas for action and improvement including energy, transport, waste and the natural environment. In assessing the Council's carbon footprint for 2021/22, key factors such as energy and water usage in buildings, fuel used by vehicle fleets, domestic and commercial waste and other sources were all taken into consideration.
The Council's carbon consumption for the year fell by 3%. This is due mainly to a 3.4% reduction in gas usage and the continued shift towards use of electric vehicles (EVs), particularly for the Council's fleet of small cars and vans. The Council currently has 101 EVs and this year they clocked up two million miles travelled since they were first implemented. Ayrshire Roads Alliance is working on proposals to improve the EV charging network across Ayrshire to support the growing number of EVs in circulation across the region.
Transport fuel has been one of the biggest sources of carbon consumption for the Council but by switching diesel for hydro treated vegetable oil as a primary fuel source for larger Council vehicles, emissions can be reduced by around 90%.
Higher levels of household waste were generated during the pandemic and these trends have persisted as more people continue to work from home and as a consequence they are generating more waste in their home environment. Waste now accounts for 49% of the Council's carbon footprint and in 2021/22, the Council disposed of all residual household and commercial waste in landfill.
However, the Council now has a new waste contract in place which will divert waste previously destined for landfill and use it to generate much needed green energy. This will reduce the amount of landfill waste up to 30% in the current year. The Council plans to meet the Scottish Government's biodegradable waste ban by 2025 by diverting 100% of its residual waste from landfill which will trigger a 48% reduction in the Council's overall emissions.
Food waste remains a concern for the Council with over 50% of East Ayrshire's 59,000 households still not recycling their food waste. Food waste generates high levels of methane which is even more damaging to the environment than carbon emissions if not recycled or re-used and the Council is currently encouraging everyone to use their food waste caddies and shop wisely to cut the amount of food waste they create.
The Council is working with the Scottish Government to create the Ayrshire Climate Action Hub to support communities in making the transition to low carbon and climate resilient living and has agreed to open up access to the forthcoming UK Government's ECOFLEX4 programme of grant funding for retrofitting inefficient housing to cut energy use.
Drongan recently joined the list of Climate Action Towns, which uses a community-led approach to empower communities to come together and face the challenges of climate change and develop opportunities to improve the environment, create sustainable jobs and build community resilience.
Supporting businesses to achieve savings while becoming more energy efficient is also a key priority for the Economic Growth's Business Support teams who are promoting the Net Zero Support Grant to help companies reduce emissions and move towards Net Zero targets.
As well as supporting businesses and residents to reduce emissions and move towards Net Zero targets, the Council is taking significant steps to improve its own properties.
The biomass boiler at the new Barony Campus should reduce energy emissions by around 8% and the fabric first approach and adoption of net zero emissions heating in the Netherthird, Nether Robertland and Kilmaurs Early Childhood Centres are further reducing the Council's carbon footprint. Dunlop Early Childhood Centre, now under construction, will be built to Passivhaus building standards and St Sophia's Primary will be retrofitted to EnerpHit design standards - the first such refurbishment project in Scotland.
East Ayrshire's rich and diverse natural environment also offers great opportunities to mitigate the impact of climate change and offset carbon emissions. The Council continues to make progress, becoming signatories to the Edinburgh Declaration on Biodiversity, with plans for nearly 120 hectares of woodland currently being processed.
Looking ahead, the Council has commissioned an Ayrshire Energy Masterplan, which will inform future investment in energy infrastructure and the statutory Local Heat and Energy Efficiency Strategy LHEES , which must be completed by 2023, will help inform the development of future place-based solutions for carbon reduction.
Councillor Graham Barton, Cabinet Member for Climate Change welcomed the performance update at Cabinet.
He said: "It's very clear that significant progress has been made in the past year since we launched the Clean Green East Ayrshire Climate Change Strategy . This report demonstrates that East Ayrshire Council is taking the climate change emergency seriously, and we're continuing to make good progress towards our net zero target.
"I welcome the solutions we have now in place to reduce our carbon footprint - particularly around transport and general waste. But there is much more to be done and everyone can play a part in helping us achieve this.
"The statistics relating to food waste are a real eye opener. The average family could save up to £700 per year by shopping smartly and re-using leftovers - and every penny counts at the moment.
"Separating out our food waste doesn't just cut carbon emissions, it actually helps contribute to production of green energy through anaerobic digester plants which compost the waste and turn it into renewable energy, so we really are helping the planet if we take a few minutes to sort out our waste.
"The Cost of Living crisis has also focused our minds on cutting energy consumption. Energy is one of the key themes of our Cost of Living campaign which provides advice and information on energy efficiency to save on bills and help the planet.
"Our young people have always been the driving force behind Climate Change activity across East Ayrshire and they continue to influence the actions we take and the plans we make in relation to climate change
"Looking ahead, our future focus will be on the continued decarbonisation of the Council's estate and I'm pleased that we are already making good progress in this area.
"This report is testament to the dedication of teams across the Council, in our schools, communities and businesses who are working hard to change habits, work practices and use new technology to bring about real change. But the challenge is tough, and we all need to look at what we more can do in our personal and working lives to help drive down emissions and secure a clean, green future for us and our precious planet."
East Ayrshire's carbon analysis summary
Carbon Analysis
Carbon footprint dropped 3% compared to last year
Totals a 28% reduction since baseline year 2012
Breakdown of carbon consumption/emissions:
Transport – 10%
Waste – 49%
Energy – 41%
Gas consumption fell 3.4% from last year
Read the full Clean Green Energy Cabinet report 23.11.22
Visit our Clean Green East Ayrshire Climate Change Strategy webpages
Read our Clean Green East Ayrshire Climate Strategy
Subscribe to regular email bulletins about climate change with our StayConnected system (you can unsubscribe at any time)