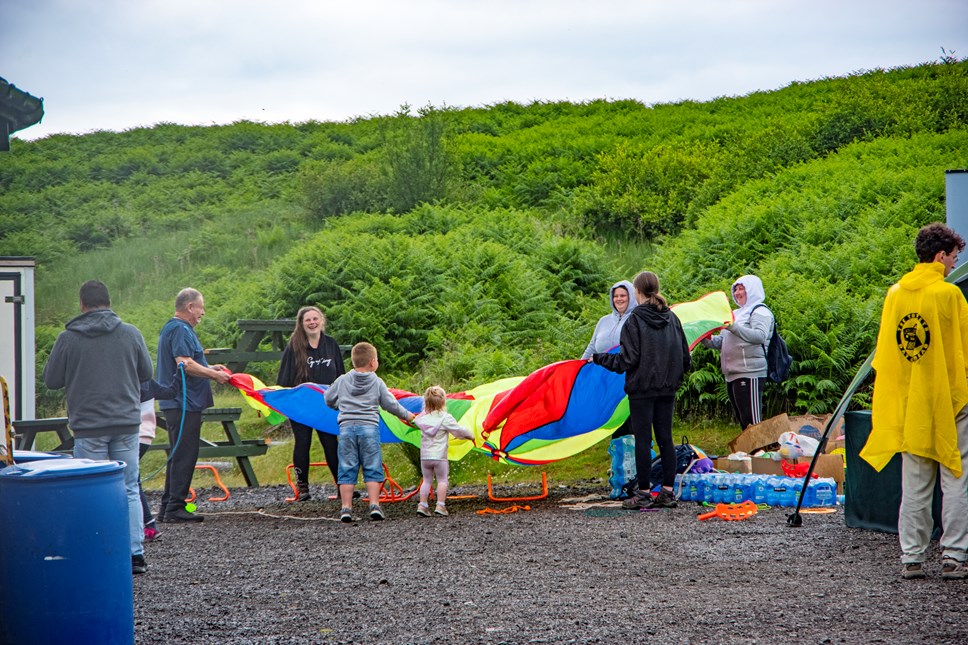 Coalfield Communities Landscape Partnership has been launched!
The CCLP team has been working throughout Covid 19 and have made steady progress. Their launch day showcased some of their projects and the partnerships they're forging with external organisations to deliver a more collaborative approach to a greener, safer and sustainable future for East Ayrshire's coalfield communities. They had activities at Dunaskin, Dalmellington Community Centre and at Loch Doon with over 100 visitors across the three locations.
East Ayrshire Council's Depute Provost, Sally Cogley, expressed her thanks "I would like to thank everyone for a wonderful day on Friday at Dunaskin, I thoroughly enjoyed my visit and would love to come back another day. The event was very well organised and informative. My family had a great time and they would like to express their thanks also."
Networking opportunities were among the highlights for the project partners (such as the Biosphere team who connected with a few groups and wrote on their website how happy everyone was to finally engage with people again face to face and not behind a screen.)
The Cumnock Tryst who premiered their film at the Dalmellington Community Centre were very satisfied "The stand out moment for us was getting to screen our new film to a live audience. This was The Cumnock Tryst's first in person event in 18 months and having people join us again to see some of the creative output from our project was a delight. It was also an opportunity for us to engage with some of the other projects as part of the partnership and very useful for us to make those face-to-face connections".
The Lost Villages team wrote a blog post and expressed "After such a tough period with Covid-19 it was heartening to meet people in the community as well as other colleagues involved in the wonderfully diverse range of projects that constitute the CCLP initiative – albeit behind masks and under social distancing rules".
The Conservation Volunteers team who run the School Green Gym led successful bug hunts on the day. They wanted to highlight "the enthusiasm from the children when they started to identify cuckoo spit and the care they took with the insects they handled. An adult who was in their mid-50s stating that they had never seen a grasshopper before and was delighted with the experience".
As stated by the East Ayrshire Leisure team, "The overall atmosphere was really good and Ness Glen was looking fab".
Visitors thoroughly enjoyed the train ride and the climbing, and most of them had never been to Loch Doon before and will come back. They thought it was a worthwhile event and were also excited about the prospect of a new mountain biking facility in the area.
The CCLP team is now looking forward to the next events organised by their partners and to sharing the evolution of the projects.
Sign up for regular email newsletters about the CCLP and its projects with Stay Connected (you can unsubscribe at any time)
https://coalfieldcommunities.co.uk/
Read more about the Launch Day