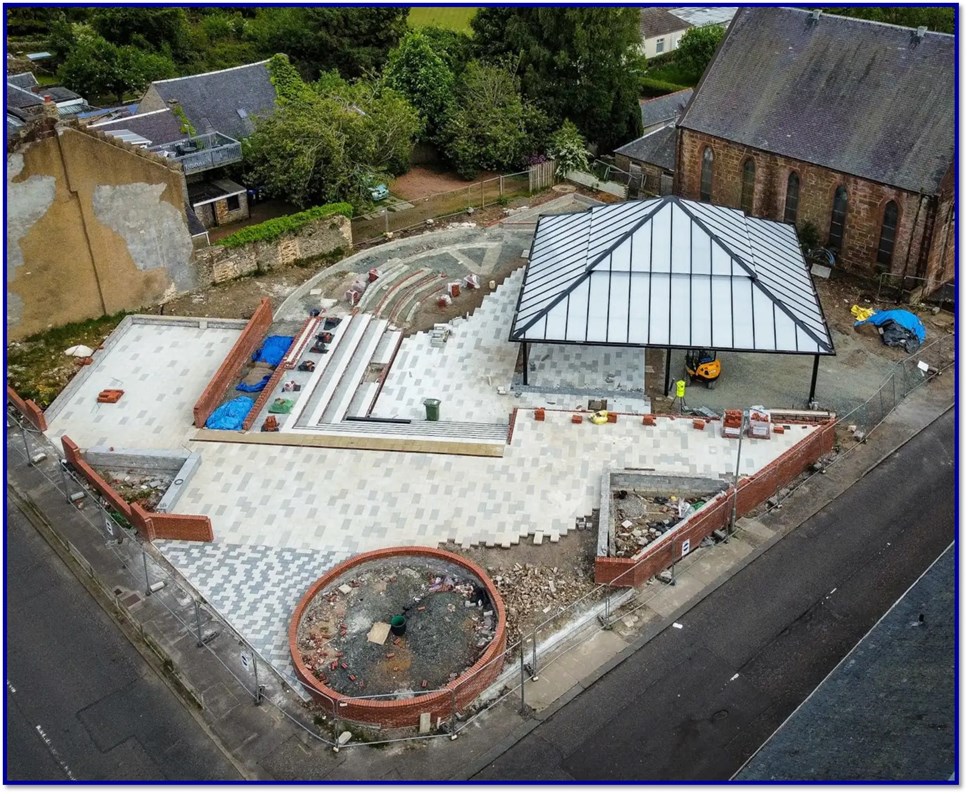 Communities receive over £1 million to assist with local place-based initiatives
Earlier this week at a meeting of East Ayrshire Council's Cabinet, councillors approved the latest round of place-based investment proposals, which will see no fewer than 26 local projects being awarded a total of £1,055,631 to support community-led regeneration across East Ayrshire.
The Place Based Investment Programme is a five year Scottish Government Investment programme, running from 2021/22 to 2025/26. It aims to support town centre revitalisation and community led regeneration by ensuring that all place based investments are shaped by the needs and aspirations of local communities. It also seeks to tackle inequality and disadvantage and accelerate local ambitions for net zero, wellbeing, community involvement and ownership.
In the year 2021/22, 24 local projects were supported by the programme across East Ayrshire; four have been completed and the others have seen significant progress, with contracts in place to deliver the investment. Key highlights include The Corner in Darvel where investment has enabled Darvel Area Regeneration Team to complete the transformation of a town centre brownfield site into a garden, event space and market place for the community and local businesses; Glencairn Bowling Club in Kilmaurs where investment has improved facilities for people with disabilities within the clubhouse, enabling the club to improve its offer to local groups and schools; and shop front improvements, delivered in partnership with Celebrate Kilmarnock and other community organisations across East Ayrshire, to provide small businesses with funds to enhance their facilities using local traders to carry out the work.
With a confirmed funding allocation for East Ayrshire of £1,136,000, the 2022/23 programme was open for applications between 17 February and 11 April. A total of 55 applications were received - with a total funding request of £4.9 million - resulting in an over-subscription to the programme of over £3.7 million.
An application process was developed for this year's programme, utilising national programme guidance. An assessment panel made up of senior colleagues from across the Council considered the applications in two stages. Applications were firstly evaluated using criteria set out by the national programme before being prioritised in terms of flexibility, fairness, equity and sustainability. The panel considered how the projects would align with other planned investments in the locality; how relevant they are to the needs of the locality; and how they can complement and align with other potential funding sources.
The assessment process considered projects within the context of knowing what already works well; the balance between large and small applications; the geographical spread of projects and the potential of projects to succeed beyond this initial investment.
Of the 26 projects approved today, seven will receive full funding (£330,361 in total) and 19 will receive partial funding, totalling £725,000. Those receiving full funding include: toilet and shower block at Loch Doon Camping and Caravan Park; the Hub at the Cross in Stewarton; Shortlees Health and Wellbeing Centre; community support and mental health and wellbeing project, Stewarton; public realm works and lighting in Mauchline; the Gatehead bridge project and the Lugar Parish Church and Heritage and Information Centre.
Councillor Douglas Reid, Leader of East Ayrshire Council said:
"The Place Based Investment Programme provides valuable funding for community-led regeneration, enabling innovation and collaboration across all of our localities and from the successes of last year's initiatives, we've witnessed first-hand how this funding can help transform our communities.
"But it's not all down to the funding - there needs to be passion, drive and commitment in order to see these investments through to completion and we've been completely overwhelmed by the response from our communities for this year's programme.
"Never before has an initiative been so over-subscribed. We were blown away by the ideas, commitment and creativity which were so clearly evident in these applications - all pointing to the fact that there is a real desire in our communities to take the lead and have a more active role in shaping the future of their localities.
"In October last year, Cabinet asked officers to develop a process for this year's programme and they did not disappoint. This year's process was rigorous, robust and transparent and using national guidance, balanced with local priorities we have awarded funding to a range of projects which will contribute to local regeneration; increase physical activity and enhance opportunities for play; support recovery from drug and alcohol problems and provide spaces for social connection.
"Equity has played a key role in determining these awards - 19 of these projects are receiving investment for the first time and in terms of geographical spread, I'm delighted that 40% of the projects agreed today are located in some of our most deprived communities.
"Regrettably, it was not possible to award funding to all of the applications received this year and I know there will be disappointment as these investments are announced today, but we have gone the extra mile and additional support will be available to those applicants to help them take their next steps on their place- making journey. They will be assigned a named officer within an appropriate Council service who will help them develop project plans and identify alternative sources of funding. We are keen to harness the passion and commitment demonstrated in all of these applications so that our communities can continue to transform.
"Going forward, we will reflect on feedback received about this year's process and will strive to strengthen and improve the process to ensure we maintain equity across out communities."
Full details of the investments awarded can be found in the Cabinet report.