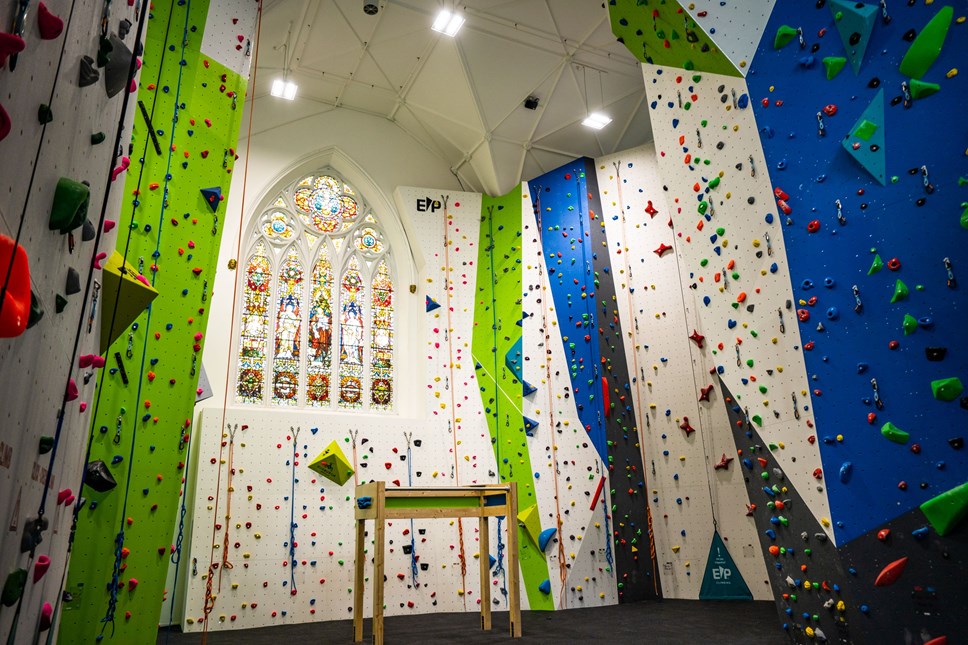 Community led regeneration - how it's working for East Ayrshire
Since 2014 the Scottish Government and COSLA's Regeneration Capital Grant Fund has been supporting locally developed regeneration projects to help tackle inequalities and deliver inclusive growth in deprived, disadvantaged and fragile remote communities across Scotland.
In that time East Ayrshire has received nearly £11m from the fund, which has helped the Council carry out £21.5m worth of investment in projects in the area. These include:
Crossroads Community Hub
Ingram Enterprise Hub Kilmarnock
Ochiltree Community Hub
Centrestage, Kilmarnock
West of Scotland Climbing Centre, Kilmarnock (Above Adventure)
Take A Bow, Kilmarnock
New Cumnock Reuse Centre
Cabinet this week heard a review of progress with these current and possible future projects.
The West of Scotland Climbing Centre (Above Adventure) which incorporates a bouldering hall and climbing walls within the former Grange Church in Kilmarnock, opened fully for business 20 May 2023.
Starting construction in January 2021 the project benefited from £2.469m from RCGF – a substantial contribution to its overall approximate cost of £4.5m.
With state of the art climbing facilities and a vision to provide climbing, training and employment opportunities for people of all ages, abilities and circumstances, the social enterprise is committed to creating a community of climbers who share a passion for the sport and the inclusivity it offers.
Take a Bow Development Trust was awarded £.,341m to redevelop the former New Farm Loch Community Centre, with a further offer of £0.2m being offered by UK Government's Community Development Trust, a pending £0.08m from CARES
Community net zero funding, and local fundraising through events such as the Kiltwalk ongoing.
At the same time work to finalise the plans is progressing – with the planning and building warrant applications having been submitted and validated in May and planned completion of an updated cost plan due for review on 9 June.
With all these projects, the effects of covid delays, brexit and the current economic situation have meant that the cost of projects has escalated between application and implementation. This has meant plans and costings have had to be revised to reflect the increased costs of materials, energy and distribution issues.
In New Cumnock the Re-Use Hub design is progressing, with the aim of creating a welcoming social hub to develop skills, create sustainable jobs and promote a clean, green lifestyle. By bringing previously empty town centre buildings back into use, it will also enhance the built landscape of the area.
With cost implications stretching the available funds, four options for the buildings are currently being considered by the New Cumnock Development Trust.
In the case of the White Tile Building (WTB) in King Street Kilmarnock, which was subject to a planned Community Asset Transfer to Celebrate Kilmarnock for use as a Creative Cyber Campus, escalating borrowing and building costs and the changing nature of the market have rendered the original project unviable. As a result Celebrate Kilmarnock has withdrawn their application.
£0.146m of the £1.37m originally allocated to the WTB by the RCGF was re-allocated to fill a funding gap in the Above Adventure programme.
The remainder of the funds has been withdrawn by RCGF who have indicated that they will be happy to consider future applications for the building.
The newly formed Kilmarnock Strategic Group, which incorporates representatives from Council and partner organisations, including Celebrate Kilmarnock, will now explore and consider future opportunities for this building in line with the wider regeneration projects currently underway in the town.
Commenting on the report, Council Douglas Reid Cabinet Member for Community Wealth Building and Regeneration said: "While we can all see the current effects of inflation upon planned projects, it's gratifying to see that our teams are working with RCGF and our partner agencies and communities to find achievable solutions.
"It's disappointing to have to scale back or change some plans, but it's good to see how we're adapting and still able to help our communities to deliver life-changing projects such as Above Adventure, which will offer tangible opportunities for health and wellbeing, social interaction and job satisfaction for countless people over years to come.
"These projects make a huge difference to our built environment, breathing new life and purpose into tired buildings, but the main transformation they offer is in the people who will benefit from the energising enterprises which will do so much to offer life enhancing opportunities for the communities they serve."
East Ayrshire Council Economic Growth teams are currently working towards submitting new bids for the 2024/5 round of funding from RCGF.
Sign up for email updates on regeneration and other topics of your choice with our StayConnected service