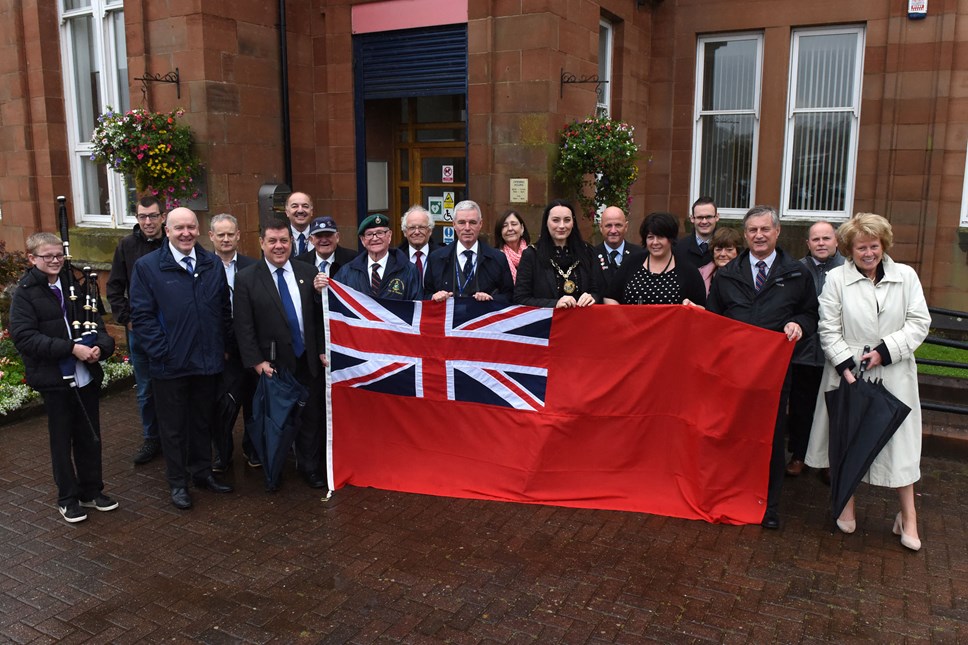 Council celebrates Merchant Navy Day
Depute Provost Claire Leitch hoisted the Red Ensign, or 'Red Duster', to mark Merchant Navy Day and raise awareness of the UK's ongoing dependence on Merchant Navy seafarers.
The Council was supporting a nationwide call from the Seafarers UK charity and the Merchant Navy Association for the UK Merchant Navy's official flag to be flown on public buildings and landmark flagstaffs.
Leader of the Council Douglas Reid welcomed guests to the flag raising ceremony and local veteran John Bannerman read out a message from the charity's president, HRH The Earl of Wessex.
As an 'island nation' the UK relies on Merchant Navy seafarers for 95% of our imports, but many people, particularly the younger generation, know little about ships and seafarers and fail to appreciate the vital contribution they make to our way of life.
Councillor Reid said: "We were pleased to support Merchant Navy Day which provides an opportunity to raise awareness about the real importance of our merchant shipping industry. Being an island nation, the vast majority of goods arriving or leaving from the UK do so by sea. We have always been a significant and successful maritime nation and it's important to recognise the work of our merchant fleet both now and in the future."
For further information, visit www.merchantnavyfund.org/merchant-navy-day
ends
Notes to editors
Note to Editors
Merchant Navy Day has been commemorated since 2000 on 3 September, the anniversary of the sinking of the SS Athenia, the first British merchant vessel lost during World War 2. Seafarers UK is a leading grant-making charity that helps people in the maritime community by providing vital funding to support seafarers in need and their families. Donations to the charity's Merchant Navy Fund can be made at www.merchantnavyfund.org