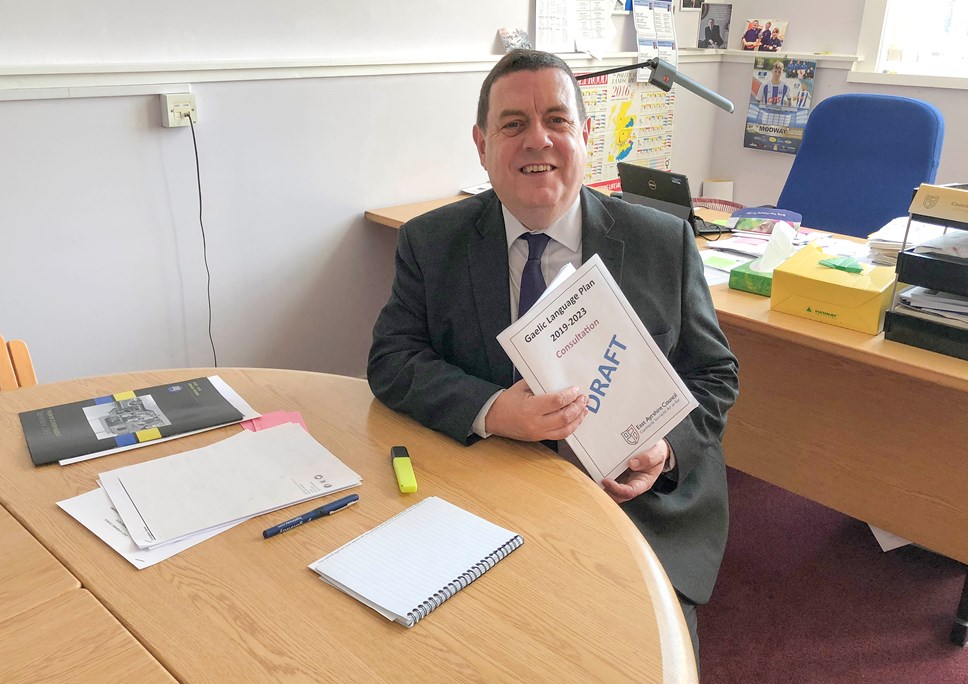 Council consults on second draft of Gaelic Language Plan
East Ayrshire Council is asking all local residents for their views and ideas on the second version of the Gaelic Language Plan (2019-2023).
The second draft Plan outlines how the Council will further support and promote the Gaelic Language and culture in East Ayrshire and builds on the successes of the first plan which saw a range of measures being taken to implement the language into council, business and local life.
This included a new Gaelic Council logo, Gaelic livery on Council vehicles, Gaelic road signage, a series of adult learning classes, an East Ayrshire Feis and Gaelic training for staff delivered in line with the objectives set out in the National Gaelic Language Plan.
The new plan now proposes to go further and will look at new ways of embedding Gaelic more firmly in East Ayrshire. A key part of this will be centralising Gaelic provision in the Sgoil na Coille Nuaidh – the new Gaelic dedicated school on the William McIlvanney Campus in Kilmarnock.
The Council is now asking members of the public, business groups, local groups and organisations to respond to the outline proposals during a six-week consultation, which closes at midnight on Sunday 18 November 2018.
Commenting on the Council consultation, Leader of the Council Councillor Douglas Reid, said: "I'm proud that we have a second draft Gaelic Language Plan developed to help the language and culture prosper and flourish once again.
"Gaelic is a fragile language and we've set out our goals for the next five years across a number of key themes, to embed it in everyday life and business."
The Plan's themes include: education (including home and early years), community, workplace, culture and arts, heritage and the economy.
Councillor Reid continued: "Gaelic belongs to everyone in Scotland and I'm delighted we're making good progress to ensure the language is supported and nurtured in East Ayrshire.
"Gaelic learning has increased in East Ayrshire over the last five years and a highlight of our success is that all Gaelic Medium Education, for pupils aged 3 to 18 years, is now provided at our Gaelic School, Sgoil na Coille Nuaidh, part of the stunning new William McIlvanney Campus.
"Community-based learning and opportunities to learn Gaelic have also increased, and we have continued to extend the visibility of Gaelic through bilingual street and boundary signs and an update to the Council logo.
"I would urge everyone to give us their views on the new plan so we can build a stronger Gaelic community and a bright future for Gaelic in East Ayrshire and Scotland.
"Working together, I'm confident this is an ambition we can all realise successfully - and soon."
The Gaelic Language Plan consultation is available online at:
https://www.east-ayrshire.gov.uk/CouncilAndGovernment/About-the-Council/EqualityDiversityAndCitizenship/Gaelic-language.aspx
It ends at midnight on Sunday 18 November 2018.