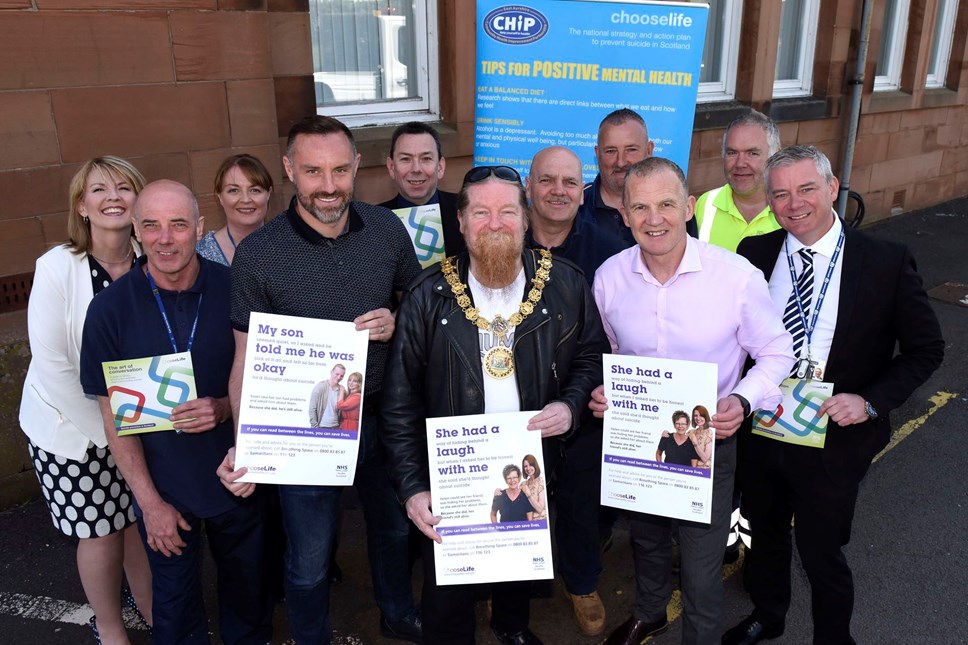 Council launches Choose Life strategy
Kilmarnock FC's Kris Boyd and club legend Ray Montgomerie joined Provost Jim Todd and employees from across the Council this week to launch 'Choose Life', a strategy which will provide training and advice to help prevent suicide.
The launch was held during Mental Health Awareness Week which this year is focusing on stress and how we cope with it. Research has shown that two thirds of us experience a mental health problem in our lifetimes, and stress is a key factor in this.
The Council will focus on providing online and printed advice to its employees as well as delivering training on suicide awareness and mental health first aid.
Provost Todd said: "The prevention of suicide is a local and national priority in Scotland. As a Council, we are looking at how we can tackle stress and help improve our mental health by tying in with the NHS 'Choose Life' strategy. We hope that by providing more training and information, we can go a long way to tackling mental health problems such as anxiety and depression, which can in some instances lead to self-harm and suicide.
"We're delighted that Kris and Ray came to support the launch as we really want to raise awareness of the issue of suicide prevention, as sadly it's an issue that affects far too many families in Scotland today."