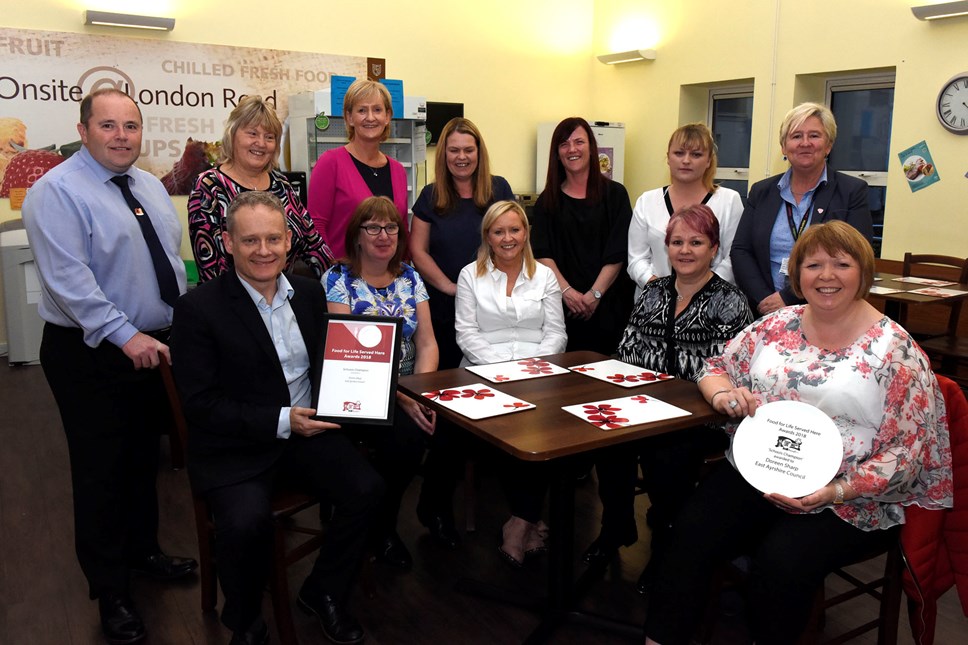 Council school cook is national food champion!
Doreen Sharp a catering manager at Nether Robertland Primary School has won the national Food for Life 'Schools Champion' award 2018.
Doreen, who has been school cook at Nether Robertland primary school for 30 years, was one of four nominees shortlisted for the national Schools Award.
She received her award from the Soil Association's CEO Helen Browning and Food for Life co-founder Jeanette Orrey MBE and said: "I'm totally overwhelmed by this award and it makes all the hard work our team undertake so worthwhile.
"Honestly, I'm just doing my job and serving Food for Life standard meals in school comes as second nature. Our pupils and parents have come to expect a high quality standard and I'm delighted we can consistently meet those expectations.
Doreen also emphasised the importance of locally sourced, fresh produce, something the Council has done for years. She added: "For more than ten years, we're really proud to have supported local businesses, suppliers and farms and I know all their names, even the names of the drivers."
East Ayrshire Council have also held the Gold Food for Life Served Here award for their school meals since 2008 – the longest continuous Gold award holders in the country.
Aoife Behan, Director of Food and Policy at Soil Association Scotland, said: "Huge congratulations to Doreen and the whole team at East Ayrshire Council on this well-deserved award.
"This win is a testament to the team's hard work and dedication to maintaining their Food for Life Served Here Gold award for over a decade."
Notes to editors
Doreen Sharp is pictured (front right) with her team and senior council officers at East Ayrshire Council
The Council has achieved the Food For Life Served Here Gold standard for 10 consecutive years - the longest of any Local Authority in Scotland.
Food for Life is a Soil Association initiative which began in 2003 and developed into an award-winning national programme to transform school food culture. In Scotland, the programme has been funded by Scottish Government since 2012. 11 Local Authorities currently hold Food for Life Served Here certification for their school meals.
The Soil Association was founded in 1946 by farmers, scientists, doctors and nutritionists to promote the connection between the health of the soil, food, animals, people and the environment. Today the Soil Association is the UK's leading membership charity campaigning for healthy, humane and sustainable food, farming and land use.