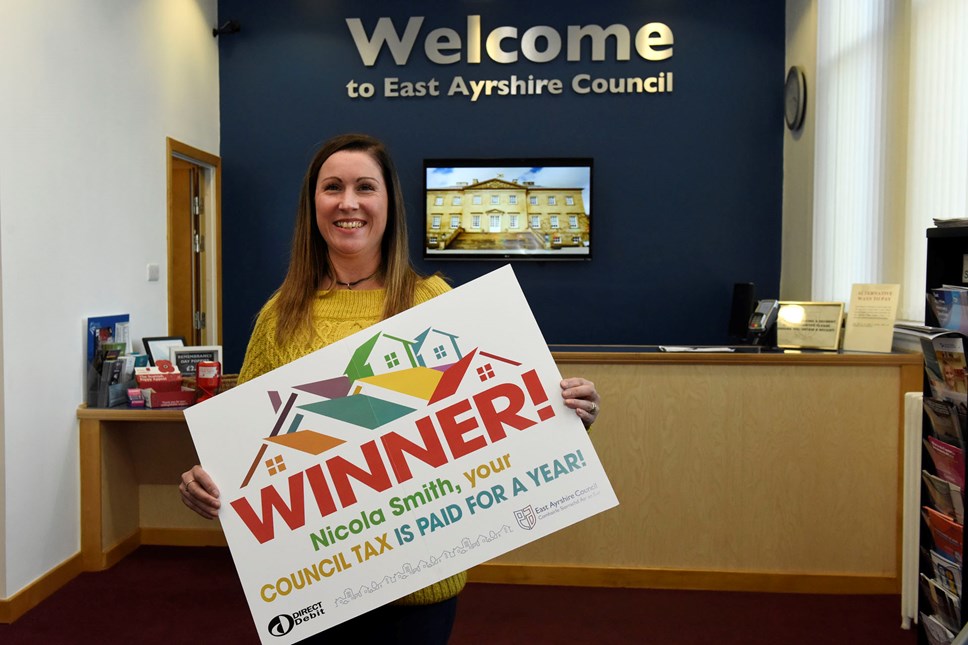 Council tax prize draw means Happy Christmas for Nicola
Christmas will be more fun for Nicola Smith's family this year – after she scooped a year's free Council Tax in a prize draw promoted by East Ayrshire Council.
The mum of two from Kilmarnock, who has "never won anything before" was delighted to meet Council Leader Douglas Reid and receive a year's Council Tax, paid directly into her bank account, after entering the draw which was open to anyone completing a direct debit form to pay their council tax direct from a bank account.
Councillor Reid gave a delighted Nicola her prize. He said: "It's lovely to see a young mum like Nicola benefit from this prize. Thanks to this money she's looking forward to having a little more to spend on Christmas this year.
"She realised that paying by direct debit was a good way to manage her payments, and as we move to a more efficient, cashless system it's very easy and simple option for people to use to make sure they keep up to date with paying their bills. It gives them the option to pay over 10 or 12 months and allows for collection on a choice of three dates in the month.
"From 12 November paying our bills with cash will no longer be an option. But there are many other ways available, of which direct debit is the best one.
"We're delighted that so many people have already signed up for direct debits – by making the process simpler and more reliable for both us and the public, it gives us more scope to budget and spend our resources where they're most needed."
East Ayrshire Council can also accept card payment by phone, online or in person at customer service centres. Paypoint is another option, with over 100 outlets throughout East Ayrshire. Customer advisors are on hand to assist. To find out more about how to set up a direct debit or use other forms of payment visit: https://eastayrshi.re/paycounciltax.