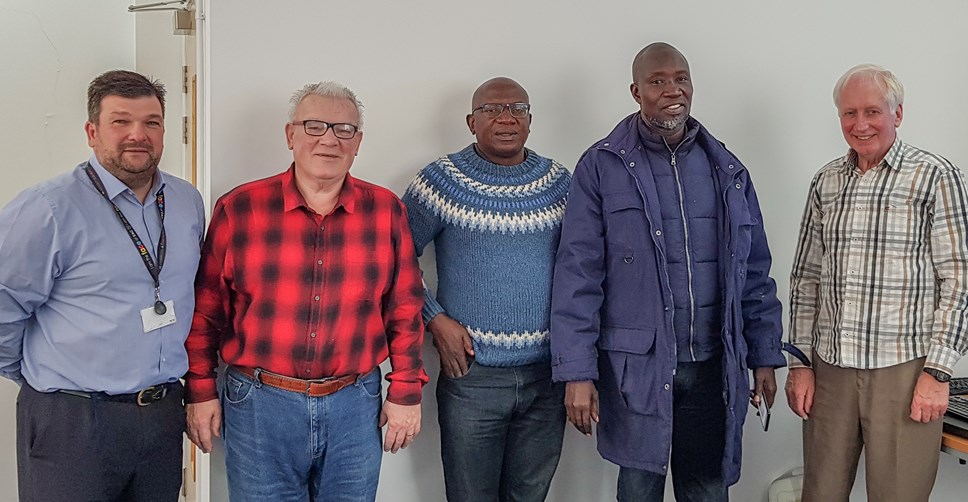 Council welcomes visitors from Uganda
Two representatives from the Ugandan town of Arua visited Kilmarnock recently as part of a fact-finding mission around new recycling techniques.

Mayor Isa Kato and Town Clerk Daniel Kawesi made the 14.000-mile round trip from East Africa to East Ayrshire as part of a link up with East Ayrshire Council.
Arua has a population of 62,000 but this swells to 300,000 during the day due to a combination of shoppers, traders and relief agency workers. The population has increased further due to refugees travelling through the area from South Sudan and Congo, meaning the town is always looking at ways to tackle the issue of waste and rubbish piling up.
The Mayor and Town clerk paid a visit to Provost Jim Todd at Council HQ before being taken on a tour of Kilmarnock Football Club by former captain Ray Montgomerie.
The group then visited the Recycling Centre in Kilmarnock where Waste Services Manager Malcolm Rae explained the recycling process from start to finish. The visitors were impressed with the way the processes were automated and how the different recyclable materials were separated.
ends
Notes to editors
The relationship between Arua and Kilmarnock began in the 1970s when Dr Jim McHardy worked in Uganda as a missionary in one of the hospitals. Since 2011, regular visits have been made by him and Archie McDonald, his wife Liz, and others to give support to the communities there.