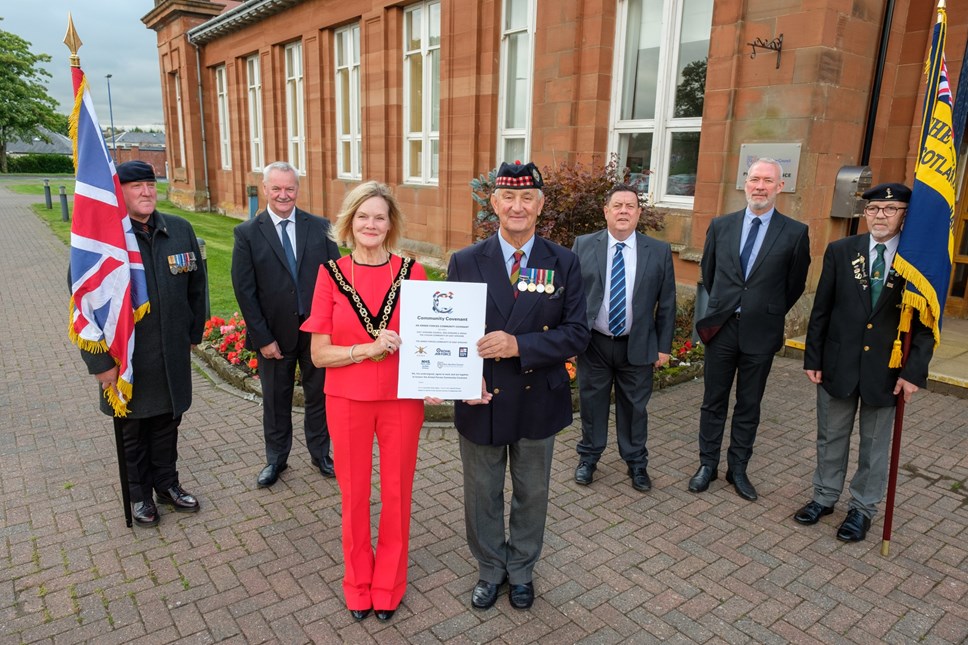 Councils renew commitment to Armed Forces Community Covenant
All three Ayrshire councils have renewed their commitment to the Armed Forces Community Covenant to strengthen the support provided to the Armed Forces and veterans' community.
Representatives from North, South and East Ayrshire Councils held a joint virtual event this week at which they signed the renewed Covenant in conjunction with other partners.
The Covenant aims to encourage communities, charities, businesses, local government and health care providers to support all our armed forces across East Ayrshire. This not only includes serving personnel, but also their families and veterans, particularly where they have been injured or bereaved.
Originally signed in 2012, the commitments set out in the Covenant have now been revisited to ensure that they remain fit for purpose.
Depute Provost Sally Cogley said: "We want to ensure that we're doing all we can to support our Armed Forces community, particularly as Ayrshire has proportionately one of the highest numbers of people with armed forces experience of any part of Scotland.
"By signing the renewed Covenant, we recognise what our armed forces have done for us and the sacrifices they have made, and continue to make, on a daily basis."
Councillor Douglas Reid, Leader of the Council, said: "The Council was also very honoured to receive the Employer Recognition Scheme Silver Award last month from the Lowland Reserve Forces & Cadets Association in recognition of our commitment to our employees who are reservists.
"We will continue to make it a priority to consolidate and strengthen the support we provide along with our partners to the Armed Forces and veterans' community."
ends
Notes to editors
Photo caption: Depute Provost Sally Cogley with Major David Dickson.
Background: Stewart Finlay, Royal British Legion; Eddie Fraser, Chief Executive of EAC; Councillor Douglas Reid, Leader of EAC; Iain Tough, EAC; Kenneth Graham, Royal British Legion.