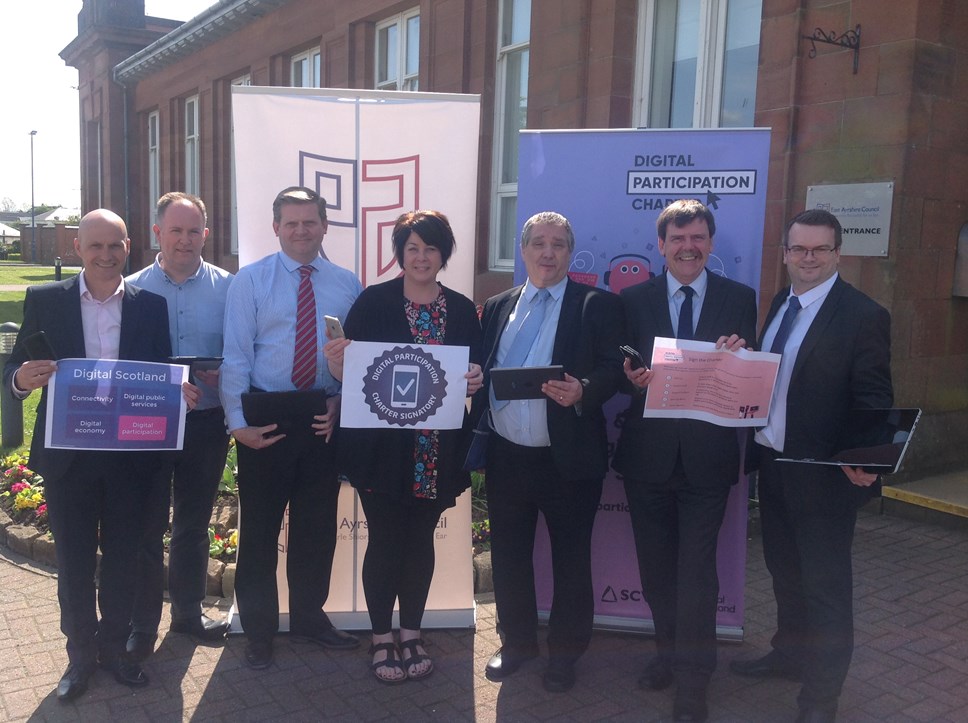 Digital participation is the key to transformation
East Ayrshire Council has reinforced its commitment to tackle digital exclusion by signing up to a national charter promoting digital participation.
Scotland's Digital Participation Charter is run by the Scottish Council for Voluntary Organisations (SCVO) and it seeks to ensure that everyone has the basic digital skills, motivation and access to allow them to fully participate in our digital world.
Digital Participation forms one of the core objectives set out in East Ayrshire Council's Transformation Strategy, which was approved in February 2018. The 'Digitally Connected East Ayrshire' workstream sets out how the Council will support its workforce and local communities to maximise the benefits of Digital Participation.
Council employees have access to a range of in-house training courses to help them master basic digital skills.
Volunteers and communities groups also have access to a range of digital learning opportunities to give them the skills and confidence to share this expertise with others.
Councillor Gordon Jenkins, Cabinet Member with responsibility for Management and Resources welcomed the move.
He said: "The digital landscape continues to evolve and increasingly features in more and more aspects of our everyday lives.
"We want to support our workforce and communities to ensure they have the skills to access all the digital opportunities available to them and this charter demonstrates our commitment.
"We have recently established a Digital Participation Network, bringing together key partner organisations and community representatives to encourage digital participation, assess the digital skills gaps across East Ayrshire and promote digital access and learning opportunities.
"We have already made significant inroads towards tackling digital exclusion in a number of service areas. Our Employability Team is leading the way in terms of providing digital support to customers. Assistance and training is available through a range of different channels to young unemployed people, job seekers, modern apprentices and those requiring additional support in employment, to enable them to acquire digital skills and IT qualifications to help them in their pursuit of employment.
"Vibrant Communities have also developed a range of initiatives to incorporate and grow digital learning opportunities across our communities.
"We look forward to working with partners to honour the commitments set out in the charter."
David McNeill, SCVO's Director of Digital said: "We're delighted to welcome East Ayrshire Council to Scotland's Digital Participation Charter. The commitment to building essential digital skills is important to ensure everyone has the opportunity to participate in every aspect of today's society. East Ayrshire Council joins an active community of organisations across the public, private and third sectors who are taking action to support the 800,000 people in Scotland who need help to make the most of new technology and the internet."
Notes to editors
Photo cap:
Jim Murdoch, EAC Transformation Team, Graham Shields, EAC Vibrant communities, Craig McArthur, Head of Finance & ITC, Cllr Elena Whitham, Cllr Gordon Jenkins, Graeme Hamilton, SCVO and James McKee, EAC Transformation Team.