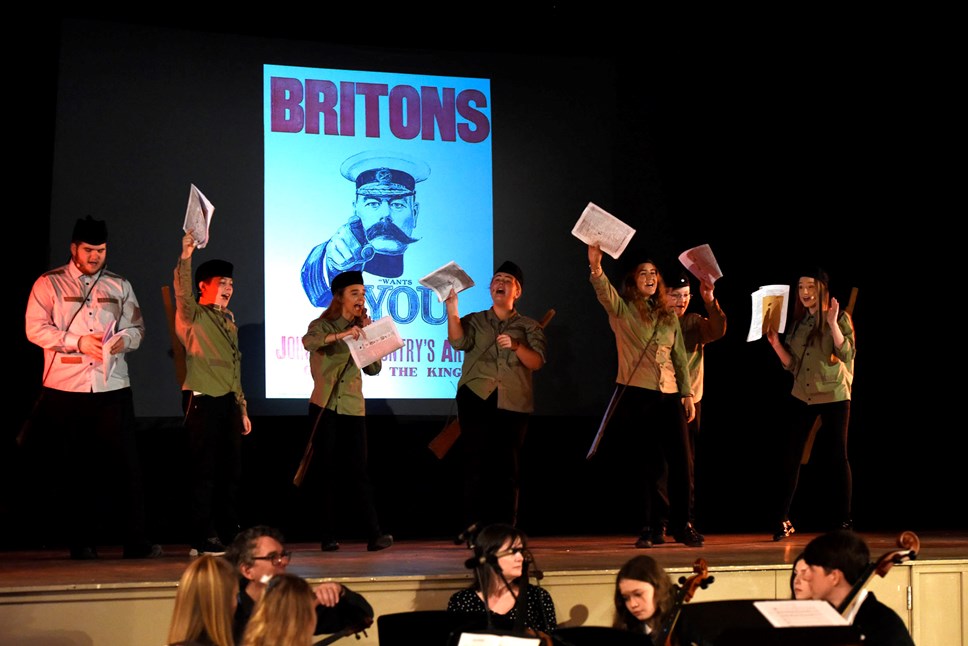 Doon Academy's Chronicles of Cumnock featured on national news
Pupils from Doon Academy have hit the national news headlines, featuring in a Channel 4 news broadcast about their work for the recent Cumnock Tryst.
In a special segment during the national news, the pupils spoke of their involvement in the 'Cumnock Chronicles', a creative interpretation of Ayrshire's WW1 experience, told through a performance of specially composed music and dance by local young people.
The work continues a tradition the Tryst started in previous festivals of working with Scotland's young creatives, and this year celebrated 2018 as Scotland's Year of Young People.
Doon Academy, in association with the Royal Conservatoire of Scotland (RCS), worked for 10-weeks on the project to create a series of powerful music and dance performances.
The Doon Academy pupils had access to leading composers including Jennifer Martin and Sir James MacMillan, plus choreographers Jenny Fallon and Megan Peasgood.
Martin Travers from Glasgow's Citizen's Theatre stitched together the various components with stories from the East Ayrshire community and their performance of the finished work took place at Cumnock Academy with Edinburgh Quartet and RCS String Quartet.
Commenting on the production Sir James MacMillan said: "A hundred years have passed since the end of the First World War.
"With the help of the Cumnock History Group, we discovered local stories about this difficult time and put together a 'symphony' of narrative, music and dance. This is the culmination of one of the Tryst's most important creative and educational projects."
Eilidh McHattie (S4) said: "Working on the Chronicles of Cumnock was amazing and I learned so much from working with professional composers, musicians and dancers. It really got my imagination working and I'd love to do something like this again!"
Aimee Sturgeon (S6) added: "It was just fantastic to work with people you normally see on the telly and then Channel 4 came in to film us - and we ended up seeing ourselves on the telly! The whole ten weeks went by in a whirl and the school and pupils had a fantastic experience working with world class performers. I'd definitely do it again, no question!"
Councillor Fiona Campbell, East Ayrshire Council's Cabinet Member for Skills and Learning said: "I am so pleased the Tryst has maintained their commitment to our talented young people, bringing together a number of globally renowned names to assist them with this extraordinary and exciting project.
"It's truly humbling that major music, dance and creative celebrities, well-known on the world stage, make time for our pupils and I know the experience has been inspirational and motivational for the pupils and schools involved.
"The Chronicles of Cumnock was a fantastic piece of work and our young creative talents can take a bow and great pride in their work, which attracted well deserved national attention from Channel 4 News."