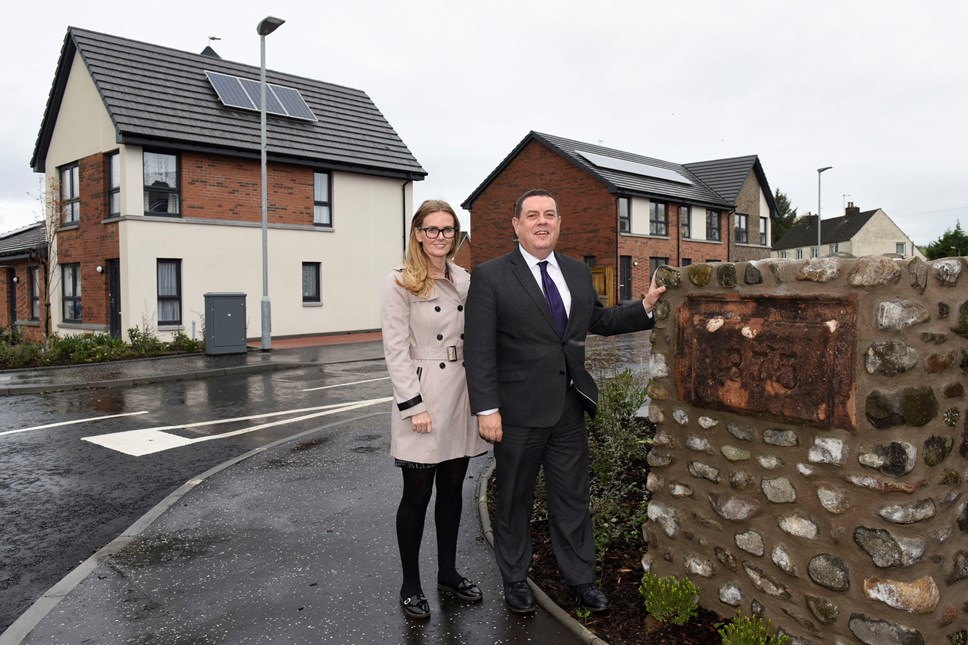 East Ayrshire and CCG (Scotland) Ltd double winners at awards
The inaugural Scottish Procurement Alliance awards were held recently and East Ayrshire Council with strategic partners, CCG (Scotland) Ltd were double winners.
Hosted by world famous cyclist Marc Beaumont, the ceremony was held at the Grand Central Hotel in Glasgow and was a celebration of procurement excellence within the public sector.
The Council, with CCG, won Best Housing Project for Barbieston Road, Dalrymple and Most Innovative Project for Hearth Place, Cumnock.
Barbieston Road is a stunning new £1.74m development, providing eleven new build affordable homes for rent in the heart of the village, while Hearth Place saw the conversion and upgrade of seven pre-fabricated properties built after the Second World War.
Councillor Douglas Reid, Leader of the East Ayrshire Council said: "The Barbieston Road housing development has been built on the site of the former community centre and library which have been relocated to new, modern facilities within Dalrymple Primary School.
"The houses were designed to a very high standard and built using modern methods of construction. This makes them energy efficient, helping to keep energy bills down.
""CCG worked closely with the local community to keep disruption to a minimum, utilising off-site manufacturing techniques that included the use of their 'iQ' panelised timber frame system to speed up the build process and ensure a more efficient site environment.
"This project was a worthy winner of the Best Housing Project and I would like to thank the delivery team who made this project a reality, improving the lives of our residents."
Councillor Elena Whitham, Cabinet Member for Housing and Communities said: "The Hearth Place project was extremely innovative. The temporary pre-fab homes built after the Second World War were only designed to last 15 years.
"We spoke to our tenants about the best way forward and they felt very strongly that they wanted to remain within this location. It was then over to CCG to develop a solution that allowed the existing shell of the house to remain while transforming the interior into modern, comfortable and energy efficient homes.

"I am delighted that this excellent project has been recognised by the Scottish Procurement Alliance and has won Most Innovative Project."
Calum Murray, Director, CCG (Scotland) Ltd said: "The work performed in the public sector by the SPA and its members has been nothing short of outstanding since its formation two years ago.
"As a strategic partner, CCG is delighted to have had the hard work of our team and our client East Ayrshire Council rewarded in the form of housing and innovation. The partnership between ourselves and the Council is industry-leading in Scotland and we hope this success will continue over the coming years."
Both projects were supported by funding from the Scottish Government.
Barbieston Road includes eight two-bedroom homes, two two-bedroom homes specially designed for older people and a two-bedroom home designed for wheelchair users. Hearth Place was a unique upgrade of seven existing non-traditional dwellings that have been transformed into modern, comfortable homes.