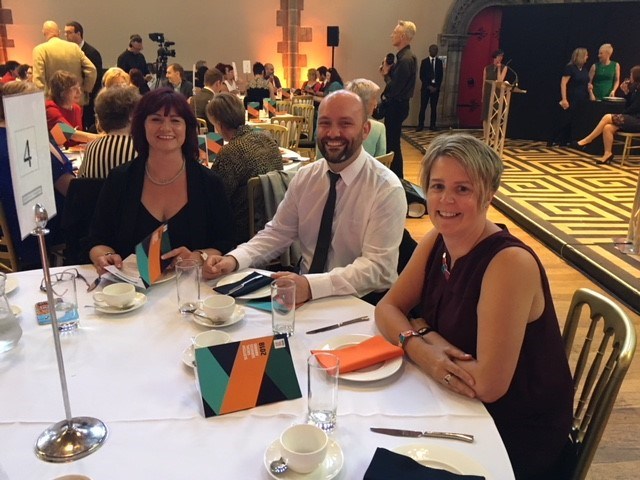 East Ayrshire Social Worker wins top award
Anthony Miller from East Ayrshire Health and Social Care Partnership has won a Scottish Social Services Award for having the courage to think differently about risk in his role as a social worker.
A former police officer, Anthony retrained as a social worker after recognising the inequalities that children and young people can face. He now works with young people and their families to empower them to make positive changes. Anthony was delighted to be named the winner in the 'Courage to take a Risk' category. The judges commented that Anthony's story was a "compelling picture of the difference one person can make if they adopt a courageous perspective on risk taking."
As well as Anthony, the East Ayrshire Social Work Service was delighted to have two other employees nominated as finalists.
Sam Armour was shortlisted in the 'Bright Spark' category which celebrates the work of young people in the social services sector who are excelling and making a real difference to someone's life. Sam is a Thinking Differently Peer Mentor who supports practitioners to use and promote technology within care, helping people increase their independence. He joined East Ayrshire HSCP at age 16 as a clerical assistant, followed his passion for making a difference, and is now a Social Work Degree student.
In 'The Untold Story' category, Family Support Assistant Janice Millar was nominated by one of the people she supports. She helped this person build her confidence and believe in her ability to look after her family. Her encouraging and non-judgmental approach has helped give this person the strength to believe in her own abilities to be a good mother.
A further East Ayrshire finalist was the team from Turning Point Scotland and Serco (Prisoner Support Pathways, HMP Kilmarnock), for their work in supporting people leaving prison.
Councillor Iain Linton, Cabinet Member for Wellbeing, said: "We are absolutely thrilled for Anthony, Sam and Janice. To have three of our employees in the running for this year's Scottish Social Services Awards was quite an achievement. I was also delighted for the team from Turning Point Scotland/Serco, as their work has such a positive impact on families and communities in East Ayrshire.
"Congratulations go to all for their dedication and hard work in what can be very challenging roles at times. It's fantastic to see all of the good work going on across social work and social care services being highlighted and celebrated in this way."
Introduced just last year, the Scottish Social Services Awards aim to cut across boundaries, celebrate excellence and bring one of the country's largest sectors together.
This year's awards attracted over 100 applications nationwide, representing a diverse mix of social services that have made a positive difference to people's lives.
ends
Notes to editors
Photo: Anthony Miller with colleagues at the awards ceremony.