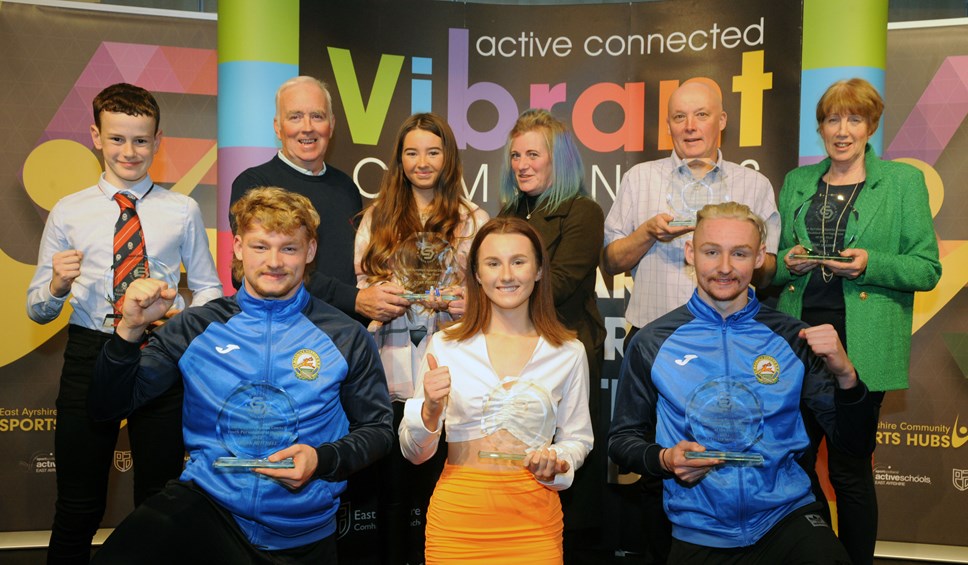 East Ayrshire Sports Council Awards 2022
East Ayrshire's most talented athletes, sports clubs and volunteers have been celebrated and recognised for their sporting success and contribution to sport at the Sports Council and Talented Athlete Awards evening. This is the first time that the event has taken place in three years due to the COVID pandemic.
This year saw over 40 athletes being supported through the Talented Athlete Support Programme with all athletes being National or International Champions, or representing their country in their chosen sport.
Amongst those supported were Team Scotland athletes who competed at the Commonwealth Games 2022 which were held in Birmingham. The athletes were Adam Hall (Badminton), Millie Steiger (Hockey), Hannah Smith (Bowls) & Claire Johnstone (Bowls) who all did East Ayrshire proud in their respective sports with Adam Hall reaching the semi-final of the mixed doubles event.
Councillor Linda Holland, Co-Vice Chair of the East Ayrshire Sports Council, said: "With so many athletes being supported, it really does demonstrate that East Ayrshire can produce and will continue to produce top class athletes through their hard work, determination and commitment."
Councillor James Adams, Co-Vice Chair of the East Ayrshire Sports Council, added: "The East Ayrshire Sports Council Awards also recognise the achievements of club coaches and their volunteers because without them, the profile of sport in East Ayrshire would not be where it is today."
In addition to a host of personal recognition accolades, the following main awards were presented:
Disabled Sports Person of the Year 2022
Winner: Rory McKinna
Finalist: Ewan Muir
Finalist: Nicole Millar
Jim Higgins Youth Sport Personality of the Year 2022
Winner: Logan Mitchell
Finalist: Lewis Bryson
Finalist: Scott McBride
SALSC Service to Sport 2022
Winner: Derek King
Finalist: Billy & May Fulton
Finalist: James Nimbley
Individual Performance of the Year 2022
Winner: Alastair Mitchell
Finalist: Adam Hall
Finalist: Logan Mitchell
Team Performance of the Year 2022
Winner: Stewarton Annick 2009s
Finalist: Kilmarnock Harrier Relay Team
Finalist: Cumnock Juniors 2009s
Inspiring Females in Sport Award 2022
Winner: Brooke Dunlop
Finalist: Annette Sharp
Finalist: Billie Ross
East Ayrshire Sports Council Club of the Year 2022
Winner: Dean Thistle Football Club
Finalist: Cluarankwai Judo Club
Finalist: Dunlop Table Tennis Club
Joan O'Sullivan, Chair of East Ayrshire Sports Council, added: "This has been another inspiring event and I am incredibly proud of how much success our athletes gain and bring back to East Ayrshire. Volunteers really are the backbone to community and grassroots sport and fully deserve to be recognised for their time and efforts. It's great to see East Ayrshire at the forefront of the recovery of sport following the difficulties everyone has experienced over the past three years.
"For one of the smaller localities, we really do punch above our weight with amazing talented athletes, clubs and volunteers who all ensure that sport in East Ayrshire is thriving."
For more information about the Talented Athlete Support Programme or the East Ayrshire Sports Council please contact EASC@east-ayrshire.gov.uk
See all photos at: https://www.flickr.com/photos/east-ayrshire/albums/72177720304028685