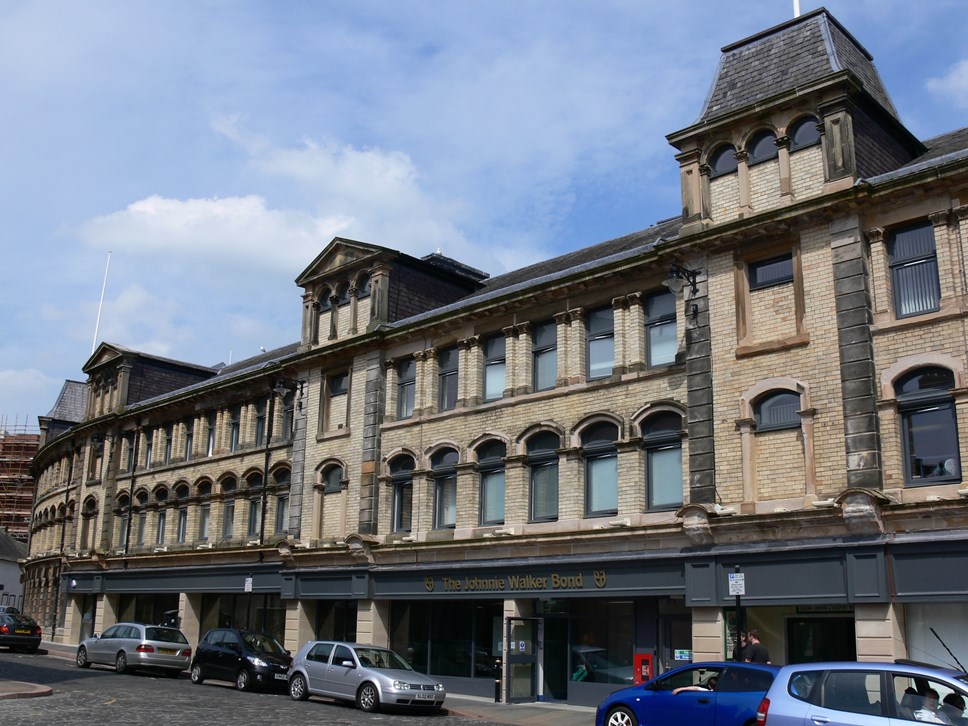 East Ayrshire welcomes Diageo investment to enhance whisky tourism
In response to the news that Diageo is to invest £150m over 3 years in whisky tourism focusing on its Johnnie Walker Brand, Councillor Douglas Reid, Leader of East Ayrshire Council said:
"We welcome today's announcement by Diageo and recognise its huge potential to entice more visitors to Scotland and to further enhance the visitor experience both at a local and national level.
"Kilmarnock is the home of the most famous whisky in the world and we have always recognised the strength of the Johnnie Walker brand and what it means to the heritage of East Ayrshire and indeed Scotland.
"Johnnie Walker was an outstanding entrepreneur. Born and bred in Kilmarnock, he set up his first shop in Sandbed Street, near Kilmarnock Cross and proceeded to create a blend which has reached every part of the globe. We were pleased recently when Diageo used this 19th century shop as the inspiration for its Johnnie Walker whisky retail display at Heathrow airport's terminal 5.
"We're very proud of Johnnie Walker as a son of the town, and it's great to see that this investment will use his brand to provide a very welcome boost to tourism in Scotland as a whole, helping support countless other businesses as it draws more visitors to explore our country.
"We're delighted that Johnnie Walker's Kilmarnock legacy is to be recognised with a scholarship which builds on our reputation for encouraging young local entrepreneurs. Through this programme, and with renewed interest in Johnnie Walker the man, we can carry his proud legacy forward to create new opportunities for tourism and entrepreneurship for future generations.
"We will be meeting with Diageo in the very near future to discuss how Kilmarnock – and the Johnnie Walker legacy - will feature in their plans and we look forward to working with them and other stakeholders to build on the historic provenance of the famous Johnnie Walker brand.
Notes to editors
Editor's notes
Johnnie Walker Kilmarnock timeline:
1820 - Johnnie Walker, orphaned at just 14, uses the proceeds of the sale of the family farm at Todriggs, aged 15, to set up a grocery, wines and spirit store at Sandbed Street. The business evolves to concentrate on whisky and wine sales and he begins to market blended, made to order whisky. He then markets a specific blend of malts under the name "Walkers Kilmarnock Whisky".
1857 - John Walker dies and is buried in St Andrews Kirkyard, Kilmarnock.
1865 - John's son Alexander takes over the business and sets up "John Walker and Sons"
1875 - The blending and bottling operation moves to larger premises in Croft Street. Offices are acquired in London, with brands in Australia, Canada and South Africa.
1925 - Now a public company with prominence in 120 countries, Johnnie Walker and Sons merges with Distillers and Buchanan-Dewars to form Distillers Company Ltd. New buildings are erected at the larger site at Hill Street, Kilmarnock
1940 - Sir Alexander Walker, last remaining family member in the firm, retires.
1987 - Distillers Company Ltd is taken over by Guinness PLC
1997 - Guinness and Grand Metropolitan merge to form Diageo
2012 - Johnnie Walker bottling plant in Kilmarnock closes
Pics depict the former bonded warehouse in Strand Street Kilmarnock and its window graphics produced from old photographs. Now known as "The Johnnie Walker Bond" This building has been regenerated to provide a base for East Ayrshire Council employees in the heart of Kilmarnock