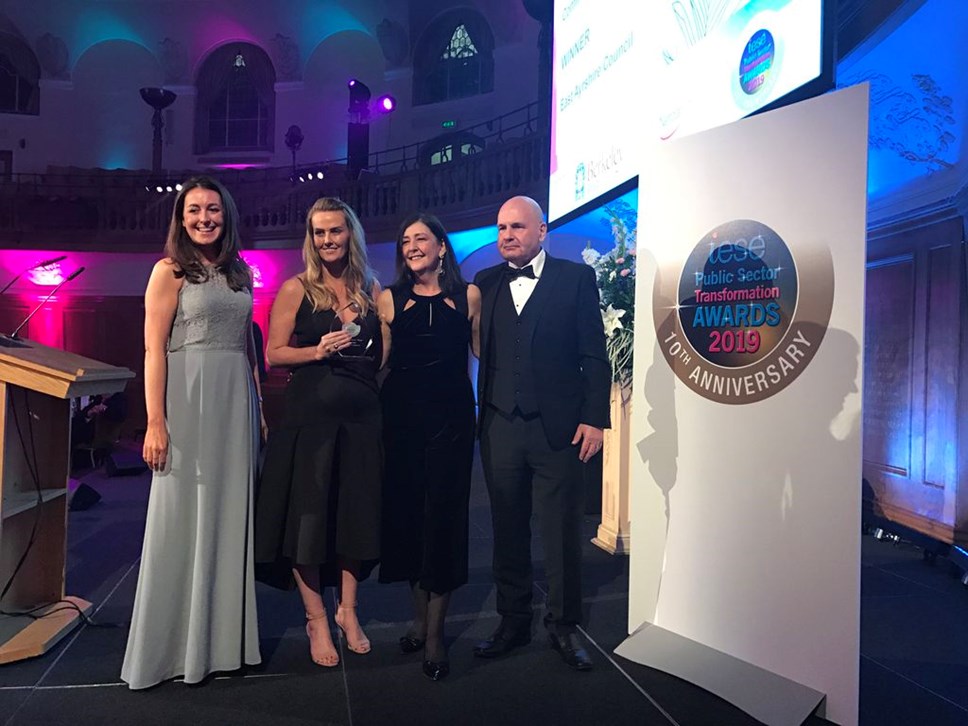 East Ayrshire wins gold at the iESE Awards
East Ayrshire lifted three trophies at the national iESE awards.
The award ceremony celebrated ten years of Public Sector Transformation with local authorities and public service groups from across the UK vying for gold in thirteen distinct categories.
Housing Services won Gold in the Community Focus (place) category for the Barbieston Road affordable housing development in Dalrymple. Comprising 11 two bedroom sized properties including two bedroom homes specifically designed for older and ambulant disabled residents and one wheelchair accessible bungalow.
The development was built on the site of the former community centre and library and is a fantastic example of Council and contactor partnership, innovative design and construction techniques. New, environmentally friendly homes were delivered in a town centre location, realising significant community benefits, whilst ensuring that our tenants are at the heart of everything we do.
Waste Management Services also lifted Gold in their category, Transformation in Environmental Service. Since 2015, Waste Management have completely transformed the kerbside recycling services provided to our communities.
52% of household waste in the area is either recycled or composted, and feedback from local people has been overwhelmingly positive about the new arrangements.
The Council also lifted a Bronze award in the Innovation category for the Community Safety CCTV vehicle. The vehicle was commissioned to provide a multi-purpose inter-agency outreach and enforcement platform that could provide CCTV to remote communities within East Ayrshire. This has developed to include collaborative activity between partners and community groups working together to improve community safety and engagement.
Councillor Douglas Reid, Leader of the Council said: "Lifting three awards at the national iESE awards is quite an achievement.
"It's a testament to the hard work and visionary attitude of East Ayrshire Council's professional staff, that out of all the many Councils in the UK, ours should be successful again this year in three categories.
"Transformation is a constant theme, embedded in the ethos of the Council and we are always working to improve our communities."