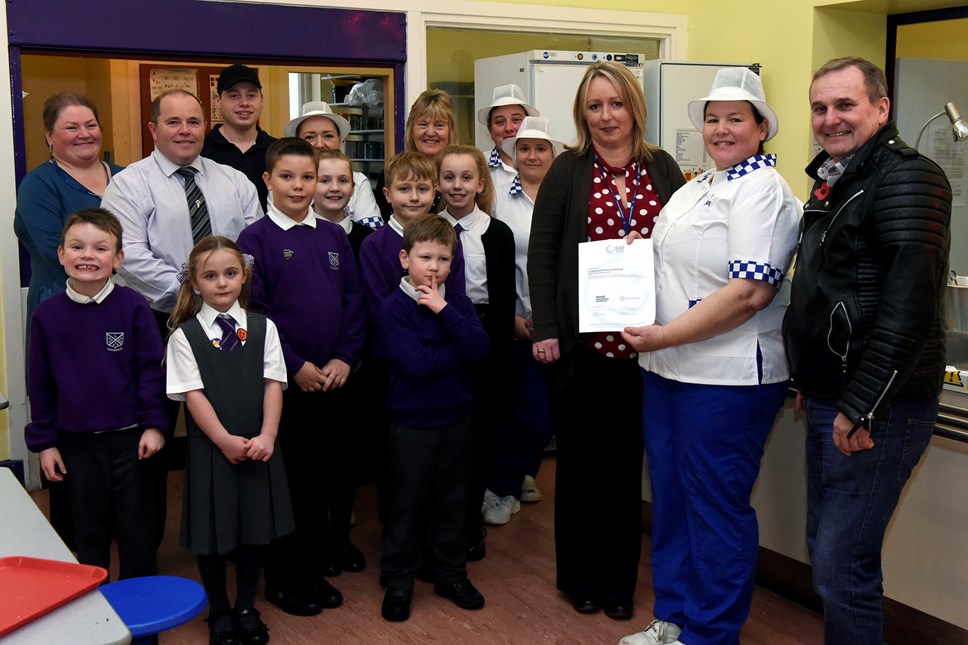 Eat Safe Award for Loanhead Primary
Loanhead Primary has earned an Eat Safe Award for their high standards of hygiene, cleanliness and food safety.
The Catering Services team, based within the school, received their Eat Safe Award at a special presentation.
Councillor Jim McMahon, Cabinet Member for Older People and Community Safety said: "Within East Ayrshire, more and more schools are earning their Eat Safe Award from Food Standards Scotland. This is credit to the wonderful teams working in our school kitchens. They are committed to food safety, hygiene and to providing pupils and staff with delicious nutritionally balanced meals.
"I was delighted to visit Loanhead Primary to congratulate the team and present them with their prestigious award."
The Eat Safe award provides an incentive to food businesses to strive for food hygiene and food safety management standards beyond those that are required by law. For people eating in these establishments, it is sign of excellence in standards of food hygiene. It gives people extra confidence in the food they are served.
The Eat Safe Award sits in parallel with the Food Hygiene Information Scheme that rates hygiene standards against legal requirements. The Eat Safe Award recognises businesses that have achieved standards over and above the legal requirements.
Seventeen premises in East Ayrshire have now earned an Eat Safe Award from Food Standards Scotland.
Environmental Health Services assess premises for the award as part of scheduled hygiene inspections. For further information please contact 01563 553520 or email environmentalhealth@east-ayrshire.gov.uk