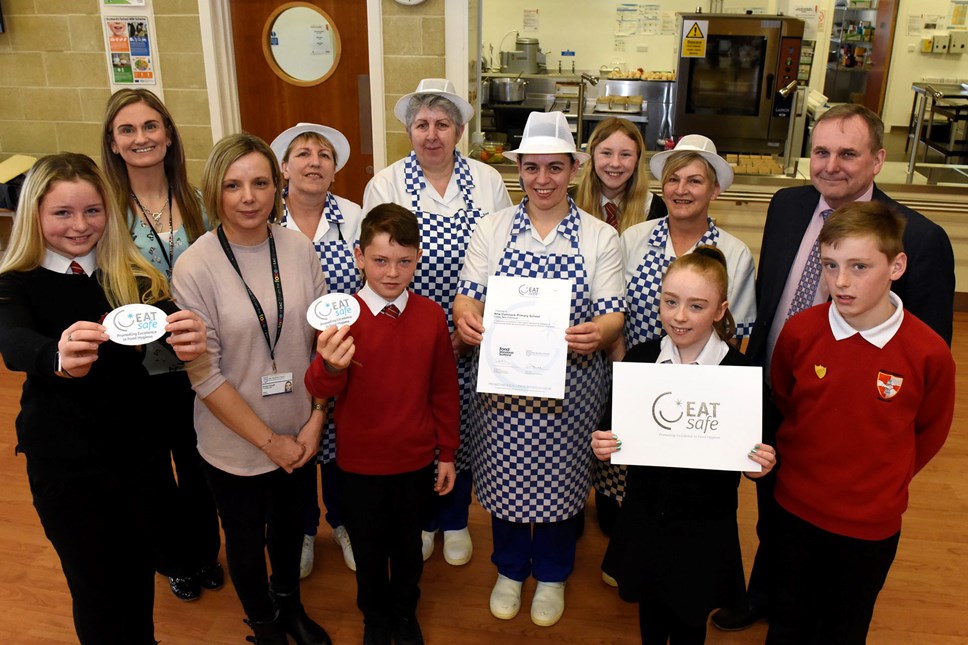 Eat Safe Award for New Cumnock Primary School
New Cumnock Primary School has earned an Eat Safe Award for their high standards of hygiene, cleanliness and food safety.
The Catering Services team, based within the school, received their Eat Safe Award at a special presentation.
Councillor Jim McMahon, Cabinet Member for Older People and Community Safety said: "Within East Ayrshire, more and more schools are earning their Eat Safe Award from Food Standards Scotland. This is credit to the wonderful teams working in our school kitchens. They are committed to food safety, hygiene and to providing pupils and staff with delicious nutritionally balanced meals.
"The team at New Cumnock Primary School thoroughly deserve this prestigious award."
The Eat Safe Award sits in parallel with the Food Hygiene Information Scheme that rates hygiene standards against legal requirements. The Eat Safe Award recognises businesses that have achieved standards over and above the legal requirements.
Twenty premises in East Ayrshire have now earned an Eat Safe Award from Food Standards Scotland.
Environmental Health Services assess premises for the award as part of scheduled hygiene inspections. For further information please contact 01563 553520 or email environmentalhealth@east-ayrshire.gov.uk
Notes to editors
Image 8634
Front L>R Kelsie Guild, Susan Forsyth EAC, Lewis O'Kane, Ellie Armour and Dylan Brown.
Back L>R Head Joanna McMurdo, Christine Findlay, Lynn Walker, Michelle Leary, Emily Jane Charmical and Elizabeth McCreath.