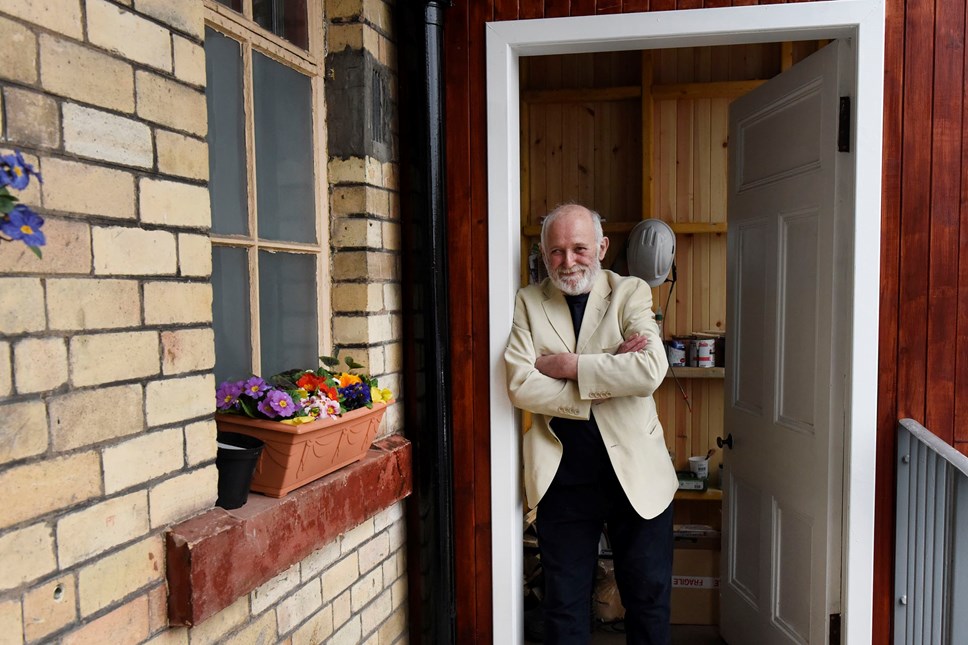 First building repaired under East Ayrshire's derelict buildings restoration grant scheme.
Frank Kehoe is very happy in his home - able to safely access his Catrine tenement flat over newly restored balconies, thanks to East Ayrshire Council
Collaborative working for the common good has been a by-word in Catrine since the founding of Catrine Co-Op in the former mill town in the mid-1840s. So it's very appropriate that one of its main buildings has now been rescued from dereliction thanks to funding from a new Council grant scheme and the co-operation and dedication of its owners and East Ayrshire Council's regeneration team.
The distinctive red Ballochmyle sandstone tenement building at 19-25 St Germain Street, Catrine, was originally built in 1890, specially commissioned by the Co-op to provide a shop, including a bakery, producing fresh bread on the premises, and flats above for workers at the mill, which was then a thriving part of the town's economy.
Designed by renowned architect Gabriel Andrew, a prominent Kilmarnock Architect, who was also responsible for the Johnnie Walker Bond in Strand Street, Kilmarnock among many other buildings, sadly time had taken its toll on the once majestic building and it had been condemned as unsafe at Easter 2012.
The problem arose because of the unusual design of the back of the building, with an enclosed stairwell from the ground floor leading to open balconies to the flat entrances. Held up by iron work, the walkways were in danger of collapsing, posing a risk to all who used and lived in the building. When the problem became critical in 2012, a structural engineer was called in. A Dangerous Buildings notice was issued. All occupants were temporarily evacuated while temporary propping was installed and then the struggle to raise the funds necessary to make the extensive repairs required began.
And that's where East Ayrshire Council's new Town Centre Vacant and Derelict Buildings grant fund came in. The owners of most of the 8 properties within the building got together, set up a trust and deposited funds in a bank account to contribute 50% of the costs of the £62,000 project, with the remainder coming from the Council's new fund. The work, which had to keep true to the original designs while updating it to modern standards, was carried out by Donald Reid & Sons, a local building firm.
For IftiKhar Ahmed and his family, Manan and Rana, who own and run the ground floor shop, the project has come as a huge relief after years of worry about the safety and future of the building and their business. He says: "Before we bought the ground floor of this building we had owned and run the shop across the road for 25 years. We have a huge loyalty to Catrine as a community. it's a lovely place to live and when this premises became available it was a great chance for us to expand the business. We're committed to providing the best possible range of goods and services for local people so they don't have to go outwith the village for their daily needs.
"So it was a great shock, having taken out a loan to buy our part of the building, to find that it might end up being demolished.
"This grant, and the help we've had from the regen team has meant a lot to me and my family. You can imagine, we've been living in fear of our business closing down, being demolished, not knowing what news we could expect from day to day. Keeping an eye on the props in the shop that were holding up the building, and living with that fear. And we had customers asking all the time "are we safe here?". Luckily the Council gave us this great chance, the team made so many visits, keeping in constant touch and keeping us cool and calm throughout. I can't praise them highly enough for the support they've given us throughout.
"We appreciate it hasn't been an easy project for the team to deal with, negotiating with 8 different owners. We all had to be patient while it was all sorted out."
Frank Kehoe who is a long term resident of one of the flats, was instrumental in bringing together as many of the owners as possible to contribute their share. "Unfortunately, we couldn't get some of the owners to co-operate. It's meant that in order to go ahead, those of us who have paid have had to contribute more than our shares to cover the cost but it's been worth it to see the progress that's been made. I'd been trying since 2008 to get everyone together to pay for essential repairs, but it was brought to a head by the Dangerous Buildings Notice in 2012. It was only with the inauguration of East Ayrshire Council's grant scheme that the restoration became possible."
For local builder, Donald Reid, more used to building new properties from scratch, working with exacting traditional restoration specifications and techniques presented a challenge. As did the knowledge that there was no extra money in the budget if costs ran over. He delivered on budget and it's clear that he's as passionate about the building as its owners. "When I started the job I could have run away – it wasn't easy. But now I'm so pleased I've done it – the original work stood for over 100 years, and what we've done will last another 100."
Councillor Jim Roberts, Cabinet Member for Economy and Infrastructure said: "The restoration of this building was of paramount importance as it has been an integral part of Catrine's community since it was originally built for the Co-operative.
"The project has not been an easy one, but it shows when people work together, then the right outcomes can be achieved, especially for the owners and users of this iconic building.
"Regeneration is about much more than buildings. It's all about people and their pride in their community. East Ayrshire Council is doing all it can with this and other grant schemes to help individual householders and at the same time to assist in sustaining businesses and jobs along the way."