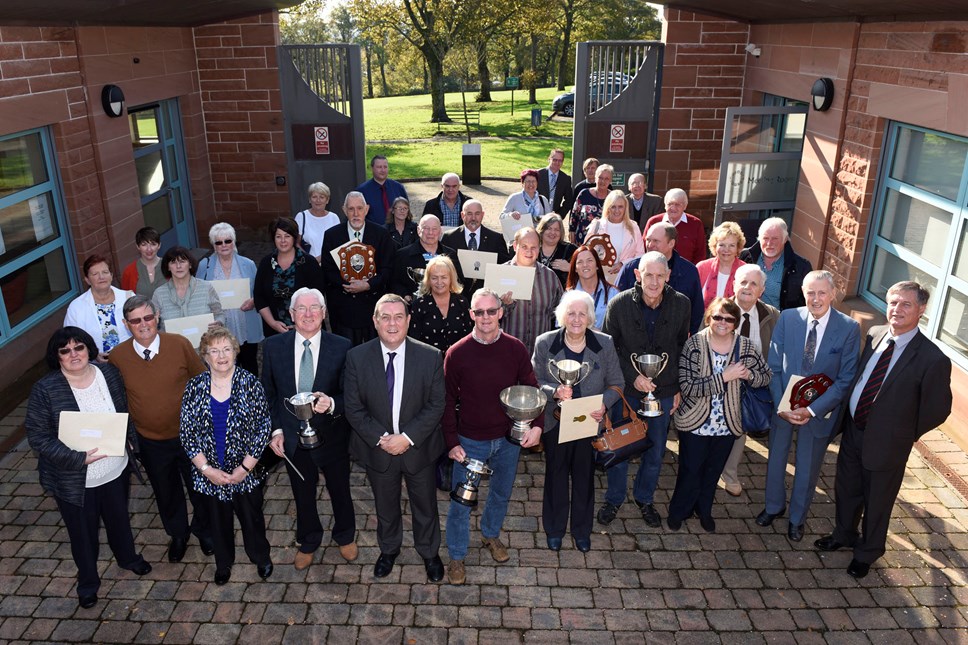 Garden competition is blooming marvellous
East Ayrshire's garden competition attracted a record number of local amateur gardeners this year, all vying for the Best Garden title.
And at a special ceremony the Westfield Nursery Rose Bowl for the Best Overall Garden was presented, for the second year running, to Mr Hogg of Oakbank Drive, Cumnock.
Mr Hogg, who also won the Daily Record Cup for best private garden in Cumnock and Doon Valley, was recognised for his spectacular colours, clever planting and creative garden design.
The task of judging the best overall garden fell to Lynn Graham and Sadie McSherry from the East Ayrshire Tenants' and Residents' Federation, while the four areas – Cumnock and Doon Valley, Kilmarnock Central and South, North West Kilmarnock and Irvine Valley and Ballochmyle – were judged by specialists from the Council's Outdoor Amenities section with Housing Services.
Councillor Douglas Reid, Leader of the Council said: "The judges had a very difficult task selecting this year's winners. There was a big increase in the number of entries and an increase in the number of competition new-comers.
"I was delighted to meet all the winners and congratulate them on their success. I was also delighted to offer congratulations to residents from Holmlea Place, Kilmarnock who won the Cleaner, Greener, Vibrant Street Award and St Marnock Youth Club who won the Cleaner, Greener, Vibrant Community Garden Award for their work at Balmoral Day Centre, Kilmarnock.
"I really admire the skill and commitment shown by our gardeners and their efforts to keep East Ayrshire clean, green and vibrant."
EAST AYRSHIRE COUNCIL GARDEN COMPETITION 2018 WINNERS
BEST COUNCIL GARDEN NORTHWEST KILMARNOCK
Mr Plikgavis
96 Knockinlaw Road
Kilmarnock
RUNNER UP COUNCIL GARDEN NORTHWEST KILMARNOCK
Mrs McClue
94 Altonhill Avenue
Kilmarnock
BEST PRIVATE GARDEN NORTHWEST KILMARNOCK
Ms Sim
16 Glen Ord Crescent
Kilmarnock
RUNNER UP PRIVATE GARDEN NORTHWEST KILMARNOCK
Mr Stewart
53 Onthank Drive
Kilmarnock
BEST COUNCIL GARDEN KILMARNOCK CENTRAL & SOUTH
Mrs Burnett
2 Springhill Gardens
Kilmarnock
RUNNER UP COUNCIL GARDEN KILMARNOCK CENTRAL & SOUTH
Mrs Orr
33 Commonhead Road
Kilmarnock
BEST PRIVATE GARDEN KILMARNOCK CENTRAL & SOUTH
Mr Lang
5 Holmlea Place
Kilmarnock
RUNNER UP PRIVATE GARDEN KILMARNOCK CENTRAL & SOUTH
Mr Bircham
8 Holmlea Place
Kilmarnock
BEST COUNCIL GARDEN IRVINE VALLEY & BALLOCHMYLE
Mr Paton
8 Margaret Avenue
Galston
RUNNER UP COUNCIL IRVINE BVALLEY & BALLOCHMYLE
Ms Anderson
11 Causeway Road
Darvel
BEST PRIVATE GARDEN IRVINE VALLEY & BALLOCHMYLE
Mr Johnstone
52 Brewland Street
Galston
RUNNER UP PRIVATE GARDEN IRVINE VALLEY & BALLOCHMYLE
Mr Mitchell
32 Brewland Street
Galston
BEST COUNCIL GARDEN CUMNOCK & DOON VALLEY
Mr McMinn
28B Back Rogerton Crescent
Auchinleck
RUNNER UP COUNCIL GARDEN CUMNOCK & DOON VALLEY
Mr Robertson
45 Hamilton Drive
New Cumnock
BEST PRIVATE GARDEN CUMNOCK & DOON VALLEY
Mr Hogg
37 Oakbank Drive
Cumnock
RUNNER UP PRIVATE GARDEN CUMNOCK & DOON VALLEY
Mrs Weir
22 Glasgow Road
Muirkirk
BEST VEGETABLE GARDEN
Mr Simpson
9 George Young Drive
Darvel
BEST HANGING BASKETS & PLANTERS
Mrs Rowney
116 Castleview Avenue
Galston
BEST NEWCOMER
Mr Lennon
22 Brewland Street
Galston
SPECIAL ACHIEVEMENT AWARD
Ms Dodds
91 Sutherland Drive
Kilmarnock
CLEANER, GREENER, VIBRANT STREET AWARD
Holmlea Place
Kilmarnock
CLEANER, GREENER, VIBRANT COMMUNITY GARDEN
St Marnock Youth Club
Balmoral Day Centre
OVERALL WINNER
Mr Hogg
37 Oakbank Drive
Cumnock