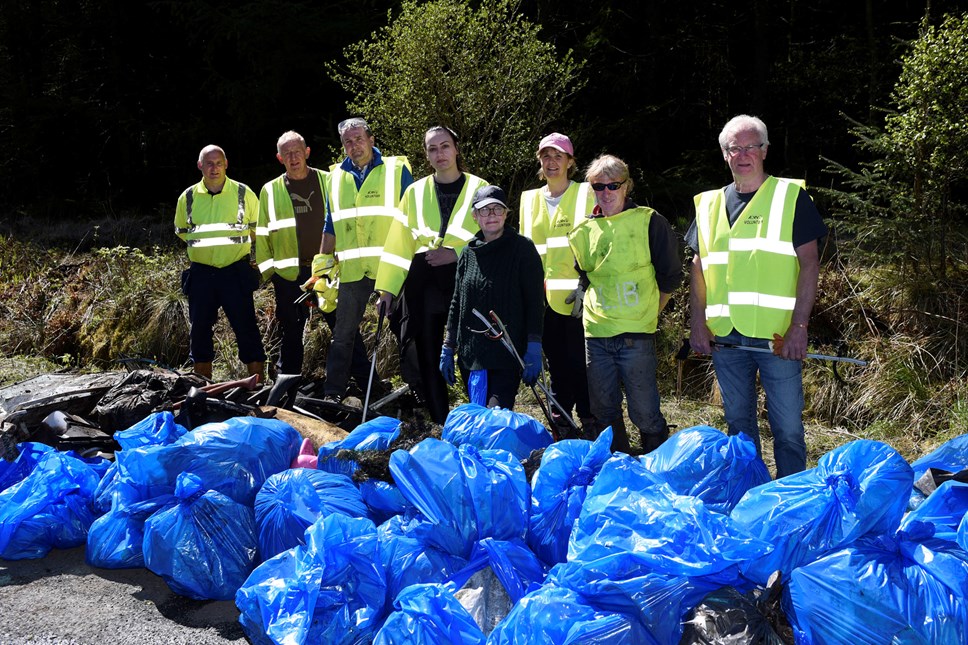 Glenshamrock Road litter clear up
The community and the Council joined forces recently to clear Glenshamrock Road, Auchinleck of litter and waste.
Artist and activist Brian Carey had issued an impassioned plea to the local community for help to clear up Glenshamrock Road after becoming aware of the amount of dumped waste. Shocked by the extent of the fly tipping in his local community, Brian created an environmental art project that highlighted the environmental impact of littering and fly-tipping.
Members of Lugar Boswell and individuals from the local community volunteered to support the official clean up that was led by Councillor Jim McMahon, Cabinet Member for Older People and Community Safety and supported by local elected members Councillor Jim Roberts and Depute Provost Claire Leitch; and teams from across the Council.
Councillor Jim McMahon said: "Through Brian's environmental art, he highlighted the waste that has been discarded on a half mile stretch of Glenshamrock Road in Auchinleck. It was actually quite startling to see the amount and type of waste that had been dumped, out of sight within the ditches at the side of the road. It was an unpleasant task but together we worked for two and a half hours, filling six trucks with waste and removing debris, including tyres.
"Local authorities across Scotland spend about £100 million clearing litter from streets and roads annually. No one wants to see their hometown strewn with rubbish, so I am asking local people to think carefully before throwing waste from a car window or flytipping. There is no place for environmental crime in East Ayrshire."