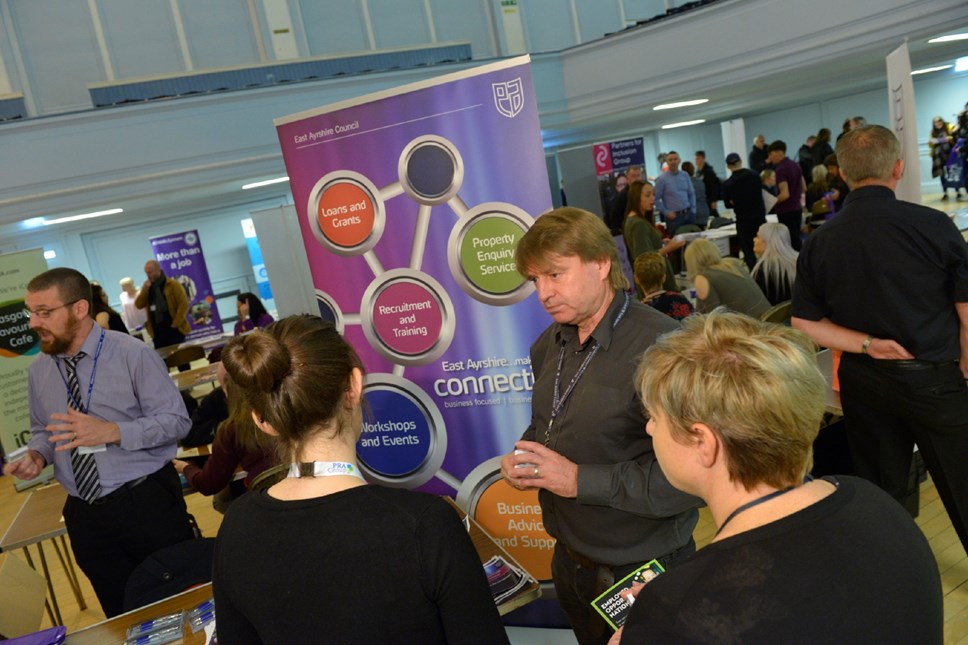 Grand Hall Recruitment Fair offers life changing opportunities
Walk through the doors of Kilmarnock's Grand Hall between 10.30 and 12.30 on Thursday 19 April and you might just change your life…
East Ayrshire Council's Economic Development Team, together with its partners in East Ayrshire Works are hosting another in a very successful series of Recruitment Fairs, aimed at anyone looking for a new opportunity, training or an apprenticeship.
With a long list of local companies, public and voluntary sector jobs and training schemes on offer, the event will have stallholders offering roles as varied as catering, office and care work, to armed forces, engineering and even entrepreneurial advice from Business Gateway.
Councillor Jim Roberts welcomed the event, saying: "I'm always struck by the enthusiasm shown both by employers and potential employees at these events – every time there are success stories, with people making the connections that lead them into interesting, well paid and worthwhile careers. The range of opportunities on offer this time really does give people at any age and stage of their career a chance to find out more and make potentially life changing moves.
"In East Ayrshire one of our biggest assets is our people. We're known for having a strong, well educated and willing workforce. And we've got a whole lot of enthusiastic employers who value their staff and recognise the benefits of putting in time, money and training to achieve the best results. Events like these bring everyone together and provide fantastic opportunities for everyone involved."
The Recruitment Event runs from 10.30 – 12.30pm on Thursday 19 April. Entry is free. For further details about the help on offer from East Ayrshire Council's Economic Development Employability team, contact: 01563 503000 email, employability@east-ayrshire.gov.uk www.eastayrshireworks.co.uk
Notes to editors
Catriona Cochrane
Communications Officer
East Ayrshire Council
T: 01563 576521
catriona.cochrane@east-ayrshire.gov.uk
Out-of-hours media enquiries: 07818 511462