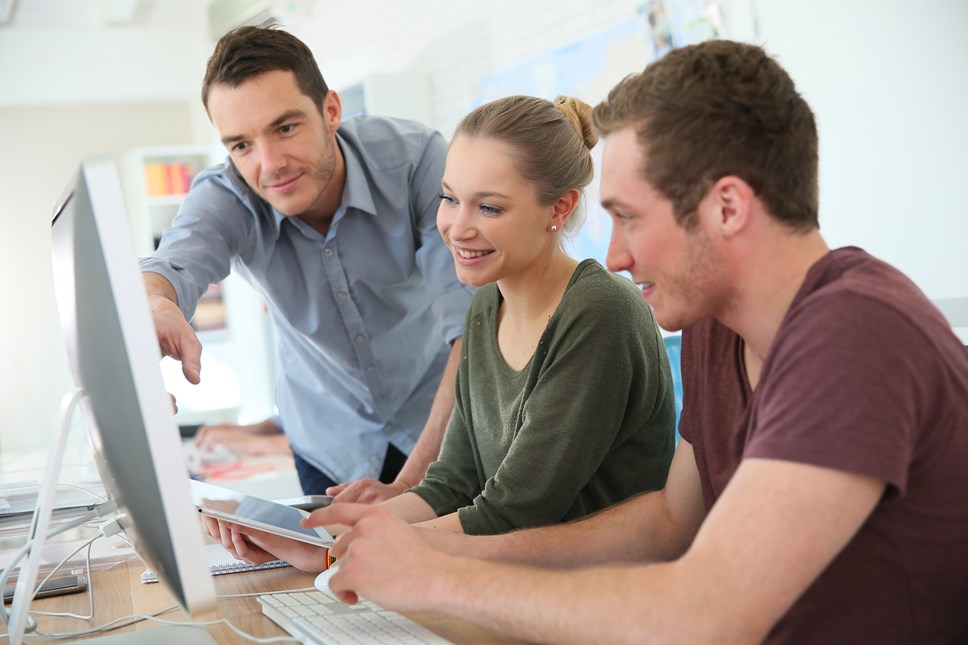 Helping people into work - the latest from East Ayrshire
Big changes in the way that employability services are funded and run throughout Scotland and the UK were outlined at Cabinet, as East Ayrshire Council reported on how it has tailored its way of working to help people of all ages and skills into sustainable training and secure jobs.
During 2022/23 the Brexit withdrawal from the EU meant substantial funding from the European Social Fund (ESF) and the European Regional Development Fund (ERDF), which had supported employability and business support throughout the country for many years, ceased.
While this did adversely affect a number of projects, a new raft of funding is now in place, from the UK Government's Shared Prosperity Fund (SPF) and the Scottish Government's No One Left Behind (NOLB) programme to provide targeted employment support to people of all ages.
At a local level, the Council has also introduced its Jobs and Training Fund which is being used to provide a number of apprenticeships and other training roles in the Council, partner organisations and local business sectors.
Help for people and employers to find, train and support jobs in East Ayrshire is delivered via the East Ayrshire Local Employability Partnership (LEP). This is a partnership comprising representatives from employability agencies, Ayrshire College, NHS, the Chamber of Commerce, businesses, third sector and the local authority working together to deliver a comprehensive programme of recruitment, training and support to employers and employees alike.
Over the past year the deepening cost of living crisis, the termination of the EU funding and skills shortages have provided additional challenges to the partnership.
During 2022/23, while there was a successful delivery of the Young Person's Guarantee within No One Left Behind, funding arrangements for this programme changed. And this, coupled with the need to produce an investment plan for the Shared Prosperity Fund has meant that a full review of the LEP operating plan is necessary. This work is progressing and the outcomes will be reported to Cabinet on completion.
With a strong focus on inclusivity and Community Wealth Building, the Council has also set up an internal Employability Project Board to support the work of the LEP with the aim of boosting opportunities within the Council to identify areas of need and fulfil training and job opportunities.
This board, chaired by the Head of Economic Growth, brings together officers from Economic Development, Education, People and Culture, Vibrant Communities and the Health and Social Care Partnership to pool resources, expertise and practical support.
On April 1 2022 551 people were registered in four categories:
No One Left Behind (NOLB)
Parental Employability Support Fund
Young Person's Guarantee
Long Term Unemployed
​At the start of the programme:
423 were unemployed
37 were economically inactive
73 were employed
18 were school pupils attending at SL33
107 identified as having a condition affecting their emotional, physical and mental well-being
104 identified as care experienced - of these 95 were aged between 15 and 26 years
224 participants were parents - of these, 140 were single parents
​Of the 423 who were unemployed at the start, by 31 March 2023
115 had progressed into employment
63 had achieved an apprenticeship
78 had progressed into further education
54 had moved into accredited training
Any participant who has not progressed during the last year is still being supported through No-One Left Behind, with active case management aimed at helping them to progress during 2023-24.
Of the 37 participants who identified as economically inactive, 36 have now progressed into formal training programmes.
In Summer 2022 Skills Development Scotland also published its Regional Skills Investment Plan (RSIP) for Ayrshire. It aims to create an agile and responsive skills system, supporting an inclusive, sustainable and competitive regional economy while enhancing Ayrshire's attractiveness as a place to live, work and invest.
The RSIP aligns with the Ayrshire Regional Economic Strategy, identifying areas for investment to address skills gaps by providing pathways into identified core sectors such as:
aerospace
engineering
clean growth
marine
manufacturing
digital
food and drink
tourism
Welcoming the report Councillor Elaine Cowan, Cabinet Member for Lifelong Learning, Education, and Skills and Culture said: "One thing which is clear from this comprehensive report, is that together with our partner organisations there is a huge amount of work being done at all levels, from strategic funding bids down to personal interactions at the grassroots level, to build a skilled, fulfilled workforce for the benefit of our whole local and national economy and the ultimately the prosperity and wellbeing of our people, both employees and employers.
"The high levels of engagement and success stories we're seeing with this holistic way of working show what can be done in the face of economic and social adversity when we join forces to identify issues and address need. We live in challenging times but it's good to know that there are dedicated teams out there rising to those challenges".
To see the full details of all the projects included in the review read the full Cabinet report