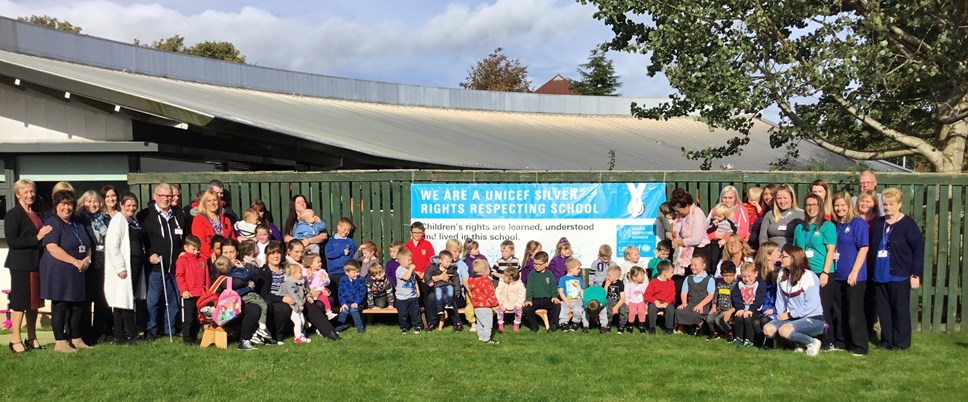 Hillbank ECC celebrates Unicef and Care Inspection results
There's been a double celebration at Hillbank Early Childhood Centre (ECC) in Kilmarnock which has achieved a Unicef, Rights Respecting Schools (RRS) Silver Award - and a superb report from the Care Inspectorate.
Hillbank has become the first standalone ECC to receive the Silver RRS accolade from Unicef - who work with schools to create safe and inspiring places to learn, where children are respected, their talents are nurtured and to create an environment where they are able to thrive.
The Rights Respecting Schools Award embeds these values in daily school life and gives children the best chance to lead happy, healthy lives and to be responsible, active citizens.
There are three levels of RRS award:
Gold - Rights Respecting
Silver - Rights Aware
Bronze - Rights Committed
The Award recognises a school's achievement in putting the United Nations Convention on the Rights of the Child into practice within the school and beyond.
But the good news did not stop there.
The ECC also achieved an 'Excellent' result from an unannounced Care Inspection visit, carried out in late summer – scoring top marks for both the Quality of Care and Support and Quality of Management and Leadership.
Councillor Fiona Campbell, Cabinet Member for Skills and Learning welcomed the good news saying: "A happy, caring and respectful environment is essential to promote learning and tolerance and I'm delighted Hillbank has achieved the Silver award from Unicef.
"In addition, that ethos has been recognised by the Care Inspectorate, who have graded the school as 'Excellent' in the two categories they assessed.
"Ordinarily, that is a fantastic achievement, but it is all the more rewarding as the visit was unannounced, allowing inspectors to see, first-hand, the ECC as the fantastic learning centre it really is.
"These are brilliant honours for the ECC and reflect the hard work and uncompromising ethos of the parents, Head Teacher and staff to make sure every child has the opportunity to succeed."