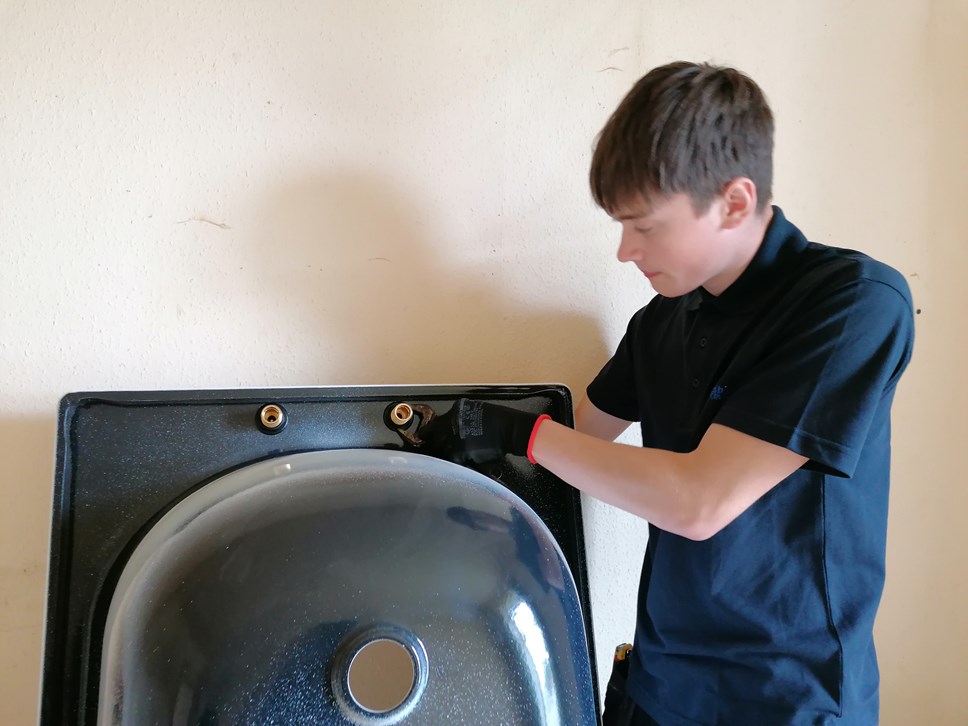 Housing Asset Services look forward to a bright future with record intake of apprentices
2020 was a very difficult time for everyone, and for East Ayrshire Council's Housing Asset Service (HAS) – the team of skilled crafts operatives who upgrade, maintain and repair the area's social housing - covid presented many challenges as programmed works were postponed and routine repairs had to be done remotely, while emergency jobs became much more complicated due to stringent covid safety regulations.
Nevertheless the team adapted quickly and continued to keep tenants safe in their homes, but one big disappointment was that their planned recruitment of new apprentices for 2020 had to be cancelled, since any training would have been severely curtailed.
Now however the team is back to a more normal way of working so they've just welcomed a record 13 new Apprentices to HAS. And proving that apprenticeships are no longer just for youngsters, 5 of those are "Adult Apprentices" aged 19+ who are now embarking on training in one of the four areas available at HAS, Joinery, Plastering, Plumbing and Electrician.
Councillor Jacqui Todd, Cabinet Spokesperson for Housing, Welfare and Poverty said: "We have a great workforce in HAS who have all had to pull together through the challenges of covid. They've excelled through teamwork during the pandemic.
"I'm grateful and extremely proud of the way they have continued to provide assistance and service to our communities throughout.
"As we enter a new phase, we're now delighted to welcome new members to the team and offer further training in new skills to existing workers which brings extra diversity and experience to the whole of HAS.
"We always need new blood and fresh talent coming on for the future. And it's even more exciting when we're able to train some of our older, existing team members to reach their full potential.
"We know from past experience with our Adult Apprentices how successful this approach can be through the flexibility of learning both in a college and work based environment . Having a mix of ages and stages in the workplace makes life more fun, interesting and builds confidence for both trainees and their mentors.
"We have a great team at HAS and we envisage that this will to continue to improve as new apprentices bring their own skills, views and enthusiasm to the team."
Kevin Mitchell, Apprentice Development Officer, East Ayrshire Council, explains " This year we searched both externally and within our existing workforce to find the best potential tradespersons to join our HAS teams.
"Internally we encouraged our existing Craft Assistants to apply for individual trades test and interviews for each of the 4 Apprenticeships on offer.
"We were delighted with the enthusiastic response. We had far more applications than we expected. As a result we've now selected 5 Craft Assistants who will train for Adult Apprenticeships.
"Adult Apprenticeships are open to anyone over the 16-19 year Modern Apprentice age bracket and they present an excellent opportunity for those who perhaps missed the chance to undertake a trade apprenticeship when they were younger.
"For many, having to decide at such a young age what they want to do as a career does not come easily and we desperately don't want to let any potential slip through our grasp, simply because we have promising employees who don't fall within that specific age category."
"We also advertised externally and got well over 300 applications. With such a strong response from high quality applicants we abandoned our original plan to appoint 10 apprentices this year. It was clear at the interview stage that if we limited our numbers, we would potentially be missing out on some prospective talent and so we decided to increase our intake.
"As a result, this year sees us take in a record 13 Apprentices in total. It helps to make up for being unable to start any new first years last year. It also gives us a great mix of young, fresh talent coming to us straight from School and College together with some older and more experienced hands who already know how we work within Housing Asset Services and can help guide the new recruits in their new career with East Ayrshire Council.
"We've come through a tough, and sometimes bleak, 18 months, but these appointments are like a bright beacon of light, giving us all genuine reason to be optimistic about a vibrant and positive future as we grow our own talent and nurture their potential into the skilled workforce of tomorrow."
Lewis Reid (19) went to Ayrshire College's Kilmarnock Campus when he left school and gained his diploma in bench joinery SCQF level 5 before applying for a 16-19 Modern Apprenticeship in Joinery. He said: "I've always wanted a career in joinery and through school and college I have always chosen a path to make that happen, starting in high school with the classes I selected, then into a college course, and now applying for apprenticeships within the trade.
"I was lucky enough to have a few offers, but I chose East Ayrshire Council because their offer stood out, from the great workplace environment, to the wide range of skills I could learn in the different aspects of the trade, as well as the great career opportunities after completing the apprenticeship."
Elliott Kenny, has now taken up his place as an Adult Apprentice Plasterer. Elliott was previously a Craft Assistant within HAS. He said: "I'm grateful for the opportunity to become a plasterer through the adult apprenticeship scheme with East Ayrshire Council.
"For me, the prospect that I could eventually join the adult apprenticeship scheme was the main reason that I applied for a Craft Assistant post , as they offered career opportunities for me to progress my career. I used my Craft Assistant post as a pathway to learn and gain knowledge in a construction environment so I could then make the step into a trade background. I look forward to learning new skills and different aspects of plastering throughout my 4 years."
To find out more about job vacancies and housing matters sign up for regular email bulletins with our StayConnected service