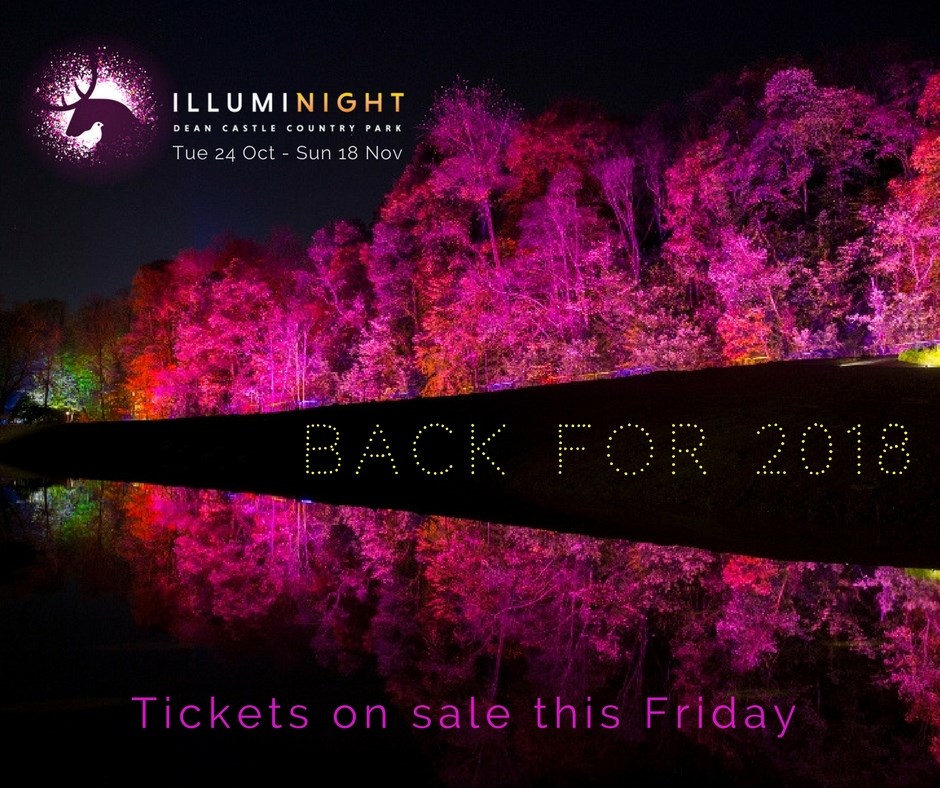 Illuminight Returns for 2018
East Ayrshire Leisure, together with event producers Unique Events, today announced that Illuminight, the sell-out fire and light spectacular in Kilmarnock's Dean Castle Country Park, will return this autumn. Running from Wednesday 24 October to Sunday 18 November Illuminight, which last year welcomed over 38,000 people, is a magical experience for all the family with stunning visuals, state-of-the-art lighting installations and music along a trail showing Dean Castle and the Country Park in a whole new light.
Presented by East Ayrshire Leisure and Unique Events in collaboration with production specialists Black Light, Illuminight will offer a brand new show for 2018, with an extended and fully accessible route, earlier bookable sessions from 4.30pm on selected evenings and a new expanded Food & Drink Village with a wider offering of hot food and drinks from the best local and Scottish producers.
Tickets for Illuminight go on sale on Friday 4 May at 10.00am from www.illuminight.co.uk. A limited 20% discount is available for residents of Ayrshire living within the KA Postcode Area. A special 'Preview Night' held on Wednesday 24 October will be available at a discounted ticket price for those looking to be the first to experience the all new show. Ticket buyers are urged to book early to take advantage of these special offers to avoid disappointment.
Councillor Elena Whitham, Chair of East Ayrshire Leisure, said: "I am absolutely delighted that this amazing event is returning to East Ayrshire for another year. Last year's event was incredible, but I am confident that Illuminight 2018 will be even better. We learned a lot from the event last year - we have taken on board many suggestions received from the public and these will be reflected in the format, pricing and timings of the event this year. The landscaping works in the park are starting to mature and settle, giving more opportunities for new creative displays and light installations and I can't wait to see what surprises are in store."
Al Thomson, Director of Unique Events said: 'Unique are thrilled to be returning to Dean Castle Country Park this October with Illuminight and can't wait to show audiences what we have in store for this year's event. The response last year was overwhelming and we look forward to welcoming audiences from across Ayrshire, Scotland and beyond to Kilmarnock for an all-new show. Illuminight has already established itself on Scotland's events calendar and this year we will be working with local businesses and new event partners to develop the event into one of the country's largest illumination attractions'.
- Illuminight runs from Thursday 25 October until Saturday 18 November 2018, daily (except Mondays)
- Tickets for weekday sessions, which run every 15 minutes from 5.00pm to 8.00pm on Tuesday, Wednesday and Thursday, are priced at £12 per adult and £6 per child, £33 per family (two adults, two children) and £10.50 per person in a group of ten or more
- Sessions on Friday, Saturday and Sunday are priced at £13.00 per adult, £7.00 per child, a family of two adults and two children at £37.00 and groups of ten or more at £12 per person
- Weekend sessions start at 5.00pm on Fridays and 4.30pm on Saturdays and Sundays.
- Limited sessions for a special Preview Night on Wednesday 24 October are available priced at £10.00 per adult and £5.00 per child.
- Full details of all tickets, including a special discounted rate for Kilmarnock residents, and all session availability can be found at www.illuminight.co.uk.
Notes to editors
For further information, please contact:
Frances Sutton, Press Manager, Unique Events. E. frances@unique-events.co.uk / T: 07841 579481
Louise Kyle, Marketing Officer, East Ayrshire Leisure. E: louise.kyle@east-ayrshire.gov.uk / T: 01563 554300 or Lynne Buchanan, Communications Manager, East Ayrshire Council. E: lynne.buchanan@east-ayrshire.gov.uk / T: 01563 576520
Facts & Stats from ILLUMINIGHT 2017
1134 Trees around Dean Castle Country Park were individually lit
There were 438 lightbulbs on the Illuminight sign in front of Dean Castle
The Light Show over the Quarry Pond ran 1104 times
The Sensory Button was pressed 13,440 times
Over 10,000 marshmallows were toasted over open fires
Illuminight Staff walked over 40,000 miles during set up and operation of the event
Dean Castle Country Park:
Dean Castle Country Park in Kilmarnock is one of Ayrshire's most popular and well-loved destinations and a fantastic free day out for all the family.
In July 2015, it was awarded £3.34m from Heritage Lottery Fund towards a £4.7m development programme. This ambitious multi-million pound development programme for the park had 5 key elements to encourage visitors to participate in and enjoy our local, natural and cultural heritage.
The funding for the project has allowed for an improved and extended path network around the park opening up areas of the park that were previously inaccessible, restoration of the designed landscape, a new rural life centre, improved playpark, an upgraded and extended visitor centre which now incorporates a residential centre and a new activity programme.
Dean Castle is one of Ayrshire's best preserved castles and was the stronghold of the Boyds, Lords of Kilmarnock, for over 400 years. Their connections with Robert the Bruce made them one of the most powerful families in Scotland. Steeped in history, with world class collections and regularly changing exhibitions, Dean Castle and its estate was gifted to the people of Kilmarnock in the 1970's by Lord Howard de Walden and has been enjoyed by millions of visitors since.
Unique Events:
Founded in the early 1990's, Unique Events is Scotland's leading events and festivals creation company. Unique has created and produced a huge range of events throughout Scotland, from sports gatherings to street parties, classical music to rock/pop festivals; an unparalleled range of indoor and outdoor, ticketed and free events.
With over 25 years' experience within the event and music industry, Unique have a small, dedicated full-time team engaged throughout the year on a selected portfolio of projects working with Scotland's top freelance Event Producers to deliver specific events.