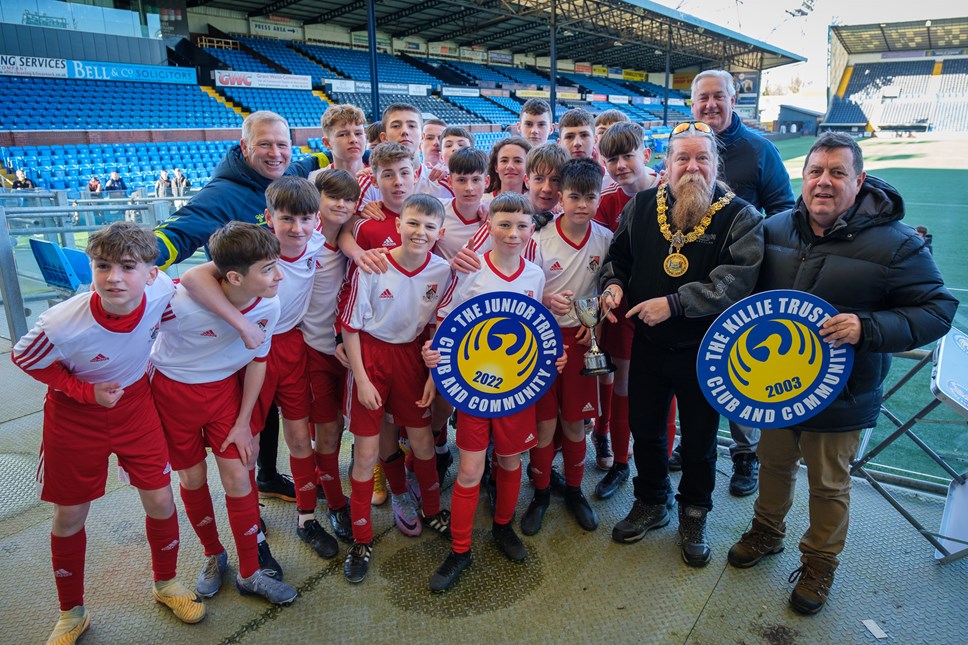 Inaugural Killie Trust Cup Final held at Rugby Park
The inaugural Killie Trust Cup Final was held at Rugby Park recently, where Kilmarnock's Grange Academy faced Cumnock's The Robert Burns Academy.
The Killie Trust, supported by Charlie Adams from Grange Academy, created the U14s competition for schools across Ayrshire, to give our young people an opportunity to represent their schools, promote fair play and increase awareness of the Killie Trust and Kilmarnock FC.
The final game of the knockout competition, was a nine goal thriller with Grange Academy lifting the Cup thanks to a goal in the last two minutes of the game from Calum Stewart. The goal scorers were:
Grange Academy 5 The Robert Burns Academy 4
McKenzie Anderson 2 Taylor Gordon 2
Calum Stewart 2 Aron Anderson 2
Glenn Cunningham
Charlie Adams from Grange Academy said: "The Killie Trust Cup Final was a massive success with a large crowd watching a really entertaining match between two excellent school teams. The Killie Trust ran the competition and special thanks go to Jim Thomson from the Trust and Kilmarnock Football Club for organising the final at Rugby Park. The players will remember the final for a very long time."
Provost Jim Todd was on hand, with Leader of the Council, Councillor Douglas Reid and invited guests, to cheer on both teams and present the Killie Trust Cup to Grange Academy. He said: "I thoroughly enjoyed being at Rugby Park to cheer on our young people, who really rose to the occasion and played some very entertaining football. It was such a tight game but Grange just sneaked it at the end.
"This was a great competition and kudos goes to the Killie Trust and Kilmarnock Football Club for their organisation and for allowing our young people to follow in the footsteps of their heroes. Well done to all the school who took part and to the winners Grange Academy."