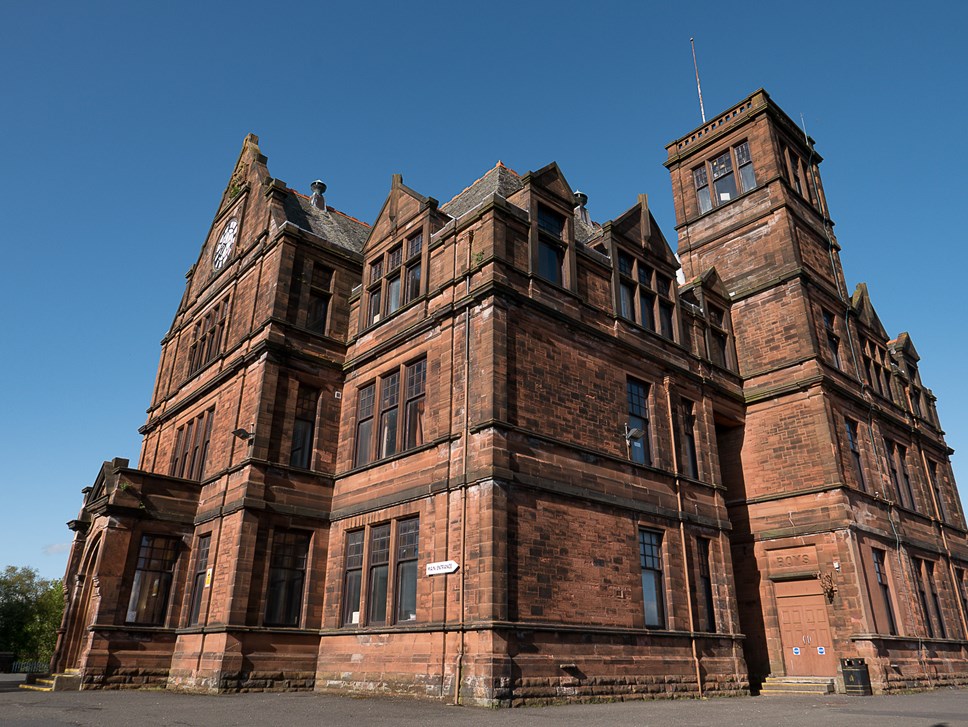 Infrastructure will ensure Kilmarnock's Cultural Quarter thrives
Plans to develop the road infrastructure and create parking within Kilmarnock's Cultural Quarter will now go ahead after a decision was taken at the recent meeting of East Ayrshire Council's Cabinet.
At the heart of the Cultural Quarter is Centrestage, Ayrshire's Arts Academy, which was established back in 2006. Centrestage moved from their original site at James Little Street in Kilmarnock to the former Kilmarnock Academy site, officially receiving the keys to the building in 2019 and since then the former school has undergone a complete transformation.
As part of this development, the Ayrshire Roads Alliance commissioned a report to evaluate the traffic, parking and access impacts of the new facility. The report concluded that an access road would be required from London Road directly to Elmbank Drive/ Rennie Street and following approval from Cabinet, planning permission was sought, and granted in 2018, for the new access junction and two-way spine road. Planning was also granted for a public car park accommodating 93 general and five accessible parking spaces, which will improve parking for the town centre, the Grand Hall and Palace Theatre complex and Centrestage.
Councillor Douglas Reid, Leader of the Council said: "I am delighted that we have reached an agreement on additional funding for the new road layout and public car park for Kilmarnock's Cultural Quarter. By ensuring that we have the correct infrastructure in place we can help the Arts to thrive locally, while also improving access to the town centre.
"The regeneration of our town centres is more important than ever. The pandemic has had a significant impact on our local businesses and we are committed to working with them, through Celebrate Kilmarnock and local business groups, to ensure that local voices are at the heart of any decision-making and that East Ayrshire is an even greater place to live, work and play. The money that is being invested in the Cultural Quarter will attract more families into the town and boost the economy, while the new auditorium in Centrestage and improvements to the Grand Hall and Palace theatre complex will help to significantly improve the day and night time economy."
Following the agreement to reallocate funding to meet the increased estimated costs of the access road and new public car park, detailed plans will now be developed for a Construction Management Traffic Plan that will be clearly communicated to the local community and notice of the works will be provided at the earliest opportunity.
The Ayrshire Roads Alliance has also agreed to layout and line Centrestage's carpark, providing in kind support to the project.