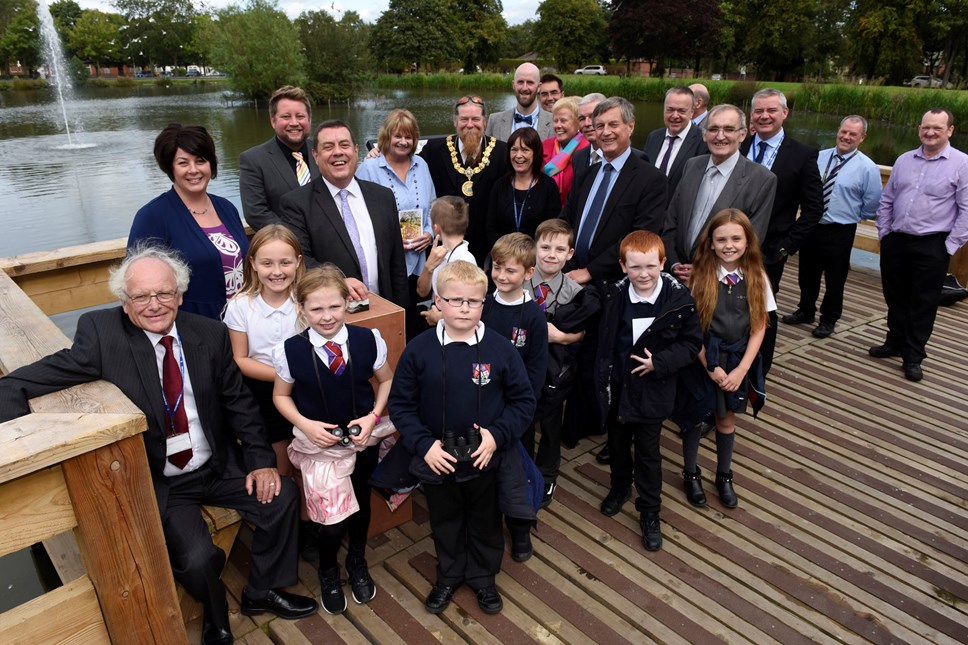 Kay Park pond fountain official opening
Kay Park pond has been officially re-opened and a new fountain switched on to mark the occasion.
The park was a hive of activity the day of the official opening, 50 pupils from James Hamilton Primary were working with East Ayrshire Leisure's Countryside Rangers bird spotting; families were having fun in the playparks; dog walkers were enjoying the green open spaces and cyclists and runners were using the park to exercise.
And that wasn't all; Neil and Leanne tied the knot at Burns Monument Centre and were in the park for their wedding photos.
Councillor Douglas Reid, Leader of the Council, who officially re-opened the pond and switched on the new fountain said: "Kay Park is a beautiful green space in the heart of Kilmarnock. Alexander Kay gifted the park, which opened in August 1879, to the people of Kilmarnock. It has been a haven for our communities and visitors ever since as people enjoyed the tree-lined avenues, network of paths, the pond and children's playparks.
"Late last year work began on an extensive improvement programme. The pond was drained and work was carried out to restore the banks that had eroded over time. A wide range of native plants and flowers have been planted that will reduce algae formation and enhance the natural look of the area. New nesting and shelter zones have also encouraged more bird species to the pond.
"The new boardwalk with bird viewing and feeding platform and informative signage is proving very popular with young and old alike. Bread is very bad for birds and the signage provides helpful advice on healthy things to bring to feed the birds, like peas and sweetcorn.
"The park continues to provide a wonderful setting for the whole town to enjoy and these improvements are making it even better."