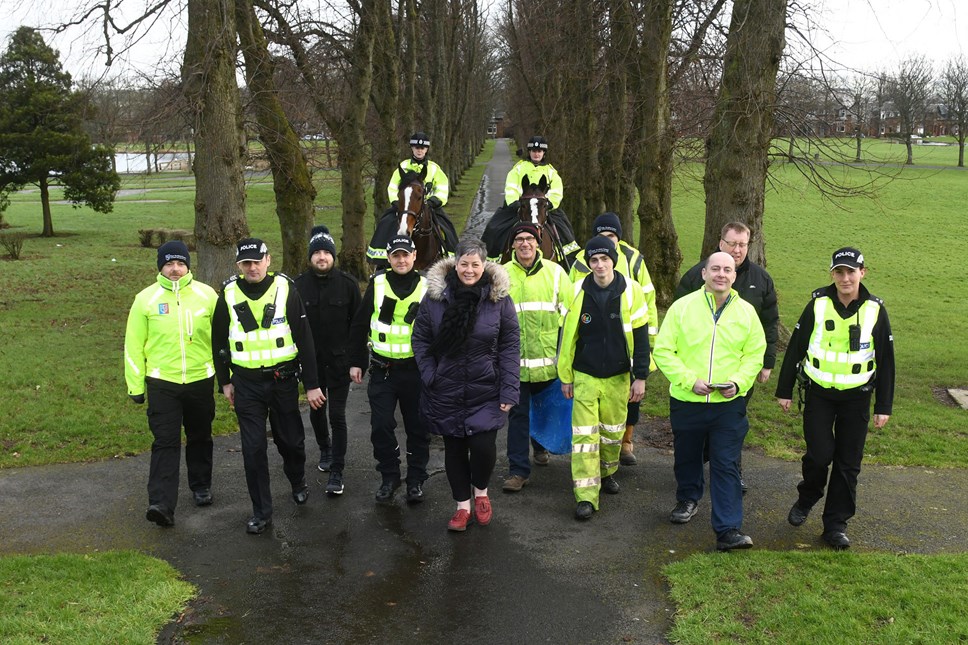 Keeping Kay Park clean, green and vibrant
Officers from East Ayrshire Council have been working together to make sure Kay Park remains looking its best all year round.
The Outdoor Services Team has been cleaning up the park, including the boardwalk which had been the target of many bird droppings, while the Corporate Enforcement Unit (CEU) has been active in ensuring that people bin their litter and pick up their dog waste, fining anyone they see not doing this. In conjunction with the police, the CEU are also working hard to detect and deter environmental crime and wider anti-social behaviour and criminality in the park.
The Unit has also been giving out vouchers for family tickets to a Kilmarnock FC game as a thank you to people they've noticed helping to keep the park clean, part of its new 'reward' scheme in partnership with Kilmarnock FC. It is also looking to start up a green space/wellbeing space initiative to help ensure that parks are kept safe and clean, and not ruined by litter, dog foul and anti-social behaviour.
Councillor Elena Whitham, Depute Leader of the Council, said: "Kay Park is a fantastic green space and an area for everyone to enjoy. It's a place for children to play in the park, a place for wellbeing and a great place to walk your dog.
"Our officers from many different departments and the police work together to maintain the park and keep it tidy and safe, but we would like to encourage everyone who uses the park to take responsibility for it and to have respect for it. We are lucky to have such a wonderful park on our doorstep and it's up to all of us to keep it clean, green and vibrant."
The Outdoor Services Team thanks the many park users who help out with additional litter picks and report any issues which can enhance the work that the team carries out. If anyone else would like to help with litter picks, please call Outdoor Services on 01563 554061 who will be more than happy to discuss and provide equipment.
Ends