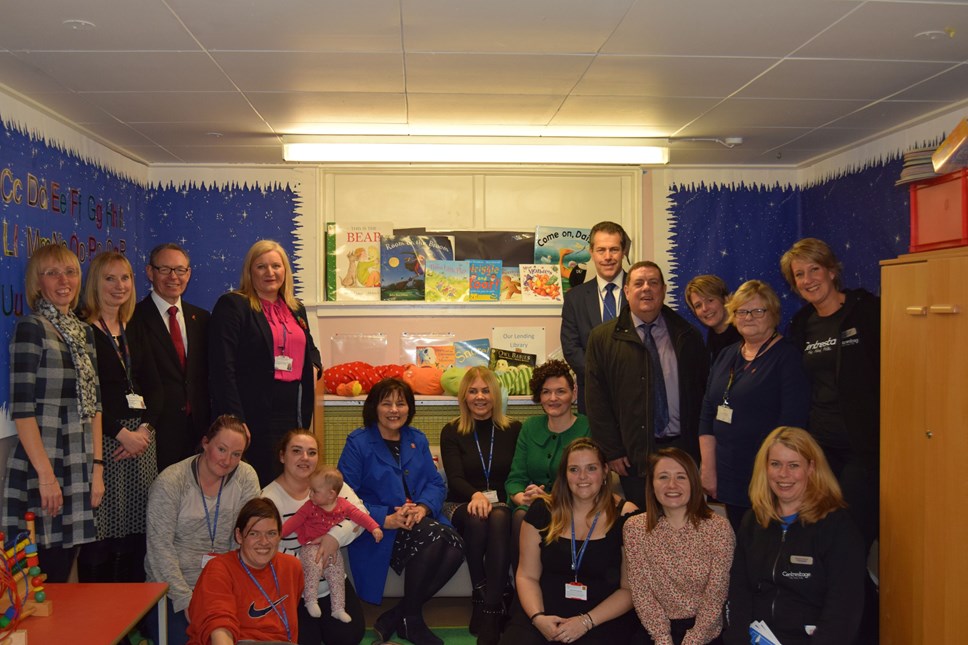 Logan Primary working at the heart of the local community
A host of clever and intelligent community projects pioneered by pupils at Logan Primary School look set to hit the headlines for the positive results they are achieving.
Their innovative work caught the attention of Jeane Freeman MSP for Carrick, Cumnock and Doon Valley who visited the school to learn how local people have benefited from their vision.
The school was inspired by the United Nations Sustainable Global Goals programme – 17 goals to tackle challenges such as poverty, inequality, climate, environment, prosperity, peace and justice.
Staff and pupils looked at the goals and applied them to local community issues, coming up with a range of ideas designed to forge links with the school, support local people and make life better for everyone.
Councillor Douglas Reid, Leader of East Ayrshire Council welcomed Jeane to the school saying: "Some months ago, Logan Primary School had the inspired idea to embrace the United Nations Sustainable Global Goals programme as a framework for school life.
"In addition to learning, Logan Primary has a distinct focus on what pupils and staff can do for their local community, working together with people to solve problems, make friends and put the school at the heart of the village.
"It's working brilliantly!"
The projects include:
The Steamie which provides washing, drying, ironing facilities – and helps those who have no washing machine, or who cannot afford one
Swap Shop for donating or taking new, clean clothes for babies, children and adults.
Safe Space for women providing information about finance, women's aid, health, hygiene and family planning
A parent group offering health and wellbeing of adults (parents), working with Francine Robertson to improve confidence, mental health, emotional literacy – goal 10 – we met the group with our visitors to share some of the work
Team Around the Community (TACo) a forward-looking group exploring services that can support the community and how these opportunities can be created
The Apprentice family literacy programme, leading into the Me2you project, also offers skills and work experience to improve employment prospects
Massage in schools, a relaxing and therapeutic programme for pupils
The 'EAT' programme (delivered by Centrestage) for parents and the community to cook and eat together, learning culinary skills and gaining hygiene certificates
Other community support ideas include bringing elderly people to the school for a free meal every week in December and January, with pupils gaining work experience in catering and hospitality
Outdoor initiatives include a poly tunnel for growing fruit and veg, chickens providing eggs for pupils, parents and the community and preparation for the Logan Bees expected in the summer months.
Jeane Freeman MSP said: "It was wonderful to see the work being done right in the heart of the community and to see such enthusiasm for teaching the children. The school's whole child approach recognises that the right support can be offered at the right time to meet the specific needs and improve the wellbeing of individual pupils.
"There is no doubt that the Scottish Government's Pupil Equity Fund, which goes straight to head teachers, is giving those with the most intimate knowledge of their schools the ability to develop initiatives such as these which are benefiting families across Logan."
Logan Primary pupil Kenzie McIllvanney added: "It was nice to share the work we do for other people with the MSP. She liked the eggs from our school chickens and she's going to write and tell us how they are."
Notes to editors
The 2030 Agenda for Sustainable Development is a global blueprint for peace and prosperity for people and the planet.
It was adopted by all United Nations Member States in 2015.
At its heart are 17 Sustainable Development Goals aimed at ending poverty and other deprivations, hand-in-hand with strategies to improve health and education, reduce inequality and spur economic growth – all while tackling climate change and working to preserve planet's oceans and forests.