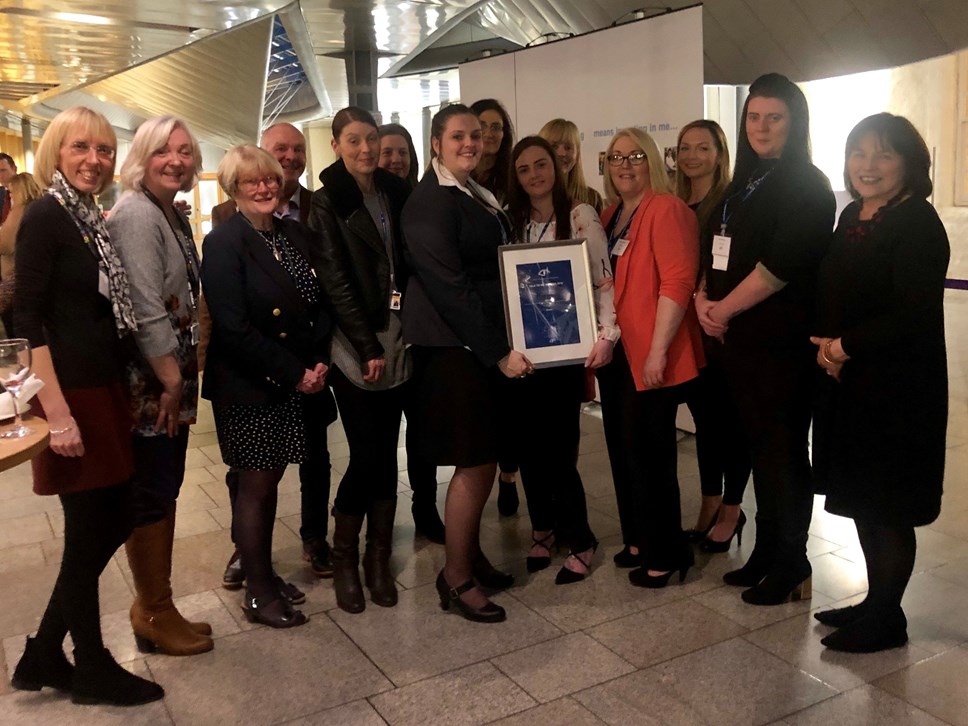 ME2U are award winners
ME2U, a unique partnership between the Council, Jobcentre Plus and Ayrshire College, was one of nine projects recognised at Scotland's Learning Partnership (SLP) Adult Learners Awards ceremony recently.
In a break from the traditional large-scale ceremony, this year's awards were held in the Scottish Parliament. It was an opportunity to recognise projects from across Scotland and present awards but also for projects to speak directly to MSPs about the importance of adult learning and the positive impact it has had on their lives.
The ME2U project launched at Cumnock Academy in 2015 and has been rolled out throughout East Ayrshire. The project has changed the lives of local people by offering work experience within our schools and training opportunities helping to improve their self-reliance and confidence as well as developing skills and knowledge.
Jeane Freeman, Cabinet Secretary for Health and Sport attended the event. She spoke to the ME2U team, including ME2U learners, representatives from Vibrant Communities, Ayrshire College, Cumnock Academy and the Department of Work and Pensions; about their successes and presented the group with their award.
Councillor Fiona Campbell, East Ayrshire Council's Cabinet Member for Skills and Learning said: "I am delighted that ME2U has been recognised at the SLP's Adult Learners Awards at the Scottish Parliament.
"Since ME2U launched in 2015, the project has changed the lives of local people through work experience and training. Created by Teraessa Lopez from Cumnock Academy, the project started small but partners could see the benefit of the scheme straight away offering training and SVQ qualifications to the participants, which helped them to gain employment.
"ME2U is an excellent initiative that thoroughly deserves national recognition."