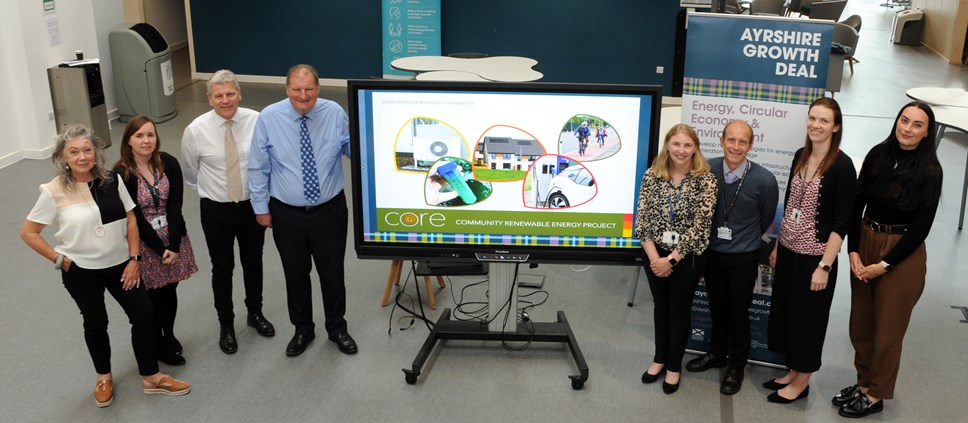 MP praises innovative thinking at CoRE project
East Ayrshire's flagship Community Renewable Energy (CoRE) project earned praise from local MP Allan Dorans as he visited Cumnock's Barony Campus this week to hear first hand how plans are progressing for the innovative, multi-million pound green energy initiative, whch is part of the Ayrshire Growth Deal's £251.5million investment across the area.
Welcoming Mr Dorans, Depute Provost, Claire Leitch said: "While it may take a bit of imagination to visualise exactly what we're creating here in the Cumnock area, it is nothing compared to what our planners and partners in have envisaged for this exciting, ground breaking project.
"Of course without the ground breaking work of our forebears in this area, much of this project would not be possible. We are rightly proud of our mining heritage, so it is fitting that we'll be taking communities who used to lead power generation in this country, and re-empowering them to be at the forefront of a new generation of renewable, sustainable energy.
"Perhaps the most exciting aspect of this is the way in which the various teams behind this project have come together and are working so well. Their proper "joined up" thinking will make sure that no one will be left behind as we realise our ambitions ambitions for creating a new way of supplying constant energy.
"At a time when the biggest single issue worrying people is the spiralling cost of energy CoRE has taken on even more importance.
"We're focusing strongly on creating local jobs, upgrading housing to be as energy efficient as possible, and creating local networks for energy and heat supply.
"CoRE will not only help us insulate buildings against loss of heat, it will also insulate our local economy against the fluctuations of international markets."
Mr Dorans then heard a presentation about the £24.5 million project, funded by the UK Government and East Ayrshire Council, which has two main aims.
Firstly, the setting up of a suite of demonstrator projects which will showcase and develop new technologies, looking at how they can be integrated, to allow communities in and around the Cumnock area to move to a low carbon circular economy with a strong focus on community wealth building to achieve net zero targets.
Secondly, a low carbon centre of excellence will be built to house a diverse mix of engineers, research scientists and carbon friendly businesses, giving them a space to come together under one roof to research and develop new solutions with existing and emerging technologies to help bridge the gap between supply and demand and cut reliance on the national grid for local power.
CoRE will take account of every aspect of life in the area, looking at retrofitting older properties and using cutting edge design in new build housing to cut emissions as far as possible.
In doing so, education pathways will be created, in Science, Technology, Engineering and Maths (STEM) and opportunities created in construction trades, business and infrastructure development.
East Ayrshire is rich in resources, with wind farm production being over capacity at times. One of the big future challenges of energy supply is making sure that excess power can be stored for use on calm days and peak times when demand is high.
By looking at the possibilities for hydrogen production from the water in deep and open cast mines, using excess wind energy, it's hoped to create "hydrogen batteries" and a low carbon fuel source for larger vehicles, while expansion of active travel and electric charging points will cut demand for fossil fuels.
At the same time, heat contained in the deep mines, former slag heaps and open cast sites can also be harnessed to provide collective heating systems.
All these elements are designed to cut energy costs and emissions for the local population, create educational and job opportunities, upgrade housing and transport and protect the surrounding natural environment.
The knock-on effect will be to cut energy demand, lower costs for householders and create new transport modes and career opportunities, all of which will help boost prosperity, health and wellbeing.
Allan Dorans also viewed the site at Knockroon, which lies adjacent to the Barony Campus, where construction of the CoRE innovation centre will start next year. He said: "My first impression is that CoRE is an exceptionally outstanding project, which has obviously been given a great deal of thought, by the planners, council officers, the universities and energy companies who've collaborated to create this masterplan.
"Having grown up in a mining area it's great to see how an area which powered the country with fossil fuels and eventually suffered great loss of habitat and jobs is being re-empowered.
"With this project the area can once again lead the way in producing energy, only this time it's green energy, boosting the local economy, enhancing the landscape and improving the quality of life for local people.
"I'm delighted that it seems to be on course to be an exemplar for other local authorities, all of Scotland, other countries and indeed the world.
"I'm absolutely convinced it will be successful and benefit not just this area but the world in general."
Find out more: