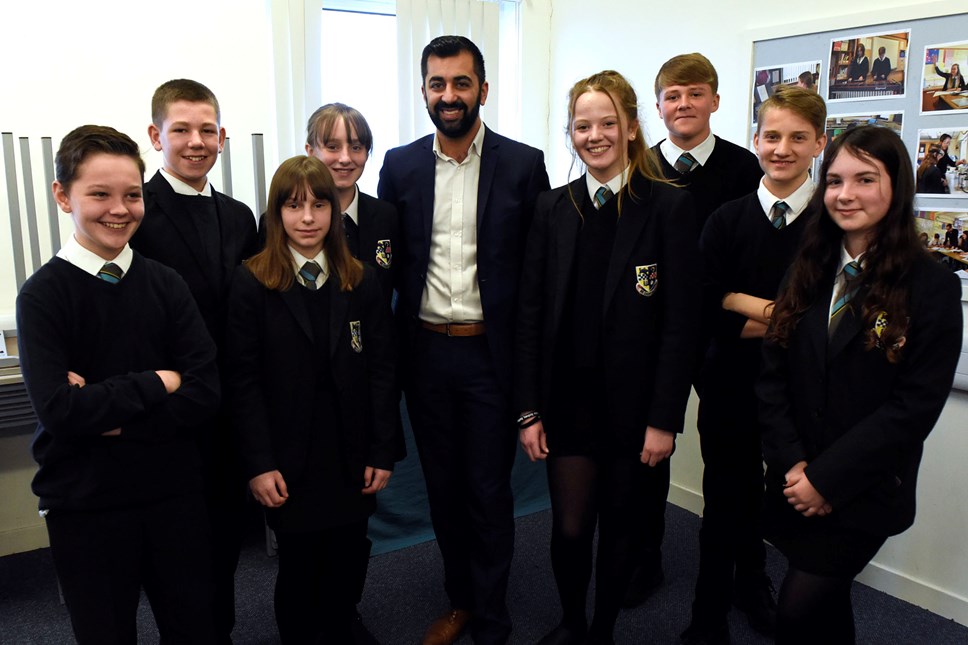 National No Knives Better Lives play launched at Stewarton Academy
Pupils at Stewarton Academy have helped launch the national tour of 'Balisong' a theatre performance supporting the No Knives, Better Lives (NKBL) campaign – an event attended by Justice Minister Humza Yousaf MSP, Cabinet Secretary for Justice
The play charts the journey of three friends through the final weeks of school. They're facing a dilemma. What should they do now that one of their friends has started carrying a knife?
The play will now be performed in 95 schools across every local authority in Scotland and is set to reach 25,000 young people over the next six months.
It builds upon the success of the first 'Balisong' play and tour last year, which was performed in 17 councils to 12,200 pupils.
Watching the performance Mr Yousaf said: "It was a real pleasure watching Balisong and it did almost have me greetin'.
"The 'Balisong' play is a unique and powerful way to open up discussions and engage with young people about the risks and consequences of carrying a knife.
"What struck me most about today's performance was the shift in attitude towards knife carrying among young people and what they would do if they or indeed their peers were carrying a weapon.
"I am pleased to say the Scottish Government is providing an additional £25,000 to YouthLink Scotland this year to ensure that 'Balisong' will be seen in every local authority throughout 2018/19, including a showing in HMYOI Polmont."
Along with the play, a post-performance workshop drew out key themes from the play and ask the audience to reflect on the central question: what would you do if someone you knew was carrying a knife?
Emily Beever, National Co-ordinator for NKBL at YouthLink Scotland commented: "In the last decade, the level of knife crime in Scotland has drastically reduced, but one incident is still one too many.
"Work with young people is key to continuing to prevent knife crime. 'Balisong' has given us an exciting new way to talk to all young people about their role in preventing knife carrying through peer support. The feedback has shown that already more than 12,000 young people will think twice before picking up a knife."
Councillor Fiona Campbell, East Ayrshire Council's Cabinet Member for Skills and Learning added: "I completely agree with the Minister that this was a powerful and moving performance.
"I totally agree that one knife crime incident is one too many and watching how pupils reacted to 'Balisong' and listening to their feedback afterwards, it is absolutely clear this vital message has been delivered - and understood – in a creative, engaging and most comprehensive way."
Notes to editors
Notes to editors
Following the success of the 2017 tour of Balisong, the Scottish Government provided an additional £25,000 of funding to NKBL to stage another six month tour, reaching even more young people.
The play has been created using a peer-theatre approach. This approach engages directly with young people's ideas, opinions and experiences of knife crime and uses their daily experience as the catalyst and inspiration for the story. This approach ensures the project is led by young people, for young people.
To develop the schools tour further, No Knives, Better Lives (NKBL) has developed a new lesson plan for secondary schools based on 'Balisong'.
Through the resource, young people will understand why it is important to do something if they know that someone else is carrying a knife. The resource will be given to each school on the tour and is also available to download for free via the NKBL website.