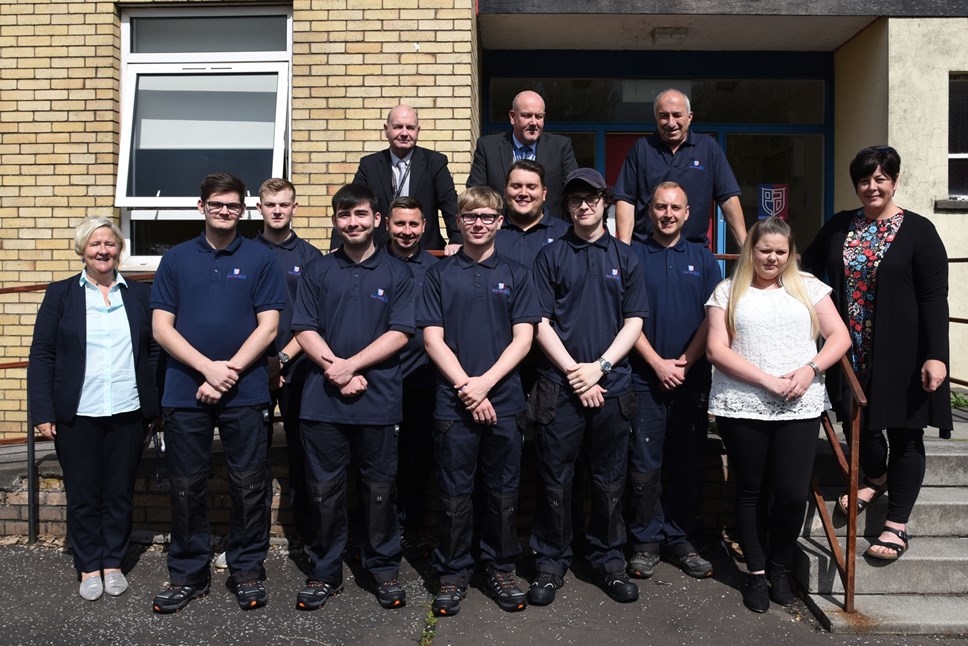 New apprentices welcomed to Housing Asset Services
Ten new apprentices were given a warm welcome to Housing Asset Services, when Councillor Elena Whitham, Cabinet Member for Housing and Communities visited the depot to meet the new recruits.
The Council has recruited six young people and four adult apprentices who will be specialising in a number of different trades including electricians, joiners, plasterers and plumbers. During their four-year apprenticeship, they will receive on the job training while studying at college for qualifications in their chosen trade.
They will be working within the award winning Housing Asset Services team that has successfully achieved Scottish Housing Quality Standard for all properties in East Ayrshire. Together they will continue to ensure that homes are maintained to a high standard and achieve appropriate standards of energy efficiency to help tackle fuel poverty.
Working in the heart of local communities, the team is in a unique position to provide support to local people and recently adopted a 'people first, not fabric first' approach to their work.
Initially developed in Bellsbank, the team created a strong partnership with the NHS with person centre support being provided to communities in a number of important areas including Pharmacy First, alcohol and drug concerns and the promotion of NHS initiatives to reduce demand on services.
Councillor Whitham said: "Our apprentices will be learning a trade but they will also be working to ensure that communities are at the heart of everything we do. The 'people first, not fabric first' approach began in Bellsbank. The work carried out by the team ensured physical improvements to the landscape and positive changes to the lives of local people. By working with our partners we can ensure that our communities are supported to drive forward positive change and make a real difference to the lives of their friends, family and neighbours.
"The work carried out by the award winning Housing Asset Services team within our communities demonstrates the importance of transformational change, and why we should put people at the heart of everything we do. Each small act of kindness creates a ripple effect that positively impacts on local people and neighbourhoods."