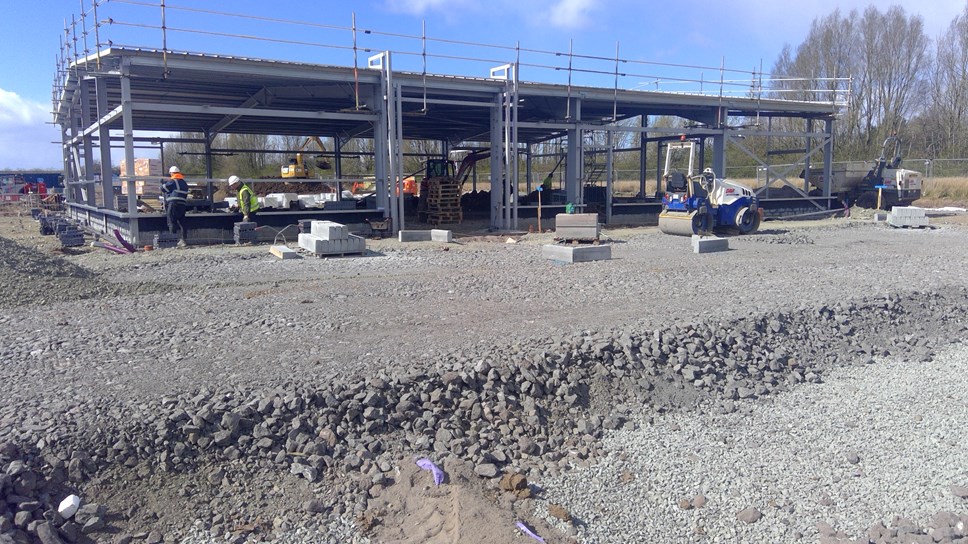 New production kitchen is underway
East Ayrshire Council is building a new central production kitchen at Rowallan Business Park in Kilmarnock.
This facility, which began on site in February and is anticipated to be completed by the end of September, will ensure that healthy, nutritious, local sourced meals are provided to children in early learning and childcare settings and continue to be provided to young people in our schools through exciting new training opportunities for our Catering Services team.
Councillor Douglas Reid, Leader of the Council said: "The connection between food and learning is well established and by investing in the new central kitchen, the Council is also investing in the future of our children and young people. The new facility, which will help to reduce costs for the Council, will also provide new job opportunities through the early years expansion programme and there will also be new catering employment opportunities within our Early Childhood Centres.
"East Ayrshire Council is the longest-standing Food for Life Served Here Gold award holder in the UK, serving thousands of Food for Life accredited meals a day across 55 facilities including early childhood centres, primary schools, Willowbank School and Ross Court in Galston. Our approach to both the provision of organic food and Community Wealth Building means that we are committed to continuing to work with local businesses to support the local economy and to reduce our carbon footprint by continuing to source fresh local produce."
Delicious and nutritious new school lunch menus launched recently that are available to view online https://www.east-ayrshire.gov.uk/EducationAndLearning/Schools-Catering/SchoolLunchMenus.aspx.
The menus follow new nutritional guidelines introduced by the Scottish Government, in parallel with Scottish dietary goals, and reflect the significant differences in food provision for primary aged children and young people who attend secondary school, particularly in terms of the size of portions.
The changes are designed to minimise the risk to the health of children and young people by limiting the amount of red and red processed meat and reduce the intake of fat, sugar and salt. The changes aim to increase fibre, promote the benefits of and increase consumption of fruit and vegetables.
Full details of the changes to nutritional standards can be found on the Scottish Government's website Healthy eating in schools: guidance 2020 - gov.scot (www.gov.scot) and there is a short guide on our website too Nutritional standards for food and drink in schools · East Ayrshire Council (east-ayrshire.gov.uk)