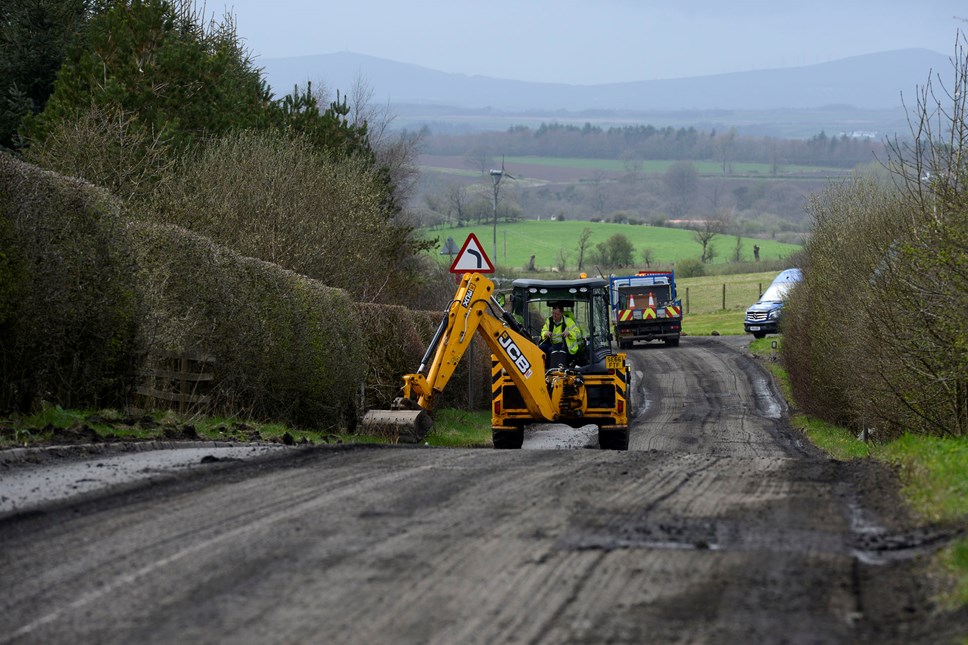 New road resurfacing projects for East Ayrshire are now underway
Work is now underway on the extensive £6m road resurfacing programme for East Ayrshire.
The Council trebled the budget for road resurfacing back in February after winter damage led to road defects being recorded on an unprecedented scale throughout the area.
The Roads Maintenance Unit Section in the Ayrshire Roads Alliance has designed a road resurfacing programme which will ensure that resurfacing work focuses on the roads most affected by defects, potholes and surface fragmentation.
Teams will be resurfacing substantial stretches of road; moving away from temporary repairs on isolated patches and potholes.
Work started last week on the C10 at Grassyards Road with 3km of road now resurfaced.
This week our team has moved to the B778 at Stewarton. 1.6km of road will be resurfaced from Gainford Bridge to Over Lochridge Farm.
Councillor Douglas Reid, Leader of the Council, and Councillor Jim Roberts, Cabinet Member for Economy and Infrastructure, visited the Alliance team on the B778 to view the resurfacing work.
Councillor Douglas Reid said: "Trebling the road repair fund to £6m, for this year alone, was a major step towards helping tackle issues on our roads.
"The resurfacing programme developed by the Alliance will see 60km of local roads resurfaced from now until the autumn. I am expecting to see a noticeable improvement on the condition of our roads as the resurfacing programme makes it mark.
"We have also changed the way we work to meet the unprecedented level of repairs that have emerged after the winter weather. Instead of temporary repairs on isolated patches and potholes we are carrying out extensive resurfacing works. "We also have established 'Find and Fix' squads who will deal with all categories of road repair in one visit. The foreman of the squad will also inspect and record any visible defects nearby and the team will then make these safe.
"I would like to take this opportunity to thank local people and the travelling public in advance for their patience as we progress with the resurfacing programme. There will inevitably be some disruption during these extensive but essential works and the Council apologises for any inconvenience caused."

The resurfacing programme started on Monday 16 April on the C10 Grassyards Road. From now until the end of May, the team who are currently working on the B778 Stewarton will then move to the C20 Irvine Road, Kilmaurs; the C126 Mountgreenan; the B7037 Galston to Sorn Road and Woodroad Park, Cumnock.
Updates will be provided as the programme continues throughout East Ayrshire.
Notes to editors
Photo caption
Councillors Douglas Reid and Jim Roberts with Stewart Turner and Kevin Braidwood from the Ayrshire Roads Alliance.