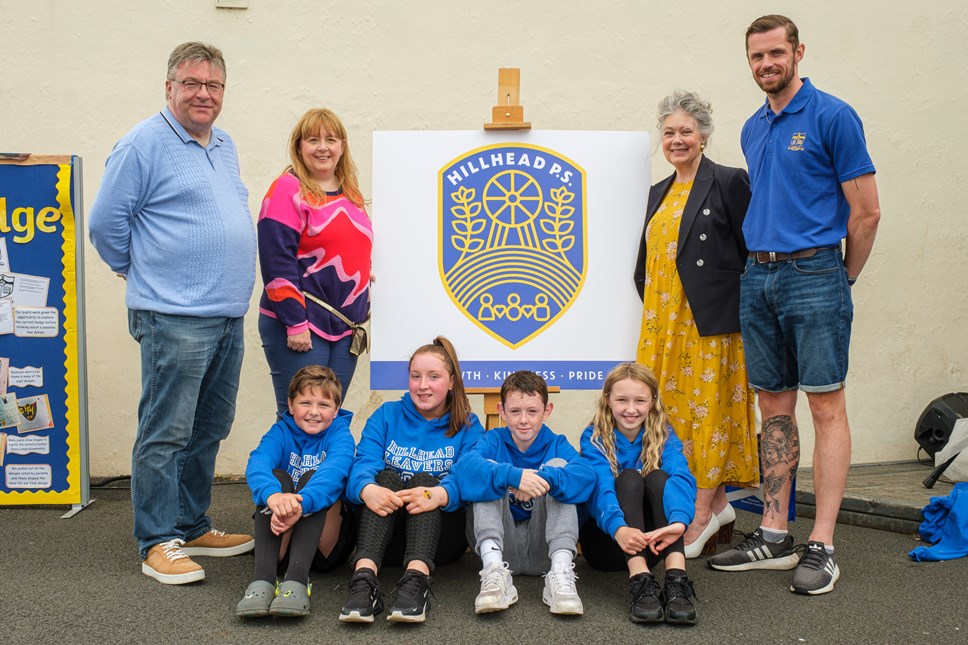 New school badge unveiled at Hillhead Primary community fun day
A new school badge has been unveiled by Councillor Elaine Cowan with Dominyk, Eilidh, Riley and Skyla from P7 at Hillhead Primary School at their recent 'Summer Safari' – a community fun day.
The new school badge design was led by the children and young people in consultation with parents, carers and staff from the school. The majority of people consulted supported a new school badge. The children and young people then explored their current badge and thought carefully about what the badge meant to them and what they would like to change. The old badge included a Davy Lamp, which was used by miners, and a pit wheel, as the school was situated near to the site of an old coalmine.
The senior management team, led by acting Head Teacher Stephen Spooner, shortlisted their favourite designs and consulted with the Council's Graphic Designer Jonathan Burn and Graphics Intern, Rachel Wherry. Jonathan and Rachel worked with the school to enhance the design, which will be used across the school and on uniforms from August.
Councillor Elaine Cowan, Cabinet Spokesperson for Lifelong Learning, Education and Skills and Culture, who was joined at the Summer Safari by Provost Jim Todd and local members Councillors Maureen McKay and David Richardson, said: "I was honoured to be asked to unveil Hillhead Primary School's new school badge. When designing the new badge the children and young people considered the values of the school – Growth, Kindness and Pride; the location of their school and were encouraged to think creatively during the design process, which was led by our Graphic Designer Jonathan Burn and our Intern Rachel Wherry.
"The new design is wonderful and what a fantastic legacy the P7's are leaving for generations of Hillhead pupils. Well done to everyone involved.
"I would also like to thank acting Head Teacher Stephen Spooner for making me, and my fellow elected members, feel so welcome at the Summer Safari and part of the Hillhead Primary school community."
The Summer Safari community fun day was organised by Hillhead Primary Parent Council and supported by the whole school.
Cheryl Taylor, Chairperson of Hillhead Primary Parent Council said: "I just wanted to do something good for our community." And she certainly did, along with her fellow parent council members. The fun day was very well attended by the whole school community and there were lots of fun activities for, literally, all ages.
Little Peru, brought along their wonderful alpacas – Diageo, Santiago, Pedro and Javier and everyone had a chance to give them a gentle pat. Police Scotland dropped by with Police horses, Stewarton and Lockerbie, who were very patient and enjoyed meeting all the children and young people; while Maggie's Muddy Mutts attended with dogs Bella and Stanley, who showed off their flyball skills.
Aoife's Sensory bus was an important part of the day, Billie Bowie brought along one of their big trucks, there was a resident DJ (Harry from S3 at Grange Academy), lots of stalls and fun games, including 'beat the goalie' and 'soak someone with a sponge'. The favourite 'someone' to soak seemed to be janitor Robert, who was a great sport.
Acting Head Teacher Stephen Spooner said: "It has been fantastic to have our community together at the Summer Safari and we are delighted that so many people came along and joined in the fun. A huge thank you goes out to everyone who has supported our school throughout the session, and we hope that everyone has a safe and happy summer break."