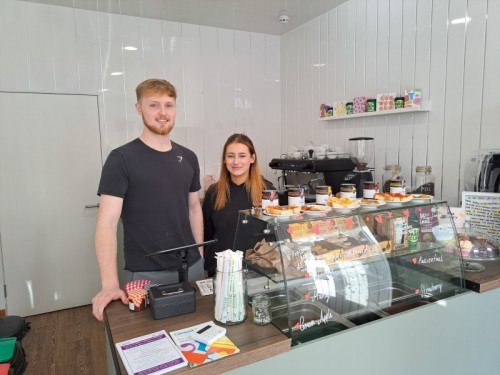 Openreach hits ultrafast broadband landmark in Ayrshire
More than 100,000 homes and businesses in Ayrshire can now access Openreach's full fibre network
20230209_120618
More than half of homes and businesses in Ayrshire now have access to some of the fastest, most reliable broadband in Europe - with thousands more to benefit this year.
More than 100,000 premises - including 96,000 homes and 4,800 businesses - across North, East and South Ayrshire can now reap the benefits of Openreach's ultrafast, ultra-reliable full fibre network.
In Kilmarnock, more than 25,000 properties - 80 per cent of the homes and businesses in the town - can now access full fibre, with a third signing up. Large parts of Ardrossan (85 per cent) and Ayr (64 per cent) can also upgrade.
The gigabit-capable technology is up to ten times faster than the average UK broadband connection and around five times more reliable than the old copper-based network it's replacing - but thousands of residents have yet to upgrade.
Across the three local authority areas, 27 per cent of households and businesses have moved over to the new network in the areas where it's available, meaning 73,000 which could upgrade are currently missing out.
In the seaside town of Troon, where almost 6,000 properties could now upgrade, just 16 per cent have signed up so far.
One of the businesses now benefiting from full fibre is The Way Forward 2045, a Cumnock-based family enterprise which aims to help locals choose more sustainable and low carbon products.
The company opened a shop on the town's Ayr Road in December, offering sustainably-sourced and price competitive foods, a takeaway, and a carbon literacy room where people can learn more about becoming sustainable.
Wendy Pring, who founded the business with son James, has ambitious plans for its future - and full fibre broadband is an essential part of bringing those to fruition.
"I wouldn't have founded the business without fibre," she explained. "The fact that the premises had access to fibre was a gamechanger - we can go ahead with our plans for the future.
"If you don't have fast internet speeds and fibre, it's the same as having deficient capital. You can't create the customer experience, especially for young people who want a good internet service.
"The need for us to have fibre is huge, predominantly for customer experience. We require massive amounts of connectivity for it to go smoothly."
Wendy wants to use the internet to make services more accessible to customers, using innovative techniques to engage with them and explain the environmental impact of their choices.
Faster broadband speeds also mean the shop can stream events online, use a cloud-based stock management system, and offer customers access to free Wi-Fi.
"Fibre increases productivity and allows us to move the business forward faster," Wendy added.
More Ayrshire properties are set to get access to full fibre in 2023, with engineers continuing work on the ground in places like Kilwinning and West Kilbride.
Councillor Douglas Reid, leader of East Ayrshire Council and chair of the Ayrshire Economic Joint Committee, said: "We're encouraged by the great progress being made by this Openreach investment programme in Ayrshire.
"With the growth in home working, the huge number and variety of rural businesses and the demands on everyone from farmers to school pupils to use broadband, it's clear that people of all ages, whether working, studying or keeping in touch with their health services families and friends in retirement, need good, reliable broadband.
"It's vital that no demographic or geographic area is left behind if we are to build a stronger, more prosperous and fairer economy. We will continue to support Openreach as it continues work to give local people access to the best that broadband can offer."
Robert Thorburn, Openreach's partnership director for Scotland, added: "Gigabit-capable broadband can have a huge impact on people's lives and it's great for the economy, but upgrades aren't automatic. People need to place an order with their chosen providers to get connected and we'll do the rest.
"Our network offers the widest choice of providers such as BT, Sky, TalkTalk, Vodafone and Zen - which means people have lots of choice and can get a great deal. Packages are increasingly competitively priced, for a much-improved service."
Almost 800,000 properties across Scotland currently have access to Openreach's full fibre network, as part of a £15bn plan to reach 25 million UK homes and businesses.