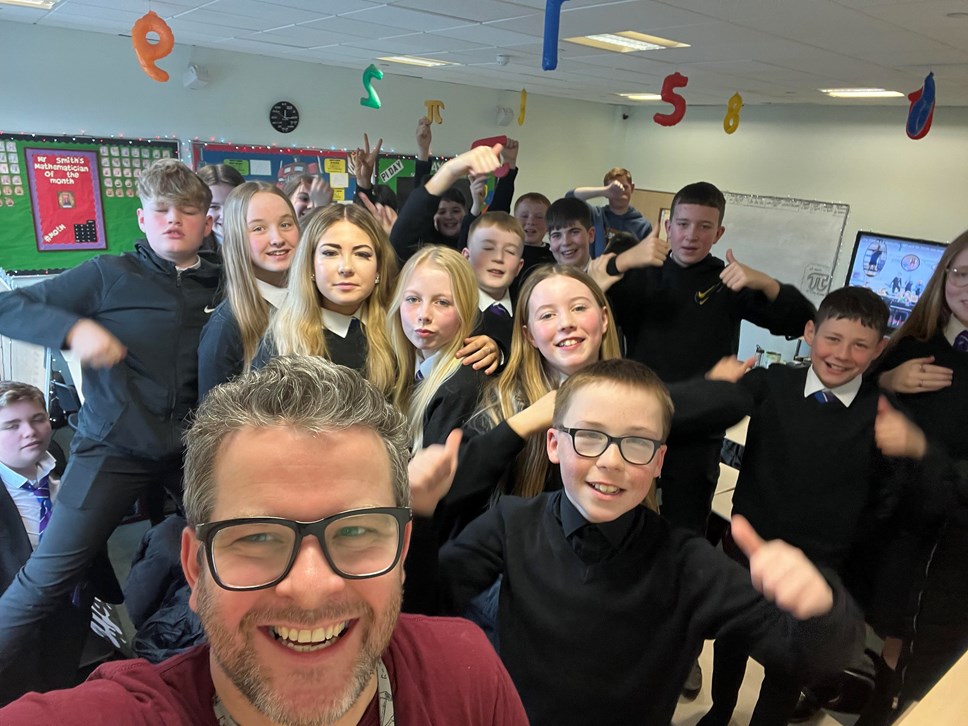 PiDay celebrations at Grange Academy are electric
The annual PiDay celebrations at Grange Academy were literally electric this year, as young people from the school took part in a Pi Voltage experiment to approximate pi.
Just to set the scene, Mr Smith the school's resident Maths geek and PiDay enthusiast, had set out a grid of metallic tape with an array of coloured wires attached. The young people were invited to take their shoes off, hold a wire and go for a wander around the grid. They formed a circuit and a computer tracked their steps. Finally, code written by Mr Smith performed a calculation based on the number of steps taken and the number that landed inside an invisible circle.
Mr Smith said: "The route they took determined how closely they managed to approximate pi. One team, Poppy and Yvie, managed to obtain a phenomenally accurate approximation for pi of 3.1522, just over 0.3% away from the actual value. They were our PiDay champions and received suitably geeky 3-D printed golden pi trophies!"
In addition to Pi Voltage, Mr Smith also recreated the award-winning PiMCA song, which he created ten years ago with young people from 1M3. He explained: "I had this vision that I could re-assemble the 1M3 gang to remake the PiMCA ten years on. Naively, I imagined it would be a skoosh to track them all down and convince them to return to Grange as one massive ensemble to film an updated version. But, of course, these guys are now in their twenties with jobs, commitments and kids of their own. I ended up getting them into Grange in dribs and drabs, gradually collecting clips ready to make our updated version. The original video is an enthusiastic explosion of joy. The new version is brilliant too showing how these young people have grown up. For me, though, the best part of this project was catching up with this lot after so long- we got to reminisce, it was lovely to find out how my old class are getting on!
"Another year, another PiDay at Grange Academy. I'm already plotting plans for PiDay 2024."
Councillor Elaine Cowan, Cabinet Spokesperson for Lifelong Learning, Education and Skills and Culture said: "PiDay is an important day for Mathematicians around the world and Mr Smith's PiDay celebrations are legendary. I think this year's celebrations are a real testament to his commitment and a reflection of the high regard our young people hold him in. For one, he managed to recreate PiMCA ten years on, which is an incredible achievement and two, the young people trusted him implicitly with metallic tape and wires.
"All joking aside, congratulations to Mr Smith and the whole Grange team for another wonderful PiDay celebration."