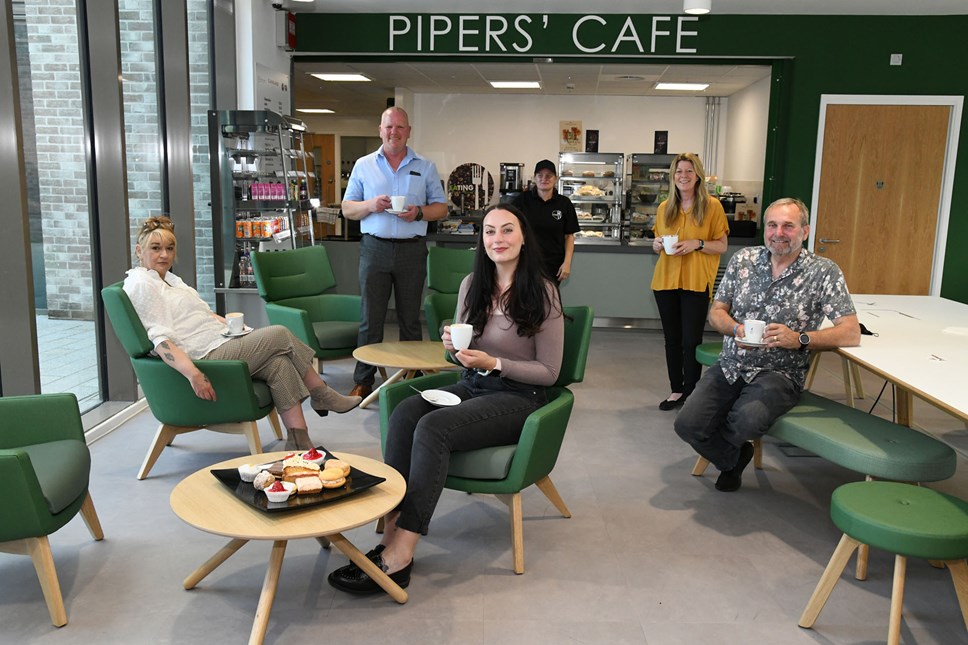 Pipers' Cafe at The Barony Campus officially opens
Pipers' Cafe at The Barony Campus in Cumnock opened its doors this week providing a warm welcome, delicious food and drinks to the local community.
Open Monday to Friday 08:00 to 15:00 the cafe, which is in the heart of the new Campus, will serving soup, sandwiches, paninis, toasties, selection of home baking that will include empire biscuits, tray bakes and freshly baked scones.
Local elected members Councillors Claire Leitch and Jacqui Todd joined Councillor Jim McMahon, Depute Leader of the Council, at the official opening of Pipers' Cafe. He said: "The Barony Campus is Scotland's most innovative, ambitious and inclusive learning facility. The Campus merges state of the art educational and sports facilities with exceptional community recreation spaces including meeting rooms, a recording studio, music practice rooms and a community cafe.
"Pipers' Cafe is located within the main reception area of the Campus and is run by our Catering Services team. The friendly and professional team made us some cakes to sample and they were absolutely delicious. The food they serve is produced using locally sourced ingredients and suppliers, wherever possible, and they use Fairtrade fresh coffee. The cafe is a great asset for the local community and I hope it will become a popular choice."
(119) Welcome to Pipers' Cafe, barony Campus, Cumnock - YouTube