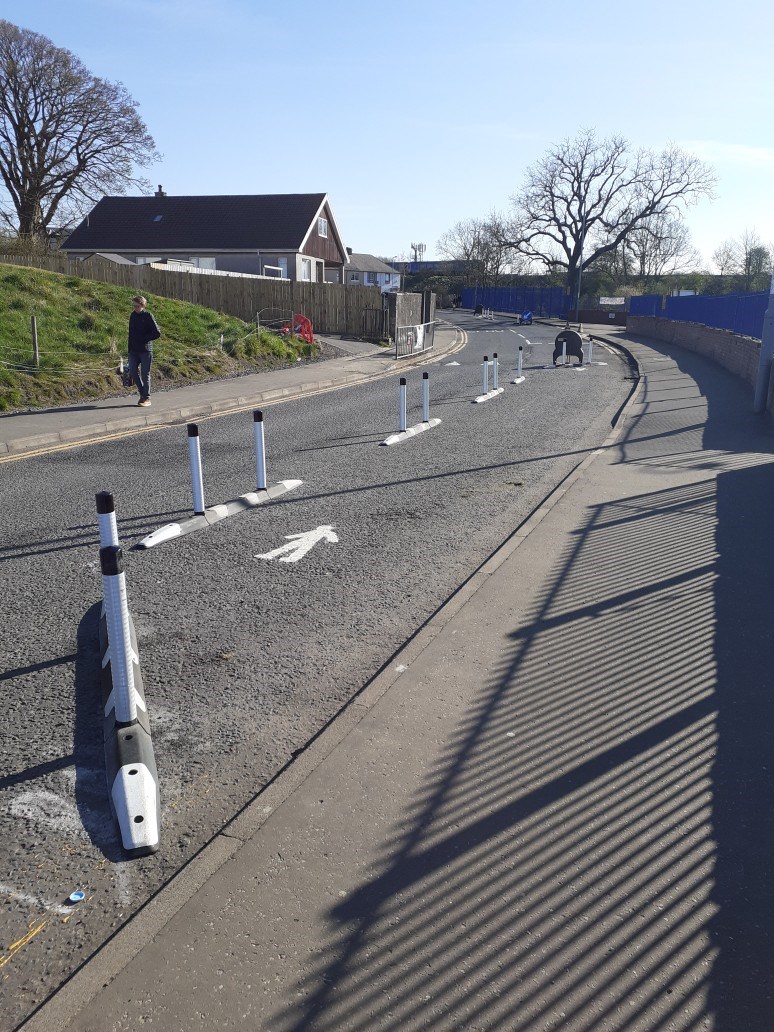 Plans to make trial road safety scheme permanent at Lainshaw Primary
There are plans to make a road space reallocation project at Lainshaw Primary School permanent after a trial of the scheme has been well received by parents, staff and local residents.
The project, which has been in a trial period since April, includes an improved path between the car park at the Rose Reilly Sports Centre and the school; the promotion of a park and stride scheme between these two locations; waiting restrictions on Kilwinning Road to improve road safety, particularly at the location of the School Crossing Patrol; and temporary kerb buildouts to create more space for pedestrians and further restrict parking.
During the trial period, parents were asked to complete an online survey which was also circulated to community groups and promoted through the Council's social media channels. The results showed that the project has been well received with only 15% of respondents not being happy with the changes, and only 11% of respondents thinking that the changes would not be positive in the longer term.
Due to the positive response, design work will now be commissioned for a permanent version of the scheme which would provide footway buildouts at the locations of the trial areas. At the request of respondents and stakeholders, Ayrshire Roads Alliance will also investigate the feasibility of providing a third buildout at the entrance to the play park.
Some comments were received in the survey in relation to poor parking behaviour in adjacent streets such as Rigghead. As part of the development of a permanent scheme, further observations will be carried out in these streets, and short lengths of waiting restriction will be promoted at or near junctions as necessary to reinforce advice on parking.
Councillor Jim McMahon, Cabinet Spokesperson for Community Safety, Roads and Transport, said: "The response from local residents, parents and staff to this project has been excellent. The whole idea behind it is to encourage walking, cycling or scooting to and from school, and to make the school journey safer for our pupils.
"The feedback we've received has indicated that people feel safer because of the changes and they believe that the project can have a positive impact on the area in the longer term. Many people also mentioned the benefits to health and the environment that this scheme can bring about, so I look forward to seeing this project continue to provide benefits like these for years to come."
​ends
Notes to editors
The project was established after Ayrshire Roads Alliance successfully bid for Spaces for People funding from Sustrans. The funding enables temporary measures to be put in place to make social distancing easier for people who are walking and wheeling during the COVID-19 pandemic.
Further information on the trials can be found at www.east-ayrshire.gov.uk/lainshaw