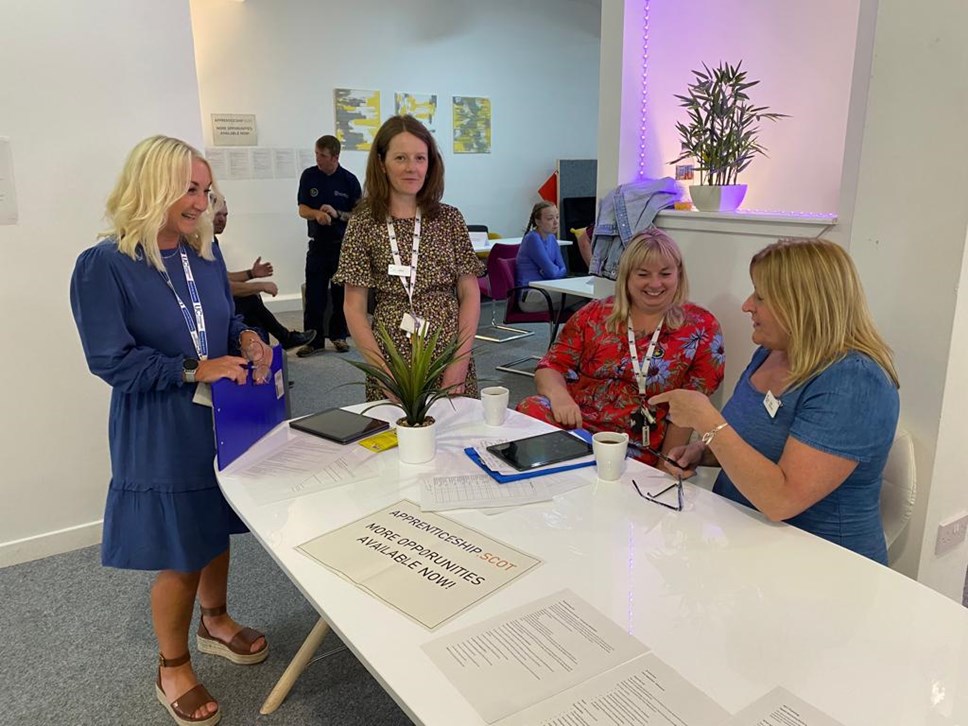 Recruitment event success for council services
Over 70 East Ayrshire people took their first steps to steps closer to new careers at a special two hour drop in event for prospective Modern Apprentices and Graduate Interns.
Held at SL33 in Kilmarnock's Titchfield Street, the informal two hour event was hosted by East Ayrshire Council who are offering over a hundred new Modern Apprenticeships and Graduate Internships in services throughout the Council.
Giving them the chance to register their interest, meet prospective employers and find out all about their chosen roles, the drop in event was deemed highly successful by all who were there.
Lynne Buchanan, Communications Manager, East Ayrshire Council was looking for graduate interns to join her busy team. She said: "Many of the young people we spoke to hadn't yet made up their minds about which career path to pursue, but this event gave them a fantastic opportunity to find out more about all of the options on offer and to discuss in more detail with the Council officers present.
There was a fantastic buzz around the place as the career conversations got underway. I was really impressed by the level of interest in the graduate intern opportunities we have on offer and look forward to receiving applications in due course."
Also on hand on the day were members of the Council's Employability Team who were advising applicants on the placements being offered as well as other courses available to help people into work.
These new jobs are being offered after Cabinet approved the use of £4.3m to finance 172 training placements in services across the Council. The placements will be offered at a range of levels, including Trade Apprenticeships, Modern Apprenticeships and Graduate Intern programmes, in subjects as diverse as Plumbing, Joinery, Environmental Health, Youth Work, Mechanical Engineering, Health and Social Care and Business Administration and will be phased in over the next three years.
At the moment the following posts are being advertised through myjobscotland with a closing date of Friday 12 August.
Modern Apprenticeships
Information Technology (IT)
Accounting
Digital Marketing
Vibrant Communities
Horticulture
Business Admin
Day Care Resources
Graduate Internships
Health and Social Care Partnership
Climate Change
Human Resources and Payroll
Organisation Development
Communications
Economic Growth
Chief Executive's Department
Housing
To be eligible, applicants must live in East Ayrshire
Modern Apprentices should
be aged between 16 and 24
or be care experienced, or have a disability, and are aged up to 29 years
Graduate Interns should
have an HNC or higher in a relevant topic or related discipline
Councillor Clare Maitland, Cabinet Member for People and Culture said: "While our teams were delighted with the turn out on the day, we're also seeing a good number of applications from people who weren't able to come along on the day. For those who don't get a Modern Apprenticeship or Internship this time we'll be offering further help and we will be running more of these recruitment events and advertising more posts soon.
"One thing we're very proud of in East Ayrshire is the wealth of local talent, we know we have enthusiastic young people in our schools and colleges and we want to help keep them here in our own communities, contributing and enjoying the quality of life and sound job prospects which will help our entire local economy.
"We know from the past that bringing new young people into our workforce where they can train and learn from more experienced colleagues works very well - it's as popular with those who mentor them as it is with the applicants themselves. By "growing our own" young workforce, we're helping build great teams to work together in future to meet all the challenges of life in East Ayrshire and boost our collective wellbeing and local economy."
get email alerts when new opportunities are advertised, sign up to our Job Vacancies topic on our StayConnected service. You can unsubscribe at any time.
Find out more about jobs and training in East Ayrshire on our Employability webpages
Read the Cabinet Report