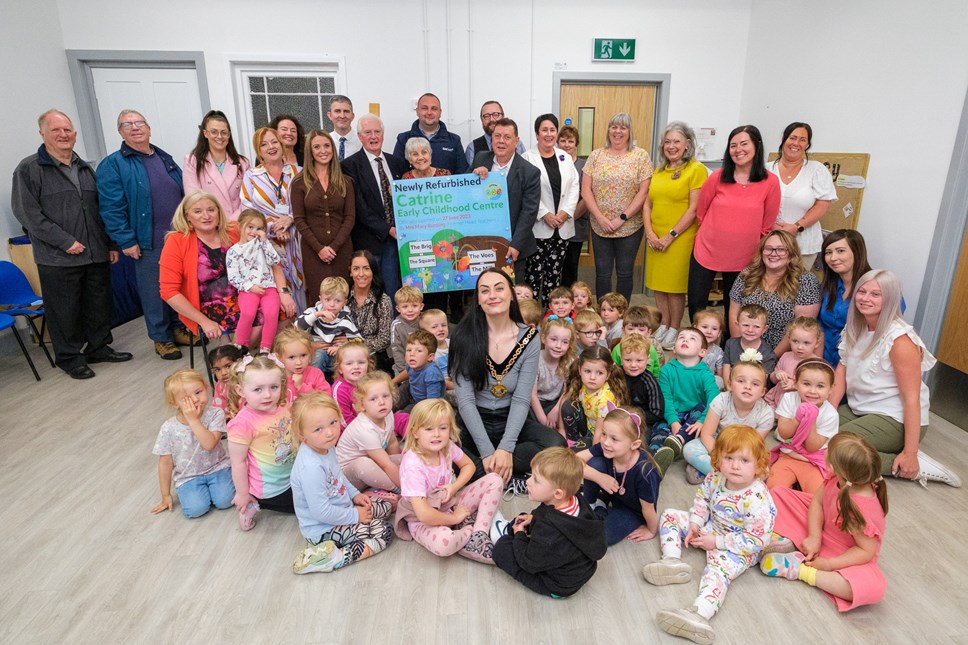 Refurbished Catrine Early Childhood Centre is officially opened
The newly refurbished Catrine Early Childhood Centre (ECC) has been officially opened by former Head Teacher Mrs Mary Bunting, at a special ceremony.
Mrs Bunting unveiled a plaque, designed by the Council's Graphic Design intern Rachel Wherry, with Gracie and Leah from the ECC to mark the special occasion before the children performed three songs – 'When I grow up', 'Best day of my life' and 'At Catrine ECC'.
The invited guests then took a tour of the extensively refurbished facility, which provides 64 early learning and childcare places for children aged three to five years, with space to increase this number in future if required. Along with a sensory room and laundry room the refurbishment includes four playrooms and the creation of a mezzanine and storytelling deck.
All the windows, heating system and water services within the building were replaced and outside, the play area was completely reimagined, with new outdoor learning opportunities and direct outdoor access from two of the playrooms.
Councillor Douglas Reid, Leader of the Council, who was joined at the official opening by Councillor Maureen McKay, Depute Provost Claire Leitch, local member Councillor Linda Holland, and Linda McAulay-Griffiths, Chief Education Officer and Head of Schools. He said: "The official opening of Catrine Early Childhood Centre was a brilliant celebration. I considered really carefully who should be asked to officially open the ECC and I came to the conclusion pretty quickly that there was only one person to ask, former Head Teacher Mrs Mary Bunting. I was really pleased that Mrs Bunting accepted my invitation to perform the official opening by unveiling a plaque.
"Early learning and childcare is a cornerstone for closing the poverty related attainment gap between our most and least advantaged children. It is therefore a priority to ensure that our youngest learners have access to high quality and flexible educational opportunities. This is why we have prioritised the roll out of 1140 hours across East Ayrshire.
"The £858,000 refurbishment means that there are now 64 early learning and childcare places for children aged three to five years with an opportunity to expand further if required. This project has been successfully completed by our delivery team and I would like to take this opportunity to thank the team and our contactor James Frew Ltd."
Mrs Mary Bunting said: "It was great privilege to officially open the refurbished Catrine Early Childhood Centre. It was originally built to accommodate the youngest school age children in Catrine but when Auchinleck Academy was built, along with a new primary, the two school buildings in Catrine were no longer required. The larger sandstone building was demolished but this building still stood. The elected member at the time was Councillor Helen Nesbit, who was a well informed and determined lady. She had visited Germany to view and learn more about nursery education and she said the first of the new nurseries would be coming to Catrine.
"The first Head Teacher was Miss Norah Fryer, former Head Teacher of Hollybush Primary School, and I was delighted to follow Miss Fryer by becoming Head Teacher for so many happy years. The corridors of this precious building rang with the noise of young children playing, with very carefully thought out purposes – having fun but learning together.
"Now, as a result of this recent refurbishment, this vital, valuable educational establishment, has everything in place to provide the best experience and planned learning for our precious young children and I was delighted to declare it open for its joyful purpose."
Head Teacher Judith Govans said: "The official opening of our Early Childhood Centre was a wonderful celebration. A celebration of our history, our community and of course our children, who are at the heart of everything we do.
"I would like to thank everyone who attended the official opening and made it such a special day and of course, huge thanks go to Mrs Bunting. It was absolutely fitting that she was there to declare the Early Childhood Centre officially open."